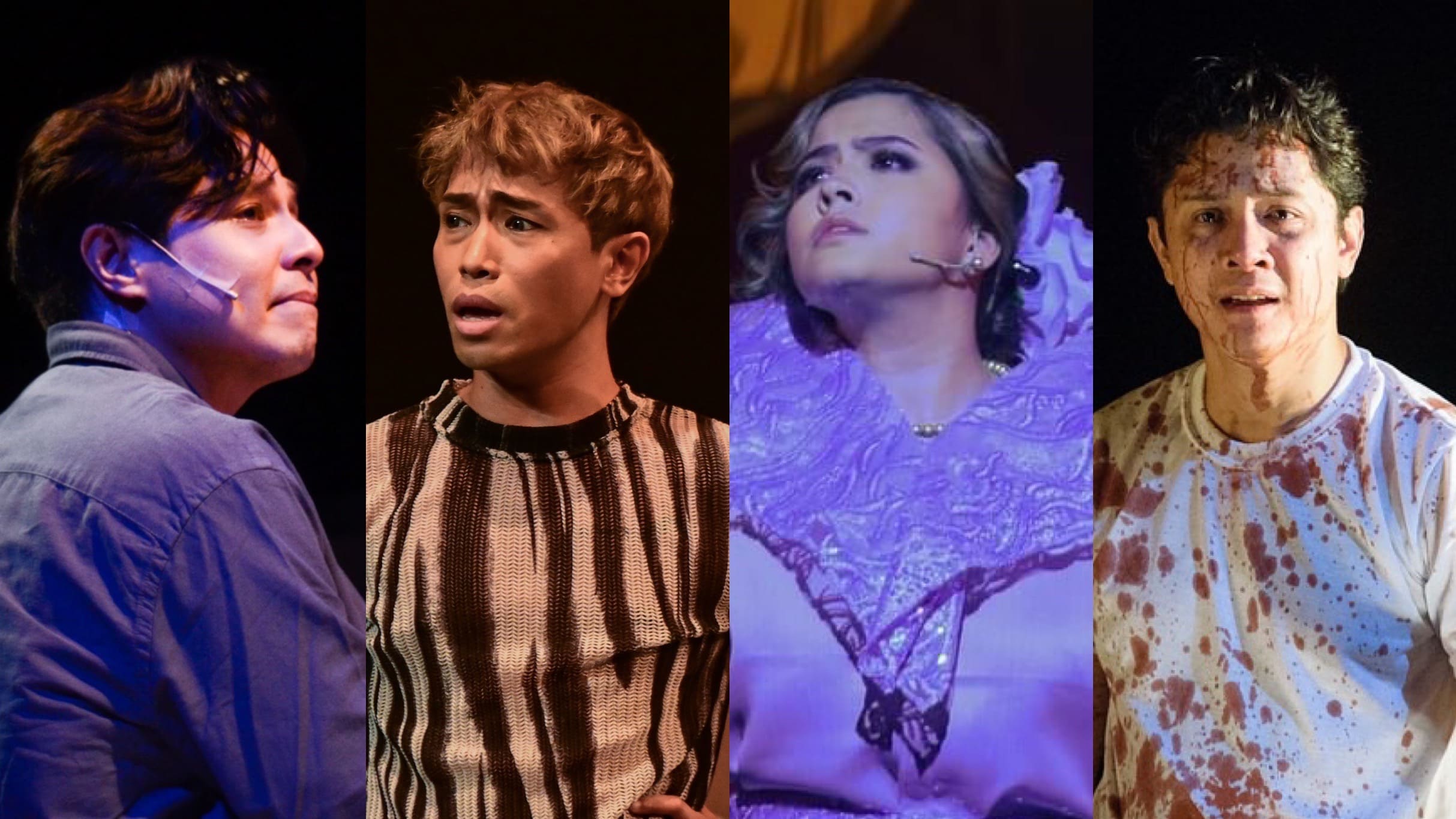 'Walang Aray', 'Laro' Lead Gawad Buhay 2023 Mid-Year Citations
PETA's 'Walang Aray', a musical farce adapted by Rody Vera from the sarswela 'Walang Sugat', led the 14th Gawad Buhay Awards midyear citations with a total of 21 nods. Barefoot Theatre Collaborative's production of Floy Quintos' 'Laro' came next with 11 citations, followed by 'Nekropolis', Guelan Luarca's new play premiered by Tanghalang Pilipino earlier this year, with nine.
In all, nine productions from January to July 2023 were eligible for this round of citations. Four were considered productions of new material: 'Bawat Bonggang Bagay' (The Sandbox Collective), 'Unica Hijas' (Barefoot Theatre Collaborative), 'Nekropolis', and 'Walang Aray'. Three were considered productions of existing material: 'Breakups and Breakdowns' (Upstart Productions), 'Twenty Questions' (Theatre Titas), and 'Laro'. Finally, two were considered restagings and, under new Gawad Buhay rules, eligible as productions of existing material: 'Lungs' (The Sandbox Collective) and 'Red' (The Necessary Theatre).
Under newly instated awards rules, restagings are considered different from reruns, which are repeat runs of previously staged shows. While reruns are not eligible for the awards, restagings are eligible under the Production of Existing Material categories. To be considered a restaging, a production must be under the same member company that staged it previously–but should be "radically restaged": differently directed and designed (in terms of set, lights, costumes, sounds, projections, and choreography, where applicable).
All individuals involved in a restaging are considered eligible in their respective categories, provided they have not previously performed that same role or task in the earlier production of the relevant material by the relevant company. This is regardless of whether or not said individual was cited or nominated for their previous work. 
Thus, for this round of citations, Sab Jose (in 'Lungs') was deemed ineligible for Female Lead Performance in a Play (she was previously nominated in that category in the 11th Gawad Buhay for Sandbox's production of the said play in 2018). Likewise, Bart Guingona was deemed ineligible for Male Lead Performance in a Play and Stage Direction for a Play for his work in this restaging of 'Red'; he previously won the former category and was nominated for the latter in the 6th Gawad Buhay when The Necessary Theatre premiered that play in the country in 2013.
Philstage is the alliance of Manila-based professional companies in the theatrical arts. Current Philstage company members include 9 Works Theatrical/The Sandbox Collective, Actors Actors, Inc./The Necessary Theatre, Ballet Manila, Barefoot Theatre Collaborative, Culturtain Musicat Productions, Full House Theater Company, Gantimpala Theater Foundation, PETA, Philippine Opera Company, Repertory Philippines, Stages, Tanghalang Pilipino, Trumpets, Twin Bill Theater, Upstart Productions, and Theatre Titas.
Only shows produced by Philstage member companies are eligible for the Gawad Buhay. However, as per existing rules, while a citation renders a production or production element eligible for a nomination, it does not guarantee a nomination.
Official nominees will be determined and announced in early 2024, following the completion of the current Gawad Buhay calendar year. 
Here is the complete list of the 2023 Gawad Buhay mid-year citations:
Outstanding Original Script
Guelan Luarca ('Nekropolis')
Mikaela Regis ('Unica Hijas') 
Outstanding Book of a Musical
Rody Vera ('Walang Aray')
Outstanding Original Score
Rody Vera & Vince Lim ('Walang Aray')
Outstanding Musical Direction
Vince Lim ('Walang Aray')
Outstanding Choreography 
Gio Gahol ('Walang Aray')
Outstanding Costume Design
Jaylo Conanan ('Walang Aray')
Mark Daniel Dalacat ('Red')
Outstanding Lighting Design 
D Cortezano ('Laro')
D Cortezano ('Nekropolis')
David Esguerra ('Walang Aray')
Gabo Tolentino ('Red')
Outstanding Sound Design
Jose Buencamino ('Red')
Happy Constantino ('Walang Aray')
Arvy Dimaculangan ('Laro')
Arvy Dimaculangan ('Nekropolis')
Mijon Tangye ('Unica Hijas')
Outstanding Set Design
Mark Daniel Dalacat ('Red')
Julio Garcia ('Walang Aray')
Tata Tuviera ('Nekropolis')
Tata Tuviera ('Unica Hijas') 
Female Lead Performance in a Play 
Joy Delos Santos ('Unica Hijas')
Ash Nicanor ('Unica Hijas')
Justine Peña ('Lungs') 
Male Lead Performance in a Play
Reb Atadero ('Lungs')
JC Santos ('Red')
Brian Sy ('Lungs') 
Female Featured Performance in a Play
Mitzi Comia ('Nekropolis')
Male Featured Performance in a Play 
Jojo Cayabyab ('Laro')
Gio Gahol ('Laro')
Al Gatmaitan ('Laro')
Jeremy Mayores ('Laro')
Phi Palmos ('Laro')
Ross Pesigan ('Laro')
Marco Viaña ('Nekropolis') 
Female Lead Performance in a Musical 
Alexa Ilacad ('Walang Aray')
Marynor Madamesila ('Walang Aray')
Shaira Opsimar ('Walang Aray') 
Male Lead Performance in a Musical
Jon Abella ('Walang Aray')
Gio Gahol ('Walang Aray')
Female Featured Performance in a Musical
Kiki Baento ('Walang Aray')
Neomi Gonzales ('Walang Aray')
Male Featured Performance in a Musical
Nelsito Gomez ('Breakups and Breakdowns')
Bene Manaois ('Walang Aray')
Carlon Matobato ('Walang Aray')
Johnnie Moran ('Walang Aray')
Outstanding Ensemble Performance for a Play
'Laro' (Barefoot Theatre Collaborative)
'Nekropolis' (Tanghalang Pilipino) 
Outstanding Ensemble Performance for a Musical
'Walang Aray' (PETA)
Outstanding Stage Direction for a Play 
Pat Valera ('Unica Hijas')
John Mark Yap ('Laro')
Charles Yee ('Nekropolis') 
Outstanding Stage Direction for a Musical
Ian Segarra ('Walang Aray')
Outstanding Production of Existing Material for a Play
'Laro' (Barefoot Theatre Collaborative)
'Lungs' (The Sandbox Collective)
'Red' (The Necessary Theatre)
Outstanding Play – Original or Translation/Adaptation
 'Nekropolis' (Tanghalang Pilipino)
Outstanding Musical – Original or Translation/Adaptation
'Walang Aray' (PETA)
Comments