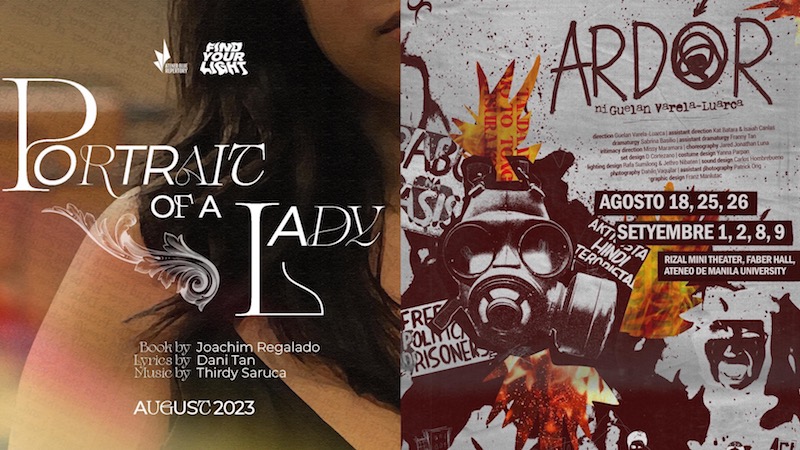 2 University-based Productions this August 2023
There are two university-based productions that you can watch this August, both within the confines of the Ateneo de Manila University.
1. Ardór by Tanghalang Ateneo
Tanghalang Ateneo is set to stage 
Ardór,
a new dystopic play written and directed by Guelan Varela-Luarca, as the first play of its 45th theater season.
Set in the not-so-distant-future of Metropolitan Manila, Ardór asks the question: what if the only hope for social change is total annihilation—anarchy? The play focuses on the intricacies of the relationship between a young, angry, alienated activist and their cousin, a seven-year old—avatar? Indigo child? Messiah? Ardór follows the plight of activists as they attempt to stage a revolution and sacrifice everything—sanity, love, and life—for a traitorous, amnesiac, and traumatized nation.
This production aims to pay tribute to our collective desire for change, with hearts pumping and ready to burst—for love of country, for love of beauty, and for love of truth. The cast comprises a mix of Tanghalang Ateneo alumni, fresh graduates, and current members of the organization. Featured actors are Zoë de Ocampo and Yani Lopez as Z, Jam Binay and Camille Banawa as Astrid, and Teia Contreras and Cholo Ledesma as Kali. They are joined by ensemble cast members Rafael Jimenez, Kagi Umpad, Jemuel Dagu-ob, Robby Fernandez, Diandra Lee, Nicole Sintor Chua, Paul Adrian Martinez, Rafa Sumilong,Beatrice José, Bienne Dator, Adriane Mark Ungriano, Lawrence Miranda, Iago Guballa, Aly Solario, John Patrick Noynay, Aaron Panotes, Joey Madarang, Max Mostacho, Gelo Acosta, Dyas Adarlo, and Nicole Chua.
Joining Varela-Luarca in the Artistic Team are Kat Batara and Isaiah Canlas for Assistant Direction, Sabrina Basilio for Dramaturgy, Franny Tan for Assistant Dramaturgy, Missy Maramara for Intimacy Direction, Jared Jonathan Luna for Choreography, D Cortezano for Set Design, Yanna Parpan for Costume Design, Jethro Nibaten and Luis Antonio Rafael A. Sumilong for Lighting Design, Carlos Hombrebueno for Sound Design, Danilo Vaquilar Jr. for Photography, Pat Ong for Assistant Photography, and Franz Manlutac for Graphic Design.
Ardór will run on August 26, September 2, and 9 at 2pm, and August 18, 25-26, September 1-2, 8-9 at 7pm. Tickets are P500 for general audience, P350 for Ateneo students, and P300 for scholars. You can buy tickets here.
2. Portrait of a Lady by Ateneo blueREP
Ateneo blueREP will be staging Portrait of a Lady, an original material under the organization's running workshop, Find Your Light.
Written by Joachim Regalado (book), Thirdy Saruca (music), and Dani Tan (lyrics), Portrait of a Lady revolves around a young woman and the streaks of life-altering moments that surround her. As she traverses a path of love with her prestigious brush-wielding husband, an irrevocable stroke soon appears on their canvas.
The musical is Ateneo blueREP's 32nd season premiere. It will run on August 18, 7pm and August 19, 3pm and 7pm at the Fine Arts Theater of the Ateneo de Manila University. Tickets are P150. You can purchase them here.


*
Children below 13 years old must be accompanied by an adult. No discounts will be granted to PWD or Senior Citizen but priority seats will be given. Ticket reservation form is open strictly from 11AM-7PM. For further inquiry, contact Arianne Muñoz (09770167780 | arianne.munoz@obf.ateneo.edu), or Kelsy Sy (09235388777 | kelsy.sy@obf.ateneo.edu).
Comments