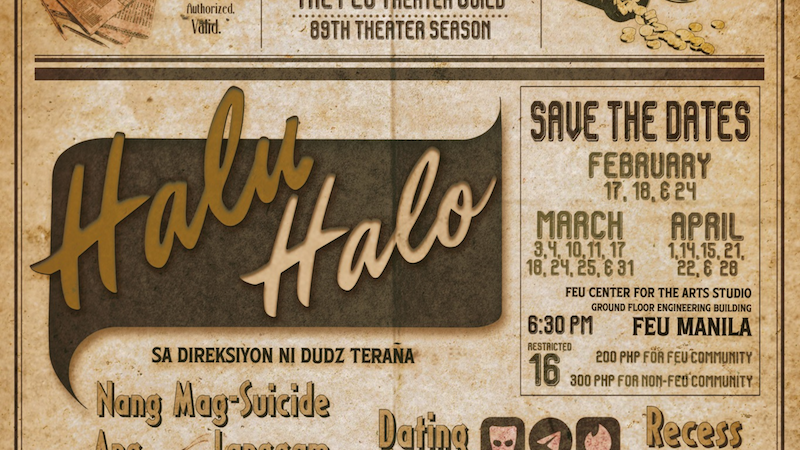 UNI REVIEW: FEU Theater Guild's 'Halu Halo'
The audience couldn't tear their eyes away from the stage when we were finally allowed inside, after nearly a half-hour delay. Cardboard boxes filled the stage, where actors were locked into place like statues, heads covered in boxes with the evening's five one-act offerings written on them. They certainly grabbed our attention from the start, and held it all throughout the frenzy of sentiment that followed.
"Halu Halo" is an attention-catching mix. FTG's Saturday set of five plays certainly lived up to its title. Like the colorful treat, the plays are asymmetrical morsels of highs and lows, with genuine glimpses of truth and depth alternating with the "OA" brand of acting often associated with the worst of teleseryes and noontime TV shows. If brilliance in writing were merely measured in laughs from the target audience, then there was plenty of that. But it left some in the audience wanting more substance from their snack.
A narrator explains the vision behind the play ("haluhalong emosyon") while actors get into character onstage. "Bilang aktor sa entablado ng mundo, ano ang pipiliin mo?" quoth she, issuing a challenge for self-reflection and hopefully, self-determination. 
Medicine for Modern Living
"Bakit Laging Buntis Ang Cashier ng Mercury" (adapted from A. Weiss) was the first, and perhaps the most mentally challenging to watch. The lights design of Andre Gonzales, while effective in the other plays, created an atmosphere of confusion as audiences were brought inside the mind of a psychiatric patient (Niciah Saliba) so desperate for love, she invented a boyfriend whom no one else can see (Aaron Bayani). To add to the disorientation, there were two screens (cleverly made up of cardboard) on either side of the stage projecting videos of the actors going about their daily lives. As a metaphor for humans living in two separate realities, it works better than it does as stage/set design. 
The script also added to my growing bewilderment, as the Cashier from Mercury alternated English lines offering advice to mental health patients in one second, then code-switching to business-like Filipino the next. If the intention was to bring audiences inside the troubled mind of someone depending on psych meds just to get through the day, then they well and truly succeeded.
The first play also set the tone in terms of language, as the show was liberally peppered with vulgarity and crass words that were not always called for, with some seemingly meant solely to shock and not serving any essential narrative function.
Endings
The second play was written by the director himself. In "Thank You Ha," we are witness to the end of a (friendly?) date between Sean Asuncion and Jazzie Alejo. The girl has outpaced the boy in life (she even pays his way), but just as they are about to part, she confronts him with a plea for closure. Are they brave enough to allow themselves the ending they yearn for?
Jazzie Alejo's vulnerability and authenticity stood out as this play featured longer silences, allowing audiences to feel growing tension. It was a welcome respite from having lines from other plays rapidly being thrown around, as if actors were in a race. 
Third on the menu was C. Pospisil's "Sabay Tayong Mag-Grab," whose subject matter will surely be the topic of controversy, especially with the recent spate of real life university student suicides in the past months. Questionable timing and insensitive comments aside ("What does it look like I'm doing?" "Like you're calling for attention."), the play did offer practical advice for anyone who may have been entertaining similar nihilistic ideas. "Kailangan mo lang ng kausap," Raffaelle Pascua tells the heartbroken Davewyn Macawile, right after asking if he could hitch a ride, and right before revealing that beneath the devil-may-care insouciance is someone carrying perhaps an even greater burden, but choosing to laugh in its face instead. This third play's twist towards the end deserves a star for plot-writing prowess.
Mad World
The penultimate offering was A. Woo's "Comfort Room." This was a rather absurdist take on how one man keeps bringing different women on dates to an authentic Chinese restaurant. As grotesque caricatures of the worst examples of womanhood are paraded before us (brought to life by Brigitta Marilla, Dianne Andallo, Julia Ramas, and Andrea Achas), the audience is left to wonder at the writer's attitude to women in general, as well as the real reason why Davewyn Macawile keeps visiting that particular restaurant and its waiter, Arvin Javier. This fourth play's final one minute twist, too, was a surprise ending no one saw coming.
The last play was "Dating Apps," an adaptation from the work of T.S. Wilson, exploring our deepest fears about meeting attractive-yet-crazy people online. Three couples (Roen Cueto, Franz Luis, Abegail Esquierda, Andrei Dacanay, Sean Asuncion, Niciah Saliba, and CJ Ablaza) wearing headbands with green diamonds displayed impressive ensemble work as they uttered numerous lines in chorus, then alternated their stories of their last crazy date. We are all a bit crazy, they suggest. What matters is finding the right sort of unhinged meant for you.
False Notes in Lived Truths
Of all the actors, Jazzie Alejo and Davewyn Macawile seemed the most professional, striking that perfect pitch of verisimilitude and intelligent ensemble-work, uttering their lines so naturally, they don't seem scripted at all.
FTG rightfully deserves applause for the sheer variety of stories on offer, showing a plethora of lived narratives. But perhaps in the pursuit of quantity, the even quality of the performances were deprioritized. Also, I fear that the topics of some of the plays might trivialize things that are no laughing matter such as teen suicide and senior citizens. If theater's goal is greater empathy, then maybe a kinder, more sensitive approach is warranted. 
Just like the real halu-halo, there are bits we like, and morsels we'd rather remove from the glass. While some in the audience would prefer the more even mais con hielo, there's no denying that this theatrical snack is most invigorating, especially for its young student audiences.
For more information on this university production, click here.
Comments