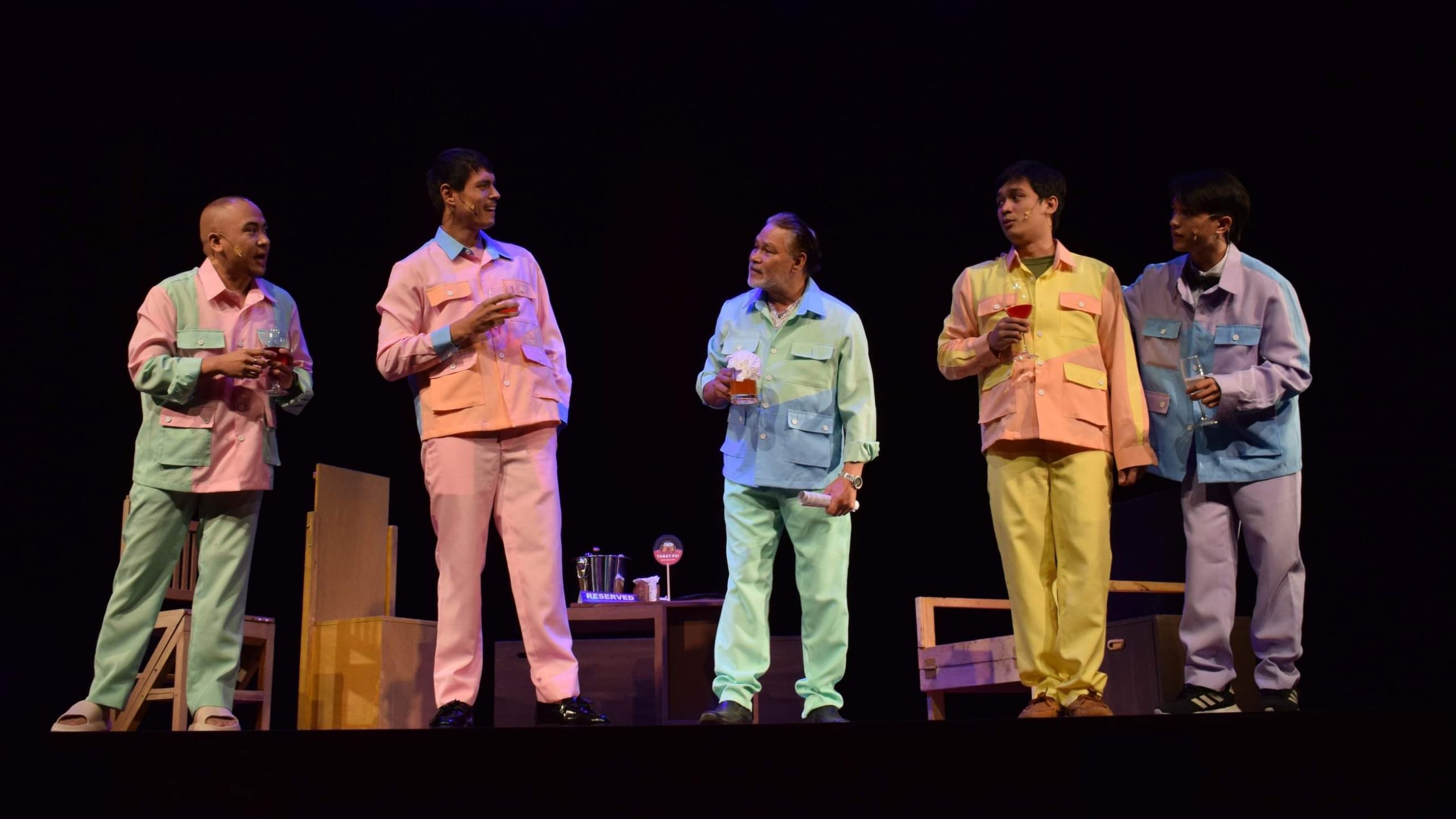 REVIEW: 'DickTalk' is the dick peek into manhood you didn't know you needed
Controversial? Yes. Essential? Also yes. 
DickTalk opens with five men in suits, drinking and bragging about their latest sexual exploits. They're the very picture of *toxic masculinity*. You wouldn't like them at first–they're crass, loud, and disrespectful. But as they shed the suits and talk about their own issues, they remind you of people you actually know: your younger brother, your kabarkada, the older gentleman you passed by last week, your workmate struggling with his gender identity.   
The production, directed by Phil Noble, focuses on five men and their monologues: There's high school student Jun-Jun (Gold Aceron), trans man Rob (Nil Nodalo), metrosexual Cecile (Mikoy Morales), retired and "happily married" professor Doods (Archi Adamos), and "proud escort for 15 years" Peter (Jake Cuenca). 
The concept (Edwin Vinarao and Christian Clemente) and script (Benj Cruz Garcia and Are Vicencio) were inspired by Eve Ensler's The Vagina Monologues. DickTalk aims to normalize conversations related to manhood and the "titi" by giving us a glimpse at men's innermost, secret thoughts and insecurities. 
What makes a man…a man? 
DickTalk's series of five monologues opens with teenage Jun-Jun. He has a lot of questions about his body part "down there", which his supportive parents are more than happy to talk to him about. Then there's Doods, who opens up about aging, suffering from erectile dysfunction, and…cheating on his wife. 
The audience also meets Rob, born Dayanara May Robles, who starts a conversation about transitioning in a country like ours where the traditional idea of "manhood" is so closely tied to his dick. There's Peter North Teves, a sex worker and the son of famous bold stars. He seems to be the stereotypical "macho" man on the outside, but he's dealing with issues so personal, they make him question his own idea of masculinity. 
Probably the most impactful monologue was the one from Cecile, who's metrosexual. Mikoy Morales portrayed Cecile with such heart, perfectly depicting the frustrations of someone who doesn't fit the normal Filipino's idea of what it is to be a man. 
The audience found themselves laughing with him one moment and hurting for him the next. Some scenes personally made me want to protect him from every person who has made him feel like less of a man just because his preferences are slightly different than theirs. 
When it came to Rob—a character assigned female at birth but who identifies as male—of course casting trans actor Nil Nodalo was the right choice. Only someone who has experienced the same struggles as Rob would be able to deliver the heartfelt performance Nodalo gave us and pose the question: "Do you really need a dick to be a man?" You wouldn't even believe that this, in his own words, is his first serious acting role and theater debut. 
What makes DickTalk so interesting is that each monologue is bound to speak to a different audience. There's a reason I was drawn to Cecile's character: I have friends who remind me of him. Someone else might be able to relate more to Cuenca's tortured portrayal of Peter—a stereotypical man's man who is afraid of showing the real him. Or to Adamos' frustrated Doods and Aceron's curious Jun-Jun, who are both dealing with confusing and unexpected body changes. 
DickTalk is entertaining and educational for all genders but is bound to attract—and speak more eloquently to—men. Certain jokes might not fly if you're female and the characters themselves often allude to a male audience in their monologues. 
As for pacing, it's a two-hour production without intermission which can be taxing after the first few monologues. It was a little hard to connect with the latter ones when the monologues didn't feel as tightly-crafted as the first three. And it was a shame, considering how talented and passionate the actors were in their performances. 
Not for the *conservative* at heart 
There's a reason DickTalk's promotional materials are full of dick puns and green humor. It talks about sex—a lot. Terms your boomer tita would never speak out loud are used—a lot. There are scenes that are meant to make the audience uncomfortable. Despite that, and depending on your comfort level for such talk about "titi," DickTalk ultimately achieves what it set out to do: have an open, healthy conversation about the roots of toxic masculinity and discuss topics that are not generally talked about in normal Filipino conversations about manhood. 
Pinoys watching DickTalk, especially those who identify as male, will hopefully leave the theater with a fresh image of manhood: you don't need to be macho, your dick doesn't have to be some sort of "weapon", and you certainly don't need to conform to society's idea of what a man should be.

Tickets: 

Php 2,060.00 - Php 3,759.50 


Show Dates: 

April 15-16, 18-20, and 21 and 23, 2023 


Venue: 

Carlos P. Romulo Auditorium (RCBC Theater)


Running Time: 

2 hours, no intermission


Credits: 

Edwin Vinarao and Christian Clemente (Concept Creators), Phil Noble (Director), Ara Vicencio and Benj Cruz Garcia (Writers), Eboy and Edwin Vinarao  (Producers), Luz Evidente Alquinto (Creative Head), Joseph Aleta (Supervising Producer), Marissa Jesuitas-Hilario (Executive Producer), Julio Garcia (Production Designer), Ian Torqueza (Lights Designer/Technical Director), Jean Gladys Exconde and Eric Ligtas (Props Masters), Jun Del Rosario (Music & Sound Director), Happy Constantino (Stage Manager), William Roxas Guillermo (Asst. Stage Manager), Diane Damayo (Lights Crew Chief/Board Operator), Kelvin Cantos and Manilyn Mojica (Finance Supervisor and Assistant Finance Supervisor), Glaiza De Ocampo Aclan (Costume Designer), Clark Campos and Mark Francis Galisanao (Production Assistants), Mike Corazon (Stillman), Patricia Yraola (House Manager), Jomar Manipon and Joseph Manipon (Set And Props Movers) 


Cast:

 Jake Cuenca (Peter), Mikoy Morales (Cecile), Nil Nodalo (Rob), Gold Aceron (Jun-Jun), Archi Adamos (Doods)  


Company: 

V-Roll Media Ventures
Comments