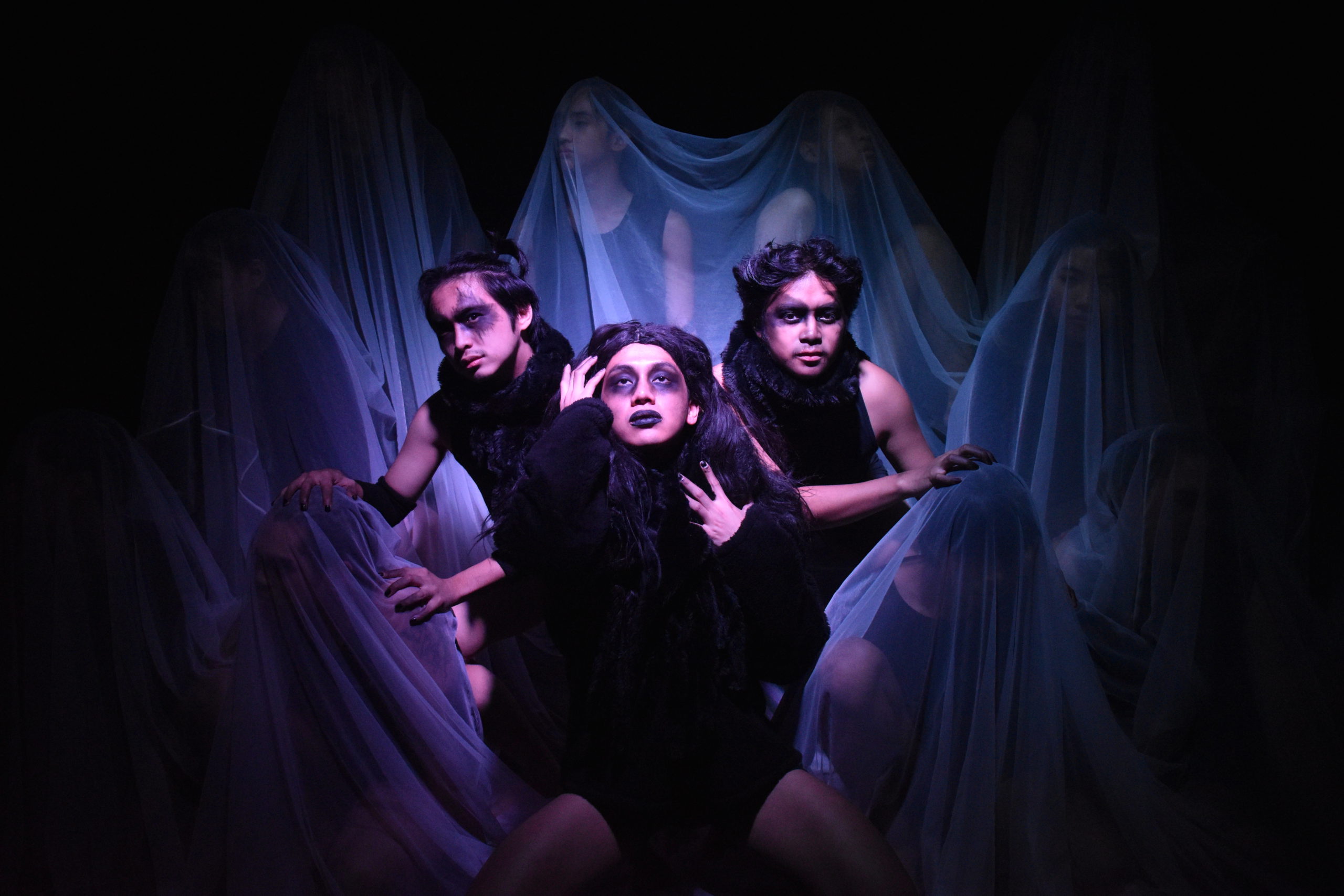 UNI REVIEW: FEU Theater Guild's 'Ang Unang Aswang'
One doesn't expect a production about a scary, bloodthirsty "monster" to make you root for the Aswang herself, but that's exactly what FEU Theater Guild was able to do. 
The moment you enter the theater, you see a bloody, disheveled woman in the middle of the stage, holding a child-like figure in her arms. She's surrounded by humming, chanting figures all dressed in black. It's already dark, eerie, and foreboding—a promising start to this latest adaptation of Rody Vera's play, directed and choreographed by Dudz Teraña.  
A story of vengeance 
Why does the Aswang eat unborn children? Where did its long, killer tongue come from? Also, how come an Aswang's body is sometimes split into two? All of these, and more, are answered in Ang Unang Aswang. 
It tells the story of a young woman (Brigitta Claire Marilla) whose very conception and birth indicates the tragedy that will follow her for the rest of her life. She grows up in the forest and is raised by the Baboy Ramo (Jonas Cunanan), a mother whose children were brutally killed by hunters. As the Aswang comes of age she meets and falls in love with a Lalaki (Aaron Bayani) from the nearby village, but he takes advantage of her innocence and ruthlessly betrays her. The worst part of it is…he also gets her pregnant. 
Promising performances
Hell indeed hath no fury like a woman scorned. Marilla delivered a truly haunting performance as the Aswang, especially during the production's powerful climax—when the full extent of the man's betrayal sinks in and one can feel the character's anguish and unexplainable pain that eventually morphs into anger. Her transformation under Teraña's direction from an innocent, child-like nymph to what we now know as the Aswang is something to look forward to for future audiences. 
Another impressive part of this musical was Teraña's choreography. Cast members in the chorus would morph from moving like forest animals in one scene to becoming part of the set design in another. These young thespians flowed well together and knew their choreo to a T—all while singing and narrating the story.
An "immersive" experience 
Staging Ang Unang Aswang in an intimate space (one that can only accommodate a hundred people) worked in the production's favor as the audience was only separated from the performance space by a thin net. Props to the production designers–one could fully imagine being in the forest with the rest of the cast, surrounded by twigs, dried leaves, and figures of the cross. However, the whole immersive feel was slightly altered by the use of a digital projector to introduce certain characters and settings. It's one aspect the production could have done without, in this writer's opinion. 
The fact that the production didn't shy away from gory scenes and strong language was a plus. After all, you can't tell a story about a baby-eating creature without some blood. As a whole, this production was able to deliver its message well, showing the grisly origins of the Aswang while highlighting how some humans abuse their power. Yes, this Aswang is the scary creature our grandparents warned us about. But there are always two sides to every story and Ang Unang Aswang does an impressive job at showing us who the real monsters are. 
Comments