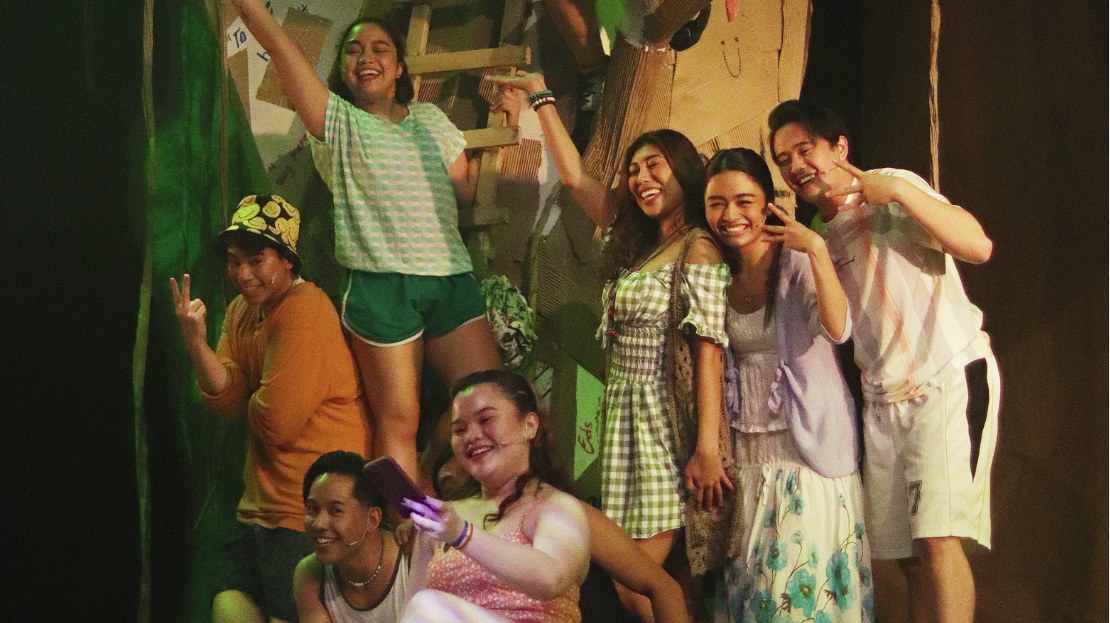 REVIEW: 'Tabing Ilog the Musical' places star power ahead of story
The ensemble-driven barkada story is arguably the purest form of what one might call a star vehicle—a production driven primarily by a popular actor, who gets to showcase their specific charms. Movies like Bagets and Jologs and TV shows like T.G.I.S. and the original Tabing Ilog from 1999 don't just keep their young stars recognizable, but make them as approachable as real friends, as we share in their characters' everyday drama. 
Teatro Kapamilya and PETA Plus's musical adaptation of Tabing Ilog (returning as a revamped production after its 2020 run was cut short by the COVID-19 pandemic) serves as a sort of star vehicle for a slate of Star Magic talents and other theater actors. And its story, of high school friends reuniting in their hometown as young adults, still revolves around personal trials and tribulations—covering everything from relationships and family conflict to sexuality and mental health. But while this musical provides plenty of opportunities and energetic songs for its cast to display their talent, there's unfortunately little else here that brings substantial insight into its many themes.
Surprising Polish
Taken as casual, no-frills entertainment, Tabing Ilog is surprisingly polished. One wouldn't expect such a modest story to also be visually appealing, but the lighting design by David Esguerra, smartly deployed video projections by Bene Manaois, and Ohm David's hilly landscape of a set all make this corner of Barangay San Juan E strikingly immersive. This is a stage that feels particularly three-dimensional—especially when the characters have to interact with the titular river, which laps at their feet or covers them entirely, all through overlaid video.
It also helps that director Phil Noble knows how to block all the bodies moving across the set, allowing Stephen Viñas's choreography to fully express itself despite the relatively limited space that's available to the performers. In fact, Noble greatly reduces the sense of danger that would normally be there from the presence of bikes and scooters and padyaks zipping past each other on stage. He conducts the movement of Tabing Ilog effortlessly, getting us to stop worrying and to keep our attention on the story.
Too Easy
With that said, this musical just doesn't offer enough by way of story. There's certainly some appeal to how familiar these characters' problems are, all rooted in the unresolved tensions that can arise when old friends reunite. But in its bid to be an accessible, feel-good production, Tabing Ilog settles its conflicts far too easily. It's unwilling to show its characters taking the difficult but most necessary steps towards healing, especially when it comes to serious subjects like sexual health and suicide. The episodic plot mostly progresses through the same, increasingly tedious conversations, yearning for camaraderie and forgiveness, until the characters abruptly arrive at a common understanding. 
It isn't wrong for Tabing Ilog to be this wholesome and optimistic. But every time one of the characters emphasizes the importance of the barkada staying together, it becomes harder to ignore how the musical doesn't necessarily give compelling reasons to care about this group of characters, other than the fact that they're generally pleasant people. It seems to actively sidestep the suggestion that people can just naturally grow apart, diverge from their once shared values, or simply become worse to each other. The show's depiction of friendship just isn't grounded in the messiness of real relationships.
Stacked Ensemble
Either way, Tabing Ilog knows that it exists as a star vehicle, and in that regard it really knows how to show off its ensemble. Every actor here has clearly put in the work as a vocalist, and Vincent DeJesus's varied, youthful score constantly gives them strong musical moments to play to the audience. This is most clearly seen through the doting parental figures played by Joann Co, Neomi Gonzales, and Red Nuestro, established theater actors whose greater vocal experience easily establishes the authority these grown-ups have over their kids.
 Among the cast playing the barkada, Miah Canton's Corrinne is arguably given the most to juggle (between her gender identity and her strained relationship with her brother) and she still delivers. Jude Servilla's barangay kagawad Badong somehow manages to keep his comic timing sharp even when the jokes about his faulty English become tiring. But in such a stacked cast, it's Sheena Belarmino's sweet-natured Eds and Vino Mabalot's troubled Fonzy who stand out particularly well. They never seem like they're teeing up for a big emotional moment; they simply have to show up on stage and the focus can't help but move towards them. Belarmino and Mabalot are ultimately the ones who manage to build even just the smallest bit of momentum between their individual scenes, momentarily breaking from the show's episodic structure and showing us more painful—and more honest—feelings beneath Tabing Ilog's cheer.
Tickets: 

P1,200 – P2,500


Show Dates: 

Nov 10 – Dec 17 2023


Venue: 

PETA Theater Center, New Manila, Quezon City


Running Time: 

2 hours and 30 minutes (including a 10-minute intermission)


Credits: 

Phil Noble (Direction),

 

Eljay Deldoc (Script, Additional Lyrics), Vincent DeJesus (Musical Direction, Composer, Lyricist), Jade Castro (Additional Lyrics), Stephen Viñas (Choreography), Ohm David (Set Design), Bene Manaois (Video Design), David Esguerra (Lighting Design), Tata Tuviera (Costume Design)


Cast: 

Benedix Ramos, Chaye Mogg, Miah Canton, Jude Servilla, Earvin Estioco, Vino Mabalot, Jordan Andrews, Omar Uddin, Joann Co, Neomi Gonzales, Red Nuestro, Teetin Villanueva, Lance Reblando, Vyen Villanueva, Kiara Takahashi, Vivoree Esclito, Sheena Belarmino, Jhoanna Robles, Kobie Brown, Akira Morishita, JL Toleriza, Andi Abaya, Anji Salvacion, Drei Sugay


Company: 

Star Magic, Teatro Kapamilya, PETA Plus
Comments