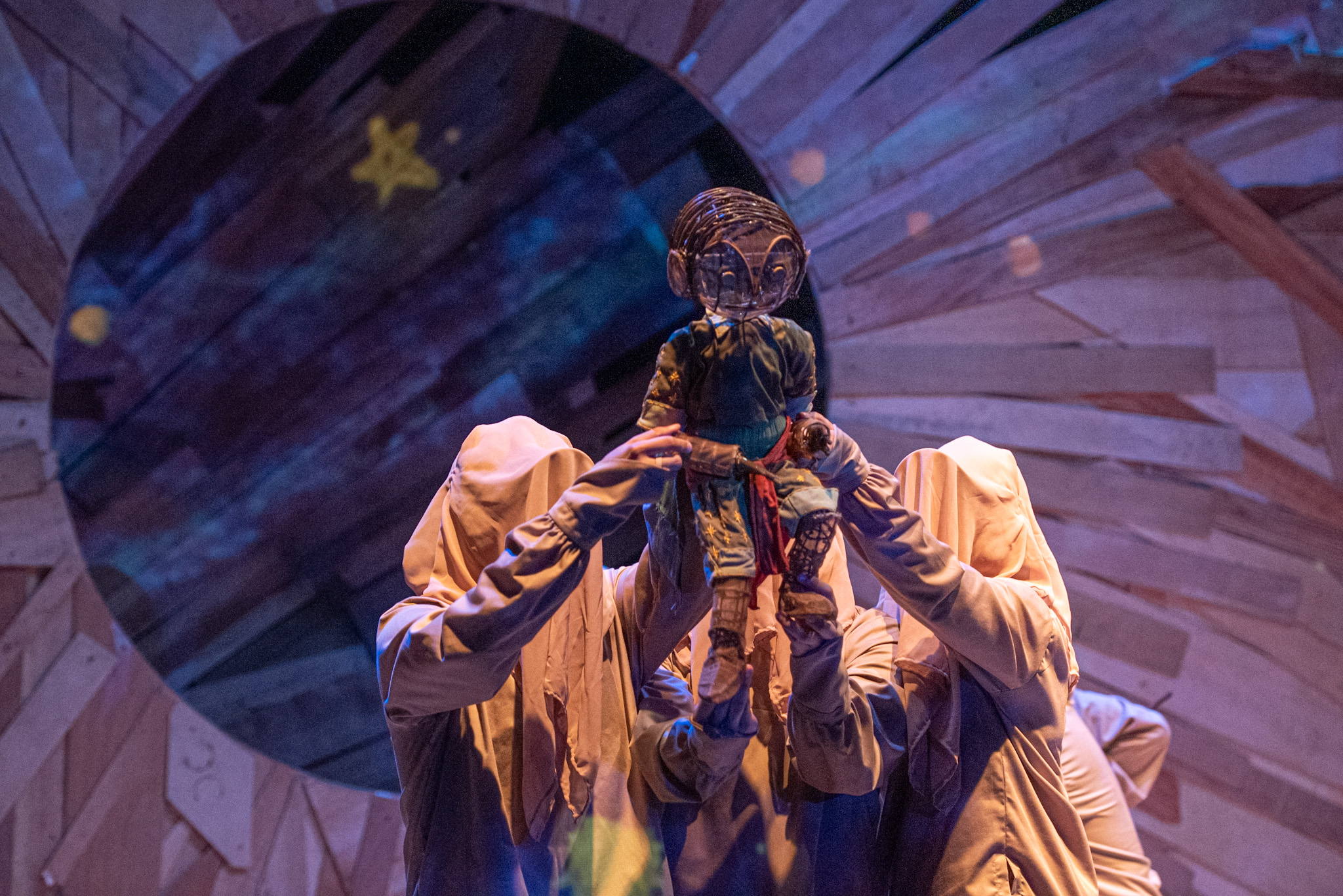 REVIEW: 'Prinsipe Bahaghari' is a profoundly performed puppet show
As the year in theater nears its end, with quite a number of blockbuster local and international productions already announced for 2024, it's good to be reminded that smallness and modesty are not mutually exclusive with creativity and quality. Those who've never been to the unassuming Amelia Lapeña-Bonifacio Teatro Papet Museo before, tucked away right around Maginhawa in Quezon City, might not expect much from its tiny stage. But Teatrong Mulat ng Pilipinas' production of Prinsipe Bahaghari, performed entirely with puppets, feels like a minor miracle.
A Filipino adaptation of Antoine de Saint-Exupéry's seminal novella The Little Prince, Prinsipe Bahaghari is set after the Taal Volcano erupts, and tells the story of a man who meets a peculiar boy from the mountains, who in turn shares tales of his adventures to different kingdoms. Even with the changes it makes in specific details and setting, this production—which finally faces a live audience, after debuting as a filmed thesis performance in 2021—proves just as mystical and thought-provoking as Saint-Exupéry's work. This is a show that uses its smallness to great effect, drawing our attention toward its unique craftsmanship and the deceptively simple questions it poses about how we see the world.
Like a Folk Tale
The puppetry in Prinsipe Bahaghari may not be what you expect when thinking about a children's show; these are not hand puppets or marionettes on strings, but larger figures whose frames are made of rattan and are manually operated by the puppeteers on stage. The puppets, designed by director Aina Ramolete and created by Nap Rivera, are definitely limited in their movements and aren't capable of facial expression—but they're incredibly charming to watch all the same. That they seem to be built out of everyday recognizable material gives the whole story the feel of a folk tale that's been passed down through generations. 
With such simple puppets and a simple set, Gabo Tolentino's lighting and Steven Tansiongco's video design need to complete the rest of the show's world. And their projections of the cosmos (and of other characters played by silhouettes of shadow puppets) bring a surprisingly three-dimensional quality to the Teatro Papet Museo stage. Sound design and original music by Arvy Dimaculangan and Jep Gabon is appropriately driven by Filipino folk instruments as well—elevating the folk tale that is Prinsipe Bahaghari into something close to ritual.
Precise, Mature Performance
It's a little difficult to credit the individual performers who conduct this story on stage; three puppeteers operate each of the larger puppets simultaneously, but they're all dressed in beige (with cloth covering their faces) so as to blend into the background. Even so, their collective work here is precise and passionate—and even funny at times, when the puppet characters have to shake in fear or frustration. The fact that you can still clearly see every one of the puppeteers' movements doesn't break immersion. If anything, it only highlights how painstaking this craft is, and how deeply the performers have to connect with these characters to convey emotion through them.
Ramolete understands how to direct the puppets with respect, making sure not to reduce them into flailing rag dolls. But with this more restrained approach, Ramolete's direction also can't help but bump into slower stretches on stage; in certain moments it feels as if the titular prince is speaking at us rather than with us. So despite the show being marketed towards children (as part of National Children's Month), older viewers will likely get more out of it than the kids will. 
Profound Language
But then again, you could probably say the same about The Little Prince. It can be easy to forget that Saint-Exupéry's novella is arguably more a work of light philosophical fiction than an illustrated children's book, and that the character who learns the most throughout the story is not the idealistic prince, but the jaded older man who relates these lessons to us. After all, the prince's adventures here are clearly meant to reflect a Philippines where adults have chosen to value power and empty satisfaction over love. So if you can settle into Prinsipe Bahaghari's more solemn tone, its notions of compassion for the world, for others, and for oneself can still be profoundly moving.
And what enables Prinsipe Bahaghari to feel like something beyond mere imitation of its source material is Vladimeir Gonzales' wonderful Tagalog script. Thankfully, not once does the writing dip into anachronisms or contemporary lingo. It commits to the cadence and gorgeous turns of phrase of our own tongue and produces new poetry out of Saint-Exupéry's already evocative words. It's that rare piece of theater that becomes a comfort and a joy just to listen to—enough to inspire wonder for our languages again, which is something both young and old could really use.
Tickets: P800
Show Dates: Nov 10–19 2023
Venue: Amelia Lapeña-Bonifacio Teatro Papet Museo, Teacher's Village, Quezon City
Running Time: 1 hour (without intermission)
Credits: Vladimeir Gonzales (Playwright), Aina Ramolete (Direction), Amihan Bonifacio-Ramolete (Assistant Direction), Steven Tansiongco (Video Design), Ohm David (Set Design), Arvy Dimaculangan (Sound Design, Music), Jep Gabon (Assistant Music Designer), Darwin Desoacido (Costume Design), Gabo Tolentino (Lighting Design), Shenn Apilado (Technical Direction), Nap Rivera (Puppets), Shania Cuerpo (Stage Management), Joshua Ceasar Chan (Production Management)
Cast: Arvy Dimaculangan, Jeremy Bravo, Sig Pecho, Shenn Apilado, Karlo Erfe, Harvey Sallador, Ravelyn Emerald Dar Juan, Mary Allen Asuncion, CJ Avendaño
Company: Teatrong Mulat ng Pilipinas
Comments