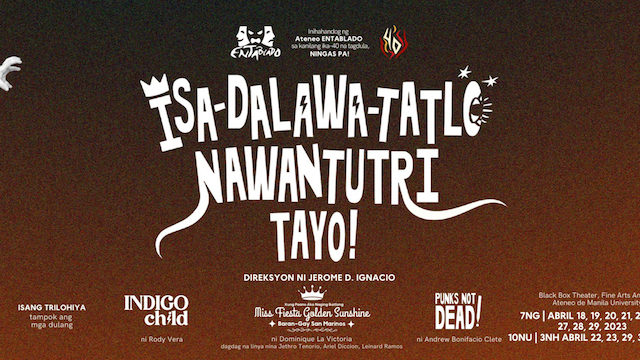 UNI REVIEW: Ateneo Entablado's "Isa-Dalawa-Tatlo: Nawantutri Tayo!"
​When a thief doesn't pay for their jeepney fare, we say the culprit did a 'wantutri.' Who is the criminal, and what is the crime in this three-plays-in-one offering by Ateneo Entablado?
For me, the real crime that took place was that there were still some empty seats in the Black Box Theater, Fine Arts Annex of the Ateneo. To me, a show of this calibre deserves sold-out crowds for weeks.
A Parent-Teacher-Conference Gone Wrong
​The first on offer was VLF one-act, "Punks Not Dead!" by Andrew Bonifacio Clete, featuring Joy Delos Santos as a public school teacher waiting for parents to submit their children's modules, spraying folders every now and then with alcohol. When an irate (and tattooed) parent arrives (masterfully portrayed by Iman Ampatuan), a debate ensues over one test item saying that people with inked skin are criminals. As if matters couldn't get any worse, a power-drunk policeman (Samuel Miguel Juada) enters the room with his child's module as well. What starts out as intellectual inquiry spirals into tragic madness. 
This first strong offering left me ​a bit ​confused with its moments of hilarity that culminated in an ending so tragic, so senselessly brutal, it left ​some ​audience members nearly in tears.​​ No one is safe, not even mothers and teachers, when all it takes is a license to kill, and mere suspicion for legitimized foul murder to take place in broad daylight.
Revive What is Forgotten
The show continues with Rody Vera's "Indigo Child." Joaquin Placides is a dutiful son visiting his mother, Glecy Atienza, in an institution. She has just had her first bout of electroconvulsive therapy, and yet she insists it has happened before. The stories start streaming out of this tortured woman torn apart by a lifetime of suppressed memories. Newcomer Placides bears silent witness to this cathartic confession, reacting to Doctor Atienza's tour de force performance with an innocence touching to behold. It's a wonderful metaphor for Inang Bayan who can't keep the doors of memory closed, and drowns in the ghosts of Martial Law Past and Present simultaneously. 
The play ended on a hopeful note as the mother told her son, "You are the one who will break the chains of ignorance," even as she gave him his long-sought for inheritance: the real story of his parents' struggle and the true name of his blood father. The truth of history is indeed the greatest gift.
Drowning in Laughter
The undisputed star in this threesome of theatrical delights is undoubtedly the last, and the one with the longest title. "Kung Paano Ako Naging Ikatlong Miss Fiesta Golden Sunshine Barang-Gay San Marinos" by Dominique La Victoria (with additional lines by Leinard Ramos, Jethro Tenorio, and Ariel Diccion). Ironically, it is portrayed by only one man, who is also the actor who shines brightest in an already high-performing ensemble: Ariel Diccion. 
Diccion makes delivering monologues look easy, and stole our hearts with his incredible charisma, even as we pitied the poor gay beauty contestant who had built a reality around the motto: "You can't have V in survivor without the V in victim."
"How can we prevent war between two nations? Simple! Combine the two so they will be one. Unity!" says this lovable follower, proudly brandishing his Tallano Gold Certificate as a reward for having voted for the "right team" in the previous election. 
The dire consequences of people who choose to construct an altern​​ative reality of their own is made abundantly clear as Ariel Diccion's live stream continues, even while a raging storm gathers strength outside. "Oh dear, the onions! I'd planned to fry them later!" he wails, sadly fingering the drenched garnish on his "expensive" attire, while all around him the stage literally starts to flood. 
Thread That Binds
The thread that binds these three one-act plays together, then, is the theft of dreams. When people place their faith and vote for a political trickster, the loss of hope in a better tomorrow is arguably worse than the theft of taxpayer money (although those ill-gotten billions stashed away in Swiss banks are bad enough).
As the past repeats itself, it is good to be reminded of narratives we may find uncomfortable to discuss in polite society. The sociopolitically charged theme should come as no surprise when we consider that 40 years ago, the university-based group started out as street theater. Since then, it has taken its mission to heart, indeed. 
What the group does well is its three-pronged approach: a comi-tragedy as appetizer, a heavy tragedy as our main course, and an overwhelmingly funny comedy with a sudden calamitous end for dessert–touching minds and hearts, and wringing us audience members through the full gamut of emotions along the way.
This trio of tales is a fitting reopening for their 40th year, and deserves all the hype, if the standing ovations are to be believed. In a calendar full of theatrical events, this show should be made into a must-see priority.
For more information on this university production, click here.
Comments