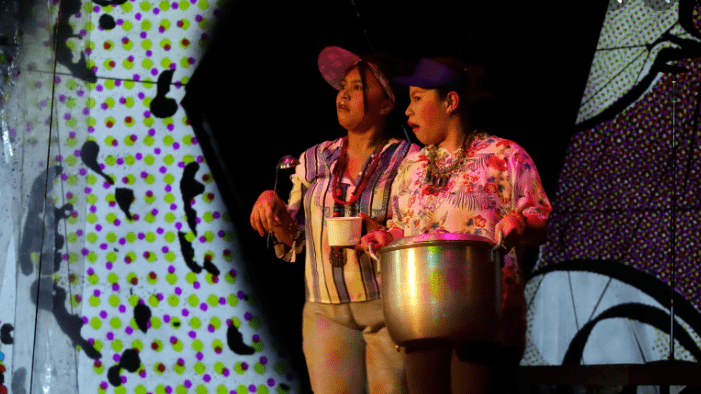 REVIEW: A chaotic, yet compelling, 'Nekropolis'
Tanghalang Pilipino closes its stellar season with another bold production in "Nekropolis," the Guelan Valera-Luarca-penned and Charles Yee-directed bleak dystopia that is intriguingly equal parts compelling and confounding.
What unfolds in "Nekropolis" is a series of individual stories set in a dark, chaotic, and disordered alt-Metro Manila divided into an affluent city center and impoverished outskirts. Within this proverbial dying city, are a multitude of characters grappling with their own complex problems: from an agoraphobic man with incoherent neuroses to a closeted gay man seeking companionship in a repressive society, these vignettes expose a laundry list of current societal ills Valera-Luarca seeks to showcase.
Despite the story being quite the puzzler, the production excels in its stylized production design (by Tata Tuviera), actualizing this failing (failed?) state on stage through the superb aid of D Cortezano's lights, and Joyce Garcia's projections.
Yee's creative direction also offers several highlights, including an evocative and emotional puppetry sequence that reveals the disturbing relationship between two mysteriously 'ill' siblings. This inventive world-building and an almost sci-fi/horror vibe, makes for an absorbing theatrical experience.
The strong performances by the Tanghalang Pilipino Actors Company were crucial in grounding this necropolis whenever it threatened to become too grandiose. New faces like Aggy Mago, Heart Puyong, Sarah Monay, and Mitzi Comia certainly held their own next to TP stalwarts Antonette Go, Lhorvie Nuevo, and Marco Viaña. Mago and Puyong's comedic tandem of amigas with complicated marriages were especially memorable.
Though certainly ambitious and occasionally poignant, the overarching narrative thread that binds these stories together is not as cohesive as one might hope, making the play as a whole more than somewhat confusing.
It's a response to the political climate, though with a rickety structure that does leave one with the sense that the show is largely an exercise for the playwright to express everything he wants to say, even at the expense of clarity.
But this production's strengths, such as the inventive staging and strong performances,  outweigh weaknesses in its narrative structure. While the show may leave audience members scratching their heads, this quality may work for this show's favor. Viewers are left with no choice but to leave the theater with more questions than answers. 
And when the show is a staging of the current state of urban reality, maybe you want to be asking yourself, "What on earth just happened?"
Tickets: 

Php 1,500.00


Show Dates: 

April 20 - April 23, 2023


Venue: 

CCP Black Box Theater


Running Time: 

approx. 1 hour and 35 mins.


Credits: 

Charles Yee (director), 

Guelan Varela-Luarca (Playwright), Dominique La-Victoria (dramaturg), JM Cabling (choreographer), Tata Tuviera (production designer), D Cortezano (lighting designer), Joyce Garcia (projection designer), Arvy Dimaculangan (sound designer-engineer), Soc Amon (deputy stage manager)


Cast: 

Marco Viaña, Jonathan Tadioan, Lhorvie Nuevo, and Antonette Go-Yadao, Mark Lorenz, Vince Macapobre, Mitzi Comia, Arjhay Babon, Heart Puyong, Aggy Mago, Sarah Monay, Edrick Alcontado, Judie Dimayuga


Company: 

Tanghalang Pilipino




Comments