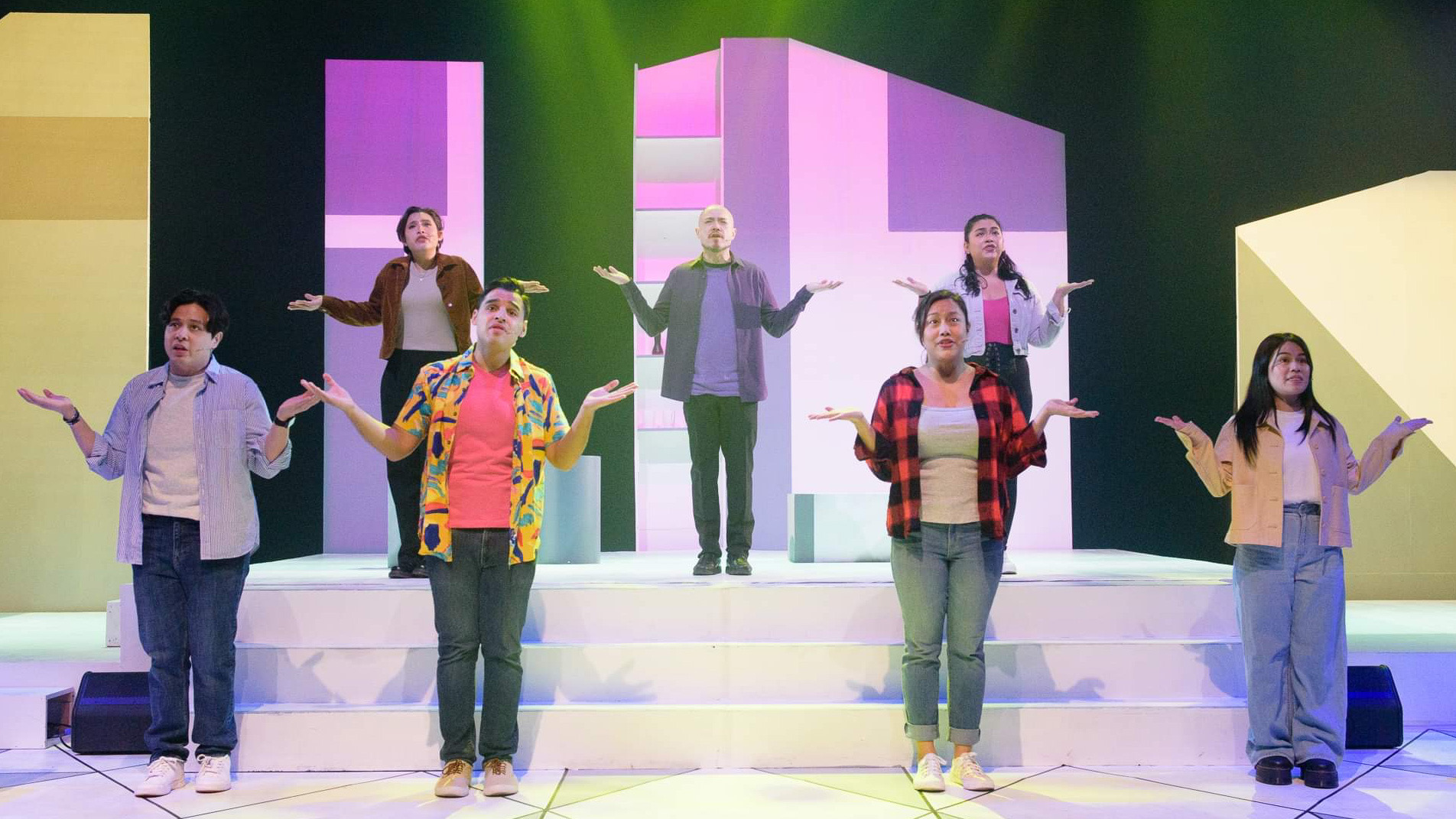 REVIEW: 'Breakups & Breakdowns' is a trope-laden depiction of modern love
In Upstart Productions' latest endeavor, "Breakups & Breakdowns," audiences are led through a lighthearted look at modern-day dating and relationships. Written by Artistic Director Joel Trinidad, with music by Rony Fortich, this original musical comedy leaves one with a nagging sense of déjà vu. Despite the talented cast and co-direction of Trinidad and Triviño, the production falters in its reliance on dated sitcom archetypes.
Set in an unnamed city though reminiscent of late 90s and early 00s New York, the story revolves around four main characters navigating the complexities of love and relationships. Reb Atadero and Nelsito Gomez play roommates, with Gomez's character pursuing a flighty woman played by Nicky Triviño. Meanwhile, Atadero's character grapples with a past breakup from Tanya Manalang-Atadero's character. The plot offers moments of self-realization and growth, but the predictability of the characters and their story arcs undermines any attempt at genuine relatability.
Rigid archetypes
The characters each feel like hodgepodge Hollywood sitcom personas, making them relatable on a surface-level at best. The supporting characters, including Joel Trinidad's gay best friend, Sarah Facuri's mouthy female friend, and Rachel Coates' ball-buster type, only serve to reinforce the production's reliance on tired tropes.
The lead characters do little to break free from these constraints. Nelsito Gomez's charming playboy evokes memories of Joey from Friends (he's even a wannabe actor!), while Reb Atadero's straight man writer seems too consumed by his work to maintain a healthy relationship. Tanya Manalang-Atadero's career-oriented woman, and Nicky Triviño's naive romantic both feel like relics of a bygone era of romantic comedies.
The script's generality was a hurdle not even Fortich's competently composed music could overcome, the music awakening only in rare moments, and incidentally when Manalang-Atadero is singing about her career–numbers that have so little to do with breakups and breakdowns, they can be lifted out of the show.
Determined performances
Despite the limitations of the script, most of the cast delivers reasonable performances. Nel Gomez manages to infuse his character with an endearing charm, making the audience invest in his story even if it is predictable. Reb Atadero's performance in contrast provides a grounded counterpoint to Gomez's playboy.
Tanya Manalang-Atadero shines in her role, particularly during her standout musical number, showcasing her exceptional vocal talent. However, Nicky Triviño's performance feels out of sync with the rest of the cast, notably lacking the precision and deliberation displayed by her fellow performers. Along with the leads, the rest of the cast members–Joel Trinidad, Rachel Coates, and Sarah Facuri–show most of the cast's ability to fine-tune their performances despite limiting archetypes.
In its attempt to be universally relatable, "Breakups & Breakdowns" to me ended up feeling generic and uninspired. With no real stakes and little originality, this musical comedy falls short of the mark, leaving this reviewer longing for a more authentic, less trope-laden exploration of modern love and relationships.
Tickets: Php 500.00 – Php 2,300.00
Show Dates: April 15 (3 pm), April 16 (3 pm and 8 pm), April 22 (8 pm), and April 23 (3 pm)
Venue: Bayanihan Theatre, The British School Manila, University Park, 36th Street, BGC, Taguig
Running Time: approx. 2 hours and 30 mins. (w/ 15 min intermission)
Credits: Joel Trinidad (Book & Lyrics, Co-Direction), Rony Fortich (Musical Direction), Nicky Triviño (Co-Direction), Deana Aquino (Choreography), Lawyn Cruz (Production Design), Carlos Siongco (Costume Design and Set Assistance), Miyo Sta. Maria (Lighting Design)
Cast: Reb Atadero, Tanya Manalang-Atadero, Nelsito Gomez, Nicky Triviño, Joel Trinidad, Sarah Facuri, Rachel Coates
Company: Upstart Productions
Comments