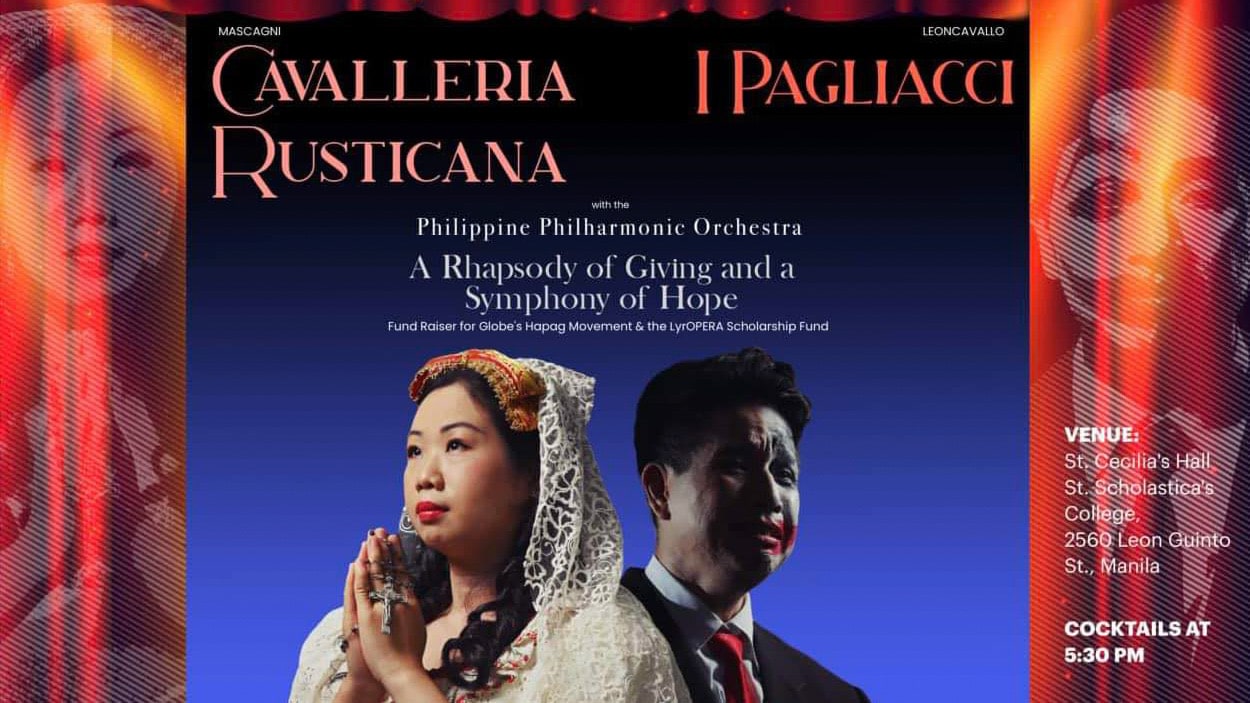 Twin Bill Opera 'CAValleria Rusticana' and 'I PAGliacci' Coming this November
Non-profit opera company LyrOPERA, together with Globe, are coming together to stage a twin bill production of operas CAValleria Rusticana and I PAGliacci (CAVPAG) for a limited run this November.

In collaboration with the Hong Kong opera company Tutti, the performances will feature Hong Kong opera artists Leung Siu Kwan, Vicki Wu, Henry Ngan, Michael Lam, and Christy Li in the main roles for CAV. Meanwhile, PAG will be headlined by Philippine opera artists Sherwin Sozon, Rica Nepomuceno, Zip de Guzman, and Glenn Gaerlan, along with American Isaac Droscha as Tonio.
They will be accompanied by the Philippine Philharmonic Orchestra, under the direction of conductors Fan Ting for CAV and Horst-Hans Bäcker for PAG. Carlos Siguion Reyna will lead the stage direction for I Pagliacci.
LyrOPERA's partnership with Globe aims to offer a rich musical experience while motivating communities to rally behind the Globe-led Hapag Movement's mission to combat widespread hunger and unemployment afflicting millions of Filipinos. Proceeds from the back-to-back operas will directly support the Hapag Movement and the LyrOPERA scholarship fund.
The event is supported by entities such as the Hong Kong Arts Development Council, the Philippine Heritage Society, Globaltronics, and the Cultural Center of the Philippines, under the auspices of the Embassy of Italy in Manila.
"We are excited to bring to Manila two new operas that will surely stir emotions with haunting songs and lyrics. As much as music moves audiences, we'd also like to send a message of hope to those who deal with hunger every day," said Sherwin Sozon, co-founder of LyrOpera.
The verismo operas, which resonate with themes of love and betrayal, are set to be staged on November 10, 7pm and on November 12, 3pm at the St. Cecilia's Auditorium in St. Scholastica's College, Manila. Tickets are available at Ticketworld.
Comments