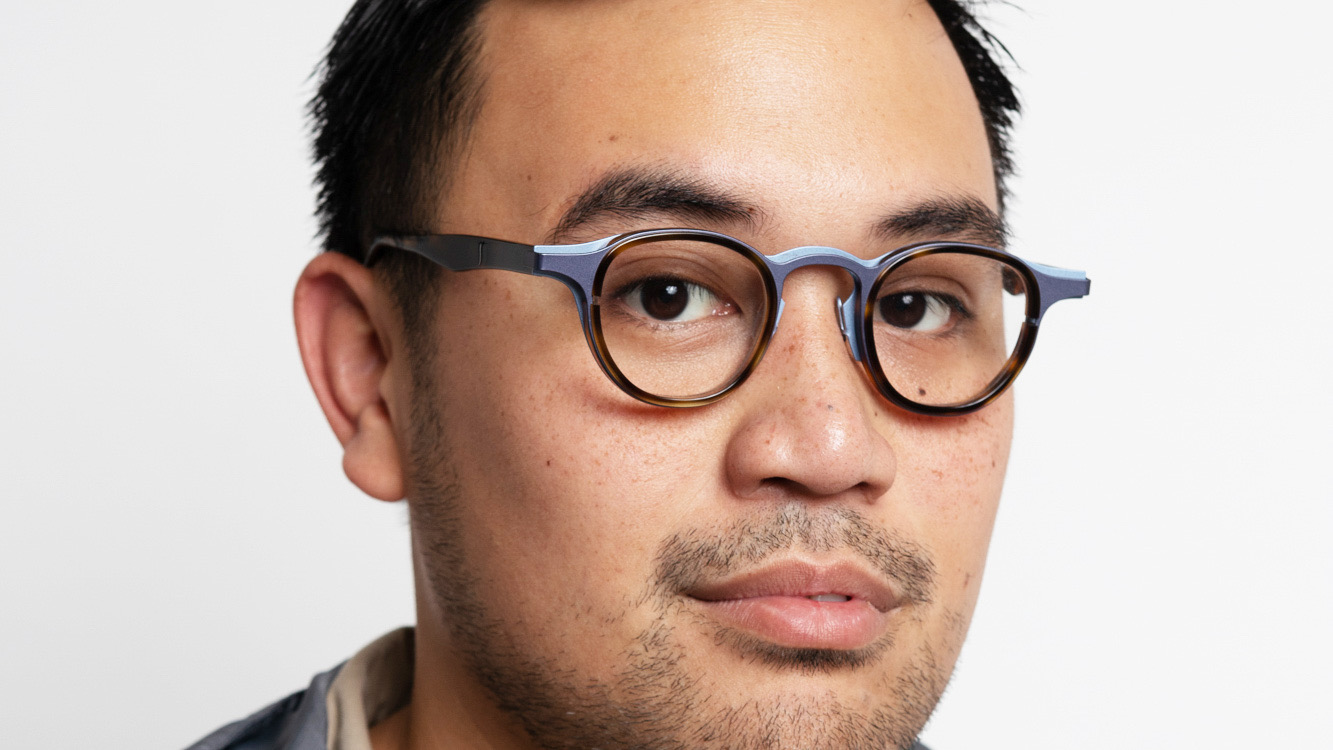 Toff de Venecia, Theater, and the Energies That Brought Him Here
A deep-dive into the mind of The Sandbox Collective's managing artistic director.
Toff de Venecia finishes Carousel rehearsals at 9 p.m. On this particular evening, he gets a visit from Edna Vida, dancer extraordinaire. The two step out for a discussion unrelated to Repertory Philippines' third offering this season. At 33, Toff is already a prolific producer, director, and statesman to boot. He's no Don Perico à la Portrait of the Artist as Filipino, though; Toff's tendencies are much more millennial than old world, being a member of the millennial generation himself. 
Like many working theater practitioners today, Toff got his start through children's theater in Repertory Philippines and, later on, collegiate theater by way of Ateneo Blue Repertory. But it was something else that brought him to theater entirely. Despite being a child actor and having done plays since he was in kindergarten, the stage was more his sister's turf than his. Then tragedy struck: one Christmas, a fire engulfed his home, taking his sister with it. "[After that], there was something in me that wanted to try new things, maybe because I realized that life was short," he says. "Maybe there was something in me that wanted to be closer to what it is that she was doing."
He did two workshops shortly after — one for photography and another for theater — and it's obvious which one he ended up sticking with. But as he traversed the world of theater, it became clear where he was meant to be: not onstage as an actor, but, instead, backstage, first as a production manager and soon enough, as a full-fledged producer after joining 9 Works Theatrical. This was during a time when Toff had been traveling more and more, seeing theater that was beyond the usual Broadway and West End fare.
"I was starting to watch straight plays off-Broadway. At some point, I got really adventurous and started watching fringe stuff off-off-Broadway," Toff says. This exposure to more avante-garde, unconventional theater soon shaped his artistic sensibilities and aesthetics. "Then I thought there was a gap in the [local theater] market that I thought we could address." 
Making theater that matters
After founding The Sandbox Collective in 2014 — now known for plays that are decidedly "millennial" in both form and content, such as No Filter and Lungs — Toff has been quoted to say that Sandbox isn't a theater company, but rather a "performing arts collective." As managing  artistic director, Toff admits that much of the energy that underscored Sandbox in its early days stemmed from his own personal tastes and preferences. "That kind of millennial theater that we became known for was influenced by my worldview and my work with Young Star," he shares. "Being in the creative side of 'millennialism,' I brought those proclivities with me into the kind of work that we would end up doing." 
It also happened that these same proclivities resonated with audiences. Dani Girl and No Filter were each a smash hit on their own that both had well-received reruns. As a producer, Toff has made it a point to always be on the lookout for young and emerging talent. He notably casts crossover actors — artists who tread the line between theater and film or television — with Jasmine Curtis-Smith, Jake Cuenca, and Aicelle Santos having appeared in No Filter, Lungs, and Himala, respectively. 
"We also infuse our productions with very commercial elements," Toff admits. "We work with personalities and celebrities because we believe in the creative voices that they can bring. Of course, there's also the marketing side of it. It certainly helps; it doesn't hurt." For as much as Toff can harness his actors' talents and capabilities, the same goes for the other way around. "There's so much that I learned about the craft through them," he says. 
Between 2016 and 2018, Sandbox had been on hiatus. Toff's partners were moving abroad to study and he himself was being groomed by his politician parents — former House Speaker Jose and former congresswoman Gina de Venecia — to run for public office. He became a congressman in 2016, representing his hometown of Pangasinan and championing bills related to culture and art. "And then, of course, I missed Sandbox," Toff says, chuckling. 
While his work as a politician had a direct impact on him as a theater-maker, so did the universe, it seemed. "The energy of the world sort of conspired to make things happen," he says. There's an interconnectedness to each story he tells me, from his beginnings in theater to which plays he chooses to mount for Sandbox and why. 
Take, for example, the pair of plays running at the Maybank Performing Arts Theater. After sold-out shows last year, Duncan MacMillan's Every Brilliant Thing and Lungs are back for a limited time through Sandbox Fest 2020. In 2018, he had shortlisted five plays, of which Lungs and Every Brilliant Thing were part. In the end, Sandbox had gone with Lungs, but then suddenly, Teresa Herrera — who would end up starring in the latter — messaged him to talk to him about a play that she could not stop thinking about. The play, of course, turned out to be just that. "I was floored," Toff says. 
Upon starting work on Every Brilliant Thing, Toff realized that Sandbox's DNA had been expanded further: This time, their shows demanded a social component. "For it to have been embraced the way it was is testament to how theater that matters can resonate with audiences," Toff says. This works hand-in-hand with Sandbox's original pursuit, which was to cater to millennials — young people, Toff says, who are "civically engaged and passionate, who see through the B.S., who want to have a conversation with these theatrical experiences." This social component for Sandbox became necessary as they chose material. "I think Sandbox just sort of organically shaped itself," Toff muses. 
Taking a leap in the dark
In 2018, the collective staged Himala: Isang Musikal. Directed by Ed Lacson Jr. ("a fellow millennial," Toff notes) and with music by Vincent A. de Jesus, the show was an unequivocal success. While Himala broke away from the "millennial" bent that Sandbox had been known for, it didn't shy away from the collective's newest goal of engaging with the world and with audiences socially and civically. "I'm not sure if Himala was a progression to the DNA of Sandbox or if it's an anomaly," Toff confesses. Whatever the case, Himala ticked all the boxes for Toff. Through it, Sandbox was able to discover and collaborate with new creative voices and it was able to stage something immersive, different, and out of the box. "It stretched us creatively," he says. 
As a politician, his worldview and artistic tendencies have definitely been widened and shaped. "As creatives," Toff begins, "we find ourselves constrained with the ways on how to stage a certain scene, how the intention might be explored for certain segments of the text. But what my background in government has done for my work in the theater is that it's really busted it open. It's provided a new way forward into how I produce or direct certain shows. There would've been a default or a cliché that I would often explore before my work in government. I used to gravitate very much towards visuals. I looked for off-kilter ways in which to present a certain scene. But now [I have] a new viewpoint into the work. All of a sudden I veered away from the hows and started focusing on the whys." 
He imbibes this philosophy especially as director of Repertory Philippines' Carousel, slated to open this May. Its most recent Broadway revival in 2018 had failed to take flight, despite its soaring music. How could a show like this, with its undertones of violence against subservient women, be relevant today, especially with the sensibilities of a contemporary, 21st-century audience? "I'd always been curious if we can explore classic material through a contemporary lens," Toff says. "I read through it and I was triggered by a lot of things in the text. I was launched into this trajectory of just excavating all of those deep genres and embedded themes within the text." 
"Back then it's so easy to get swept away with the breadth and the transporting quality of the music of Rodgers and Hammerstein. But if you forget all about that, and you just focus on what's being sung or said, you're like, 'Are they really saying these things?' [But what matters is] challenging and questioning what's being presented in the show and prescribing with our sensibilities on how these should be perceived by the audience." 
Mid-conversation, he whips out The Viewpoints Book from his bag and seeks out a passage by Agnes de Mille. Just moments earlier, he'd paraphrased a quote of hers. When he finds it, his eyes light up, and he recites the words like they were his own. "Living is a form of not being sure, not knowing what's next or how. The moment you know how," Toff reads, "you begin to die a little. The artist never entirely knows. We guess. We may be wrong, but we take leap after leap in the dark." This is Toff's approach to directing Carousel, but one can't help but think it's his approach, as well, to life's more general questions and challenges, especially as a theater artist who spends most of his days in the pains and aches of creating theater that matters. Because at the end of the day, after taking leap after leap in the dark, it all becomes worth it. 
Comments