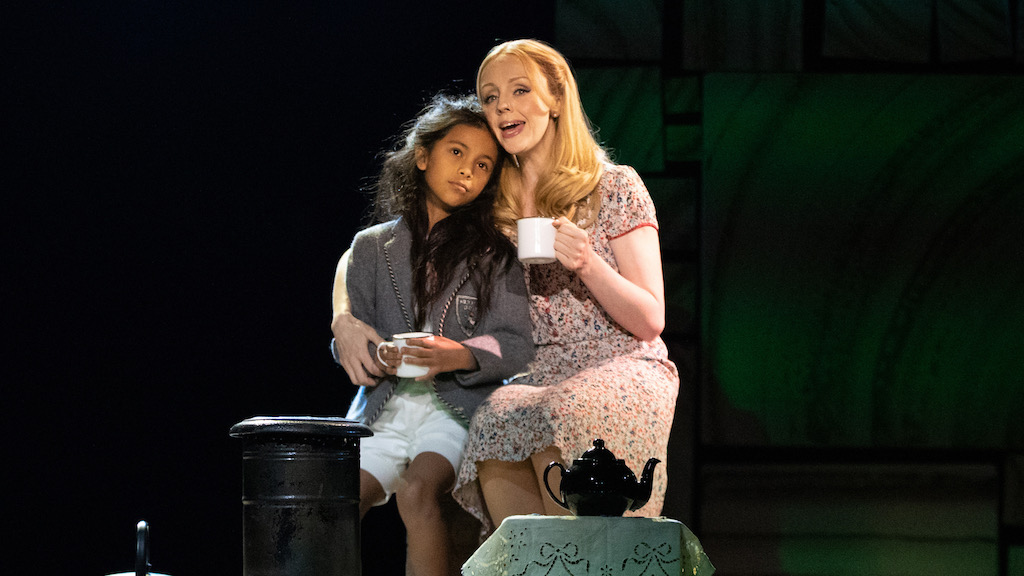 REVIEW: "Matilda: The Musical" is a must-see modern classic
This RSC production is packed with stage magic, affecting performances, and a classic story fit for all ages.
Little kids declaring they're miracles begin Matilda, adapted from a Roald Dahl classic of the same name. But the true miracle is that Manila audiences can watch the Royal Shakespeare Company production of this much-lauded musical; the same version that's currently at Cambridge Theatre on the West End and winner of countless Tony's and Olivier's.
With a book by Dennis Kelly and music and lyrics by Tim Minchin, the stage craftsmanship (directed by Matthew Warchus) is in full swing at the Theatre at Solaire, with performances that delight, and then sear, and then linger, days after you've seen the show. It is bursting with color and humor that will tickle younger audiences, but serves up warmth and emotion that will tug at the heartstrings of their adult companions.
Matilda (Sofia Poston), unplanned and unwanted, takes solace in books and her own rebellion. Sent to a school with a frightening bully of a headmistress, she remains brave and defiant. But she's five, and can't go at it alone. In comes Miss Honey (Haley Flaherty), a wisp of a woman who finds inner strength to fight for this little girl, and ultimately, herself. 
The show's big scenes are a riot, from "School Song", a jaw dropping alphabet number where Crunchem Hall students warn its newcomers the living hell they're about to enter, to the rollicking rock number "Revolting Children" featuring the ensemble dancing on and around their desks (choreography by Peter Darling). 
It also has an assemblage of colorful characters, caricatures befitting their origins as children's book characters. The most detestable of them is Miss Trunchbull, although Hayden Tee's delectable performance makes the character seem even more larger than life, a gigantic Big Bad that makes the character's eventual comeuppance all the sweeter.
For all its bells and whistles, Matilda the Musical is also emotionally engaging. Flaherty's stirring turn as Miss Honey made every moving song even more of a gut-punch, revealing the show to be just as much her own journey of escape, freedom, and eventually finding a family. It is so compelling that apart from the soaring "When I Grow Up", "My House" is the show's most affecting number.
If this version has deviations from its London counterpart, they are minor. The lack of child performers might be the most noticeable (with only 3-4 on stage a show, including Matilda). It's not really a detriment, save for the adult actress (Taylor Salgado) playing Lavender whose portrayal of the five year old was utterly cartoonish.
This production of Matilda the Musical might be the most satisfying tour that's docked on our shows as of late, or ever. It's an absolute marvel. You will laugh, you will cry, you might just turn around and buy another ticket. It's that good.
Tickets:

 Php 1,800.00 - Php 6,000.00


Show Dates: 

 Mar 5 '20, Mar 6 '20, Mar 7 '20, Mar 8 '20, Mar 10 '20, Mar 11 '20, Mar 12 '20, Mar 13 '20, Mar 14 '20, Mar 15 '20, Mar 17 '20, Mar 18 '20, Mar 19 '20, Mar 20 '20, Mar 21 '20, Mar 22 '20


Venue:

 The Theatre at Solaire, 1 Aseana Ave., Entertainment City, Paranaque.


Running Time:

 approx 2 hours and 30 mins (w/ 20-minute intermission)


Credits:

 Dennis Kelly (book), Tim Minchin (music & lyrics), Matthew Warchus (director), Peter Darling (choreography), Rob Howell (set & costume design), Christopher Nightingale (orchestration & additional music), Simon Baker (sound design), Hugh Vanstone (lighting design), Paul Kieve (illusion), Louis Zurnamer (musical direction)


Cast:

 Sofia Poston, Hayden Tee, Haley Flaherty, Matthew Leck, Caleb Payne, Stephen Jubber, Claire Taylor, Nompumelelo Mayiyane, Ken Jeycocke, Rafe Watts, Logan Timbre, Rachel Moran, Taylor Salgado, Jamie Kaye, Megan Saayman, Ipeleng Merafe, Sinead Donnelly, Zac Gabriel Werb, Londiwe Dhlomo, Adrianna Patlaszynska, Aaron Jenkins, Emily Squibb, Michael Gardiner, Aaron Jenkins, Carlo McFarlane, Jonathan Raath, Weslee Lauder


Company:

 Royal Shakespeare Company / GMG Productions




Comments