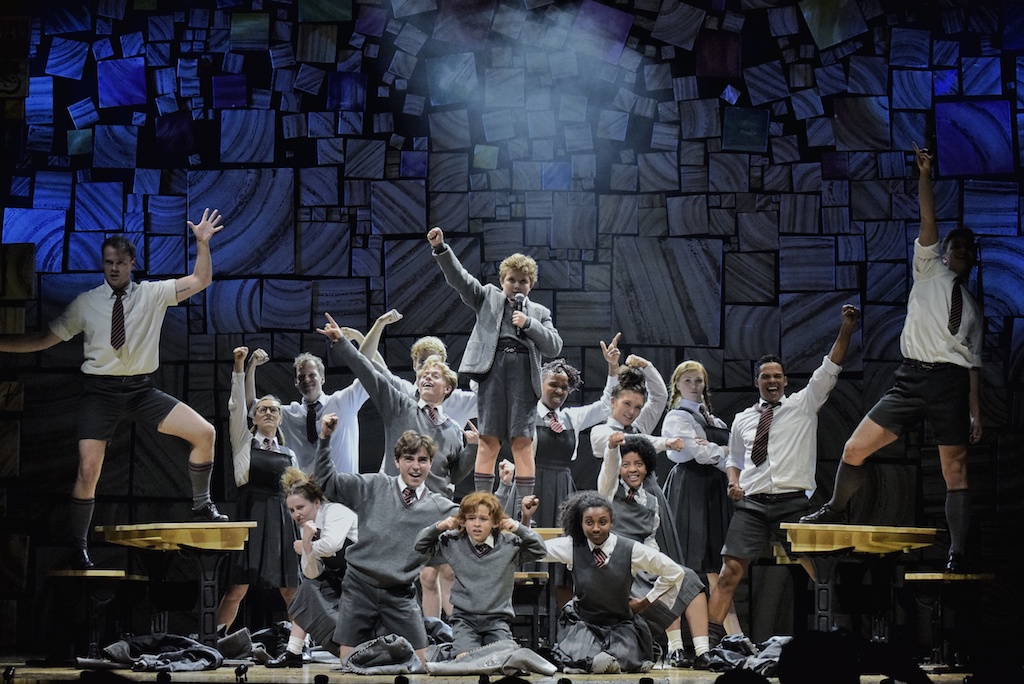 SNEAK PEEK: "Matilda" cast performs 'When I Grow Up', 'Naughty', and more!
Matilda the musical is based on the beloved 1988 Roald Dahl novel about a precocious little girl who loves books and learning but who is ignored and oppressed by her ignorant, overbearing parents and by her school's tyrannical headmistress, Miss Trunchbull. In spite of these hardships, she finds solace in books and in the love of her kindhearted teacher, Miss Honey. She later finds the strength to challenge the unjust system in her school and she emerges triumphant.
The musical, written by Dennis Kelly and Tim Minchin, first appeared in the Royal Shakespeare Company's home in Stratford-Upon-Avon before moving to the Cambridge Theatre in the West End in 2011 and the Shubert Theatre on Broadway in 2013, and has continued to inspire millions of audience members ever since. The most memorable songs from the show include "Naughty," "When I Grow Up," and "Revolting Children."
This production boasts of a large and diverse cast, with around 100 company members from South Africa, Singapore, Scotland, Australia, Poland, Belgium, England, and the Philippines.
Matilda has long been an inspiration to generations of little girls who read the book, watched the 1996 film starring Mara Wilson, or watched the musical. In this production, the role of Matilda is being alternated by Zoë Modlinne, Sofia Poston, and Zara Yazbek Polito.
Sofia, one of the leads, talked about the challenges of playing this iconic and complex role. "One of the most challenging things is that Matilda never smiles and that is the exact opposite of me," said Sofia, "She keeps her feelings bottled up inside because she doesn't want anyone to know what she feels inside."
"These girls lead us," says resident director Natalie Gilhome. "We are led by these young girls on stage all night and it's so inspiring to us adults all the time."
"There is a strength of character that they bring, there is a real maturity in it. A lot of nuanced, intelligent conversations that we end up having with these young girls, it's always extraordinary to see."
"You'll be thinking about it for days," adds Haley Flaherty who plays Miss Honey. "the stories, the characters, you'll be kind of glad that Matilda did what she did."
"We all have the power inside ourselves to make the world a better place," continues Gilhome, "and if we see something that's not right, you make a change."
"One of the main themes of this show is to use your own powers to make the world a better place."
Since March is National Women's Month, it is only fitting to watch a musical that truly celebrates the phenomenal power of young women who can change the world. Matilda the musical will run at The Theatre at Solaire, 1 Aseana Avenue, Entertainment City, Parañaque City, from March 5 until 22, 2020.
You can watch the cast perform "Revolting Children", "When I Grow Up", and "Naughty" in the video below.
You can get tickets here.
Comments