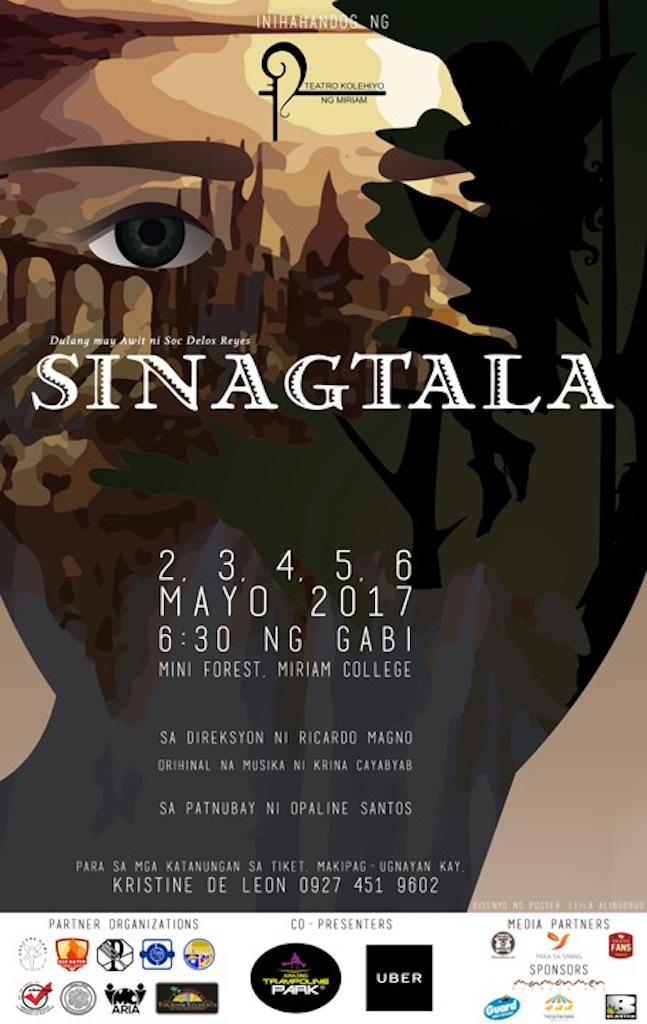 TKM Stages Soc Delos Reyes' Sinagtala
Teatro Kolehiyo ng Miriam (TKM) is producing its first-ever musical with Soc Delos Reyes' Sinagtala. Ricardo Magno, a former member of Tanghalang Pilipino's Actors Company, will be directing and choreographing the production, with musical direction by Krina Cayabyab.
The production will be set at the heart of the mini forest in Miriam College.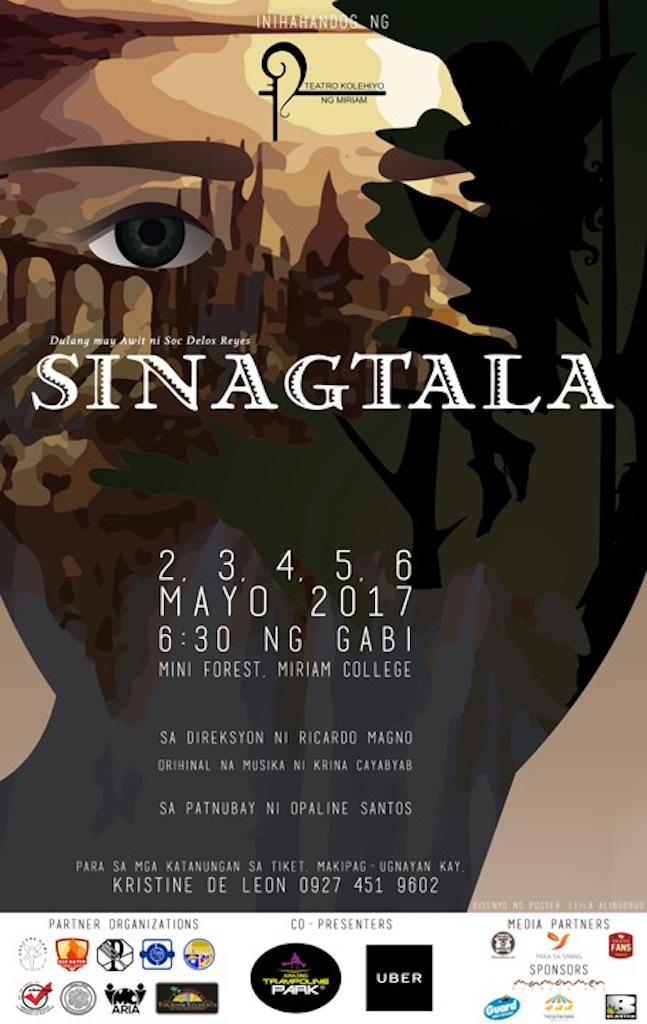 Synopsis
Sinagtala revolves within the parallel lives of two worlds—fantasy and reality, and how they are connected through similar struggles and triumphs. The plot follows the young girl Tala, who battles the pressing issues in her environment and her quest for survival. The story is very much relevant to the present situation of our country that leads to grave human rights violations, causing oppression and further gap in our nation. This production could be a powerful medium that may remind, confront, discuss, and offer possible solutions towards responsible Filipino citizenship.
Cast
KAITAASAN:
Lualhati: Arthene De Guzman (TKM Member)
Lakay: Noel Blanco (Guest Actor)
Danggoy: Mindy Ordonez (TKM Alumna)
Daluyong: Gino Ramirez (Guest Actor)
Hukluban: Jascha Sarmiento (MC Student)
Alitaptap: AC Vergara (MC Student)
MGA KORO:
Agila 1 – Monique Laurel (TKM Alumna)
Agila 2 – Imay Panganiban (TKM Member)
Agila 3 – Geri Regondola (TKM Member)
Aswang 1/Alitaptap Koro – Maan Dela Paz (TKM Alumna)
Aswang 2/ Alitaptap Koro – Paula Esquillo (MC)
Aswang 3/Alitaptap Koro – Marga Tulaylay (TKM Member)
Diwata/s – Gari Rivera, Jerilee Salvador, Chi Wasan, Mhikuo Jecino, Kristine De Leon and Jemi Santos
MUNDO NG TAO:
Tala – Annika Gamo (TKM Alumna)
Egdar – Gino Ramirez (Guest Actor)
Corazon – Hazel Maranan (Guest Actor)
Alejandro – Ren Medina (Guest Actor)
Artistic Team
Playwright- Soc Delos Reyes
Director and Choreographer- Ricardo Magno
Composer and Musical Director- Krina Cayabyab
Dance Master- Imay Panganiban
Set Design Head and Shadow Play Head- Pat Resuta
Lights Designer- Geri Regondola/ Tagay Galit
Sounds Designer- Monica Mendoza
Video Designer- Kristine De Leon
Props Designer- Jolina Capadocia/ Cha Roque
Costume Design- Marga Tulaylay
Make-Up Design- Chi Wasan/ Chona Fernando (Head)
Sinagtala showdates are on May 2, 3, 4, 5, & 6 all at 6:30 P.M at Mini Forest, Miriam College, Katipunan Ave, Loyola Heights, Quezon City.  For tickets and inquiries please contact Tin De Leon at 0927 451 9602.
For more details about what's happening in the Manila theater scene, please view our Theater Calendar.
Comments