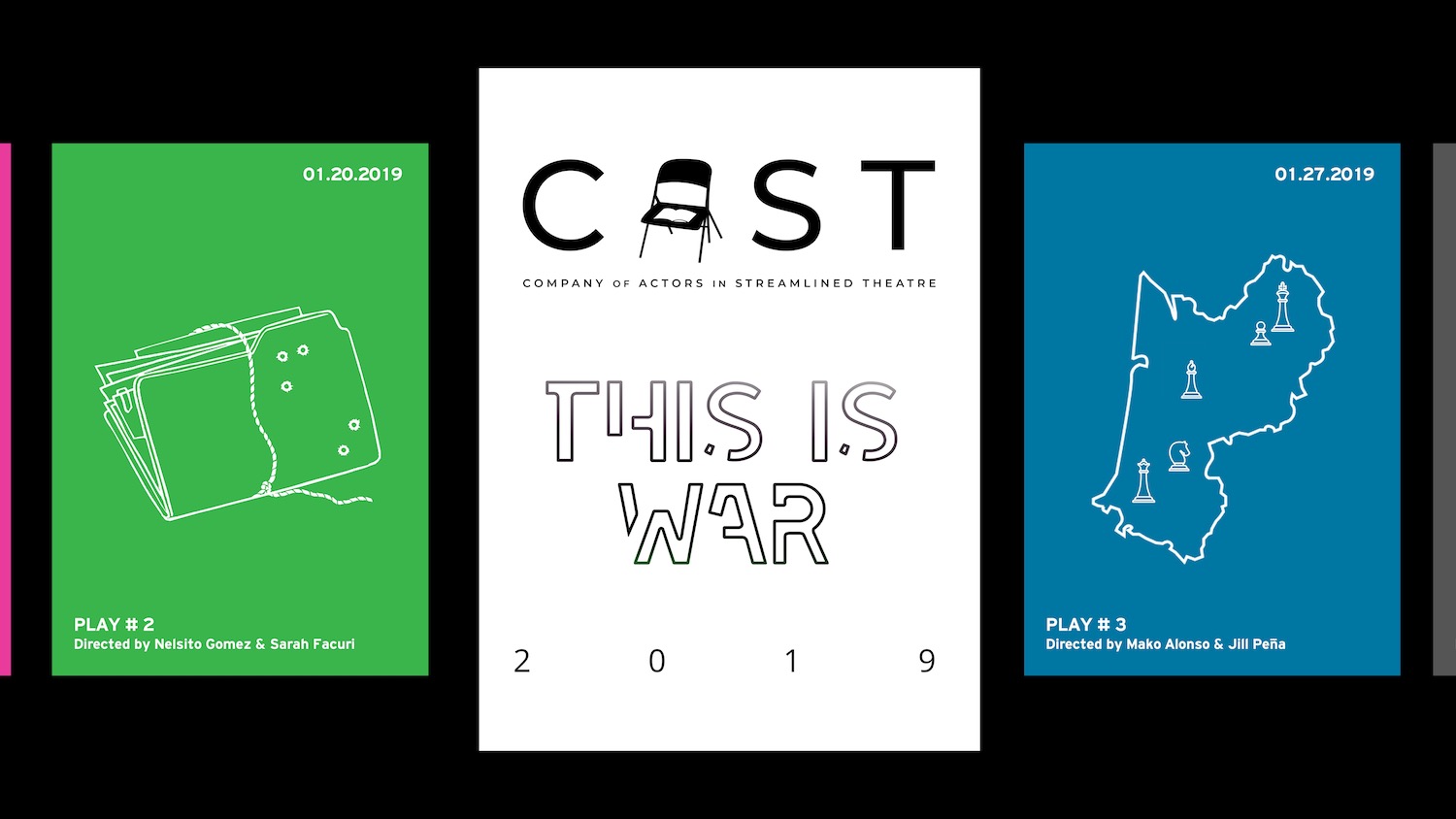 'This Is War' Staged Readings this January
The Company of Actors in Streamlined Theatre (C.A.S.T.), a group composed of six professional actors and one professional writer– Nelsito Gomez, Sarah Facuri, Mako Alonso, Jill Peña, Maronne Cruz, Reb Atadero, and Wanggo Gallaga, is ready to launch its staged reading series.
Heavily inspired by projects such as Trumpet's 4Faith Series and CCP's Virgin Labfest, their goal is to regularly present a season of STAGED READING performances: Four plays. Once a week for four consecutive weeks. Annually.
Their new group was brought together by a shared vision of creating an affordable environment to showcase thought-provoking and timely material for young thespians, theatre students, theatre enthusiasts, theatre patrons, and people looking to discover theatre for the first time.
Taking ideas from Kenneth Branagh's Renaissance Theatre Company, (a group where fellow actors, writers, and kindred spirits were given a safe space to explore different facets of the theatre) C.A.S.T. is also an avenue for its members to transition into other "roles" in the theatre, so to speak.
In its inaugural season last May 2018, C.A.S.T. set out to introduce themselves by answering the perennial question at the heart of any artist, "How is art still valuable in this day and age?"
The plays featured were, Our Country's Good by Timberlake Wertenbaker, Seminar by Theresa Rebeck, I Never Saw Another Butterfly by Celeste Raspanti, and Fluid by Floy Quintos.
For season two, C.A.S.T. ventures into an even bigger theme mirroring the tumultuous times we live in. The next four plays hope to remind audiences of the egregious faults the world has made while inspiring them with stories of resilience and perseverance in the face of hopelessness.

The schedules for the staged readings are as follows:
January 13, 2019. 7pm.
Play #1
Directed by: Jill Peña & Maronne Cruz.
January 20, 2019. 7pm.
Play #2
Directed by: Nelsito Gomez & Sarah Facuri.
January 27, 2019. 7pm.
Play #3
Directed by: Jill Peña & Mako Alonso.
February 3, 2019. 7pm.
Play #4
Directed by Wanggo Gallaga & Nelsito Gomez.
Title of plays will be revealed at the venue. Cast announcements will be made on a later date.
All performances will be held in PINEAPPLE LAB, 6053 R Palma, Makati, 1210 Metro Manila. There will be a door charge of 100 pesos. All performances start promptly at 7pm.
*late comers will not be permitted.
Limited seating capacity of 70 seats.
For reservations, please contact: 09453167768.
This season is presented in partnership with PINEAPPLE LAB.
Comments