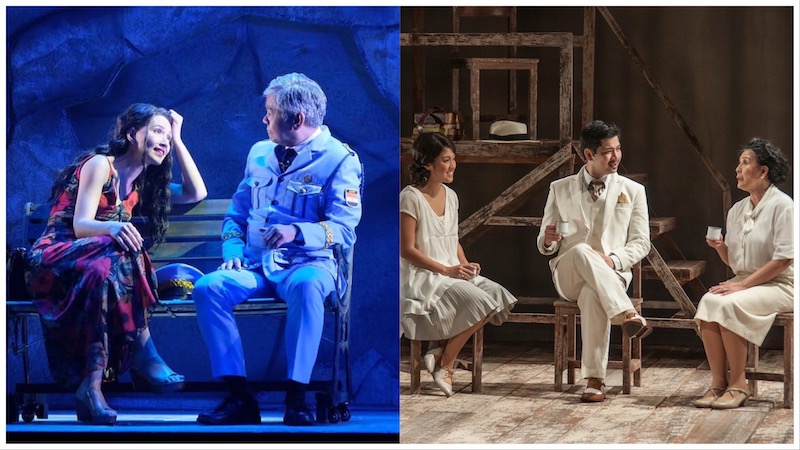 They Closed Before They Opened: "The Band's Visit" and "Anna in the Tropics"
I saw them, and they were beautiful.
There's always a sense of thrill and anticipation whenever a theater-goer enters a theater. Every time the curtains rise, everyone looks forward to being dazzled, or moved, or agitated by the many different forms that the theater can take. In two separate evenings, I also felt all those things, but for reasons other than witnessing a production.
Almost every possible industry has been decimated by the recent coronavirus outbreak, with theater one of the first casualties. Shows that were running in March have been cut short, while others have been postponed. But two shows, specifically Atlantis Theatrical's The Band's Visit and REP's Anna in the Tropics, are particularly unique because they closed before they even opened.
Both shows were scheduled to open on March 13, the night after President Duterte addressed the nation about drastic steps that the country would be taking to combat the virus. I was very privileged to have been invited to the technical dress rehearsals of both, only two days and a day before The Band's Visit and Anna in the Tropics were respectively set to open.
Besides the inopportune timing, both shows share a common theme—how art, specifically music, film, and literature elevate people's lives, bind them in a universal way, and mirror their everyday existence. The Band's Visit follows an Egyptian police band that arrives in Israel to play a concert. Language barriers leave them stranded in a remote village in what Dina, the café owner played by a luminous Menchu Lauchengco-Yulo, calls "the middle of the desert" in the comical number "Welcome to Nowhere." 
The entire story transpires in one night, where Dina and her friends welcome the band members and give them a place to stay. In spite of the political context, the characters find common ground through their love for music and film. Simon (Steven Conde), a band member, plays the clarinet to soothe a crying baby. Dina talks to band leader Tewfiq (Rody Vera) about her love for Egyptian movies. Tewfiq sings her an Arabic song. All these and other quiet moments transpire while they share their own stories of love and family.
In Anna in the Tropics, a Cuban family working in a cigar factory in 1929 Tampa, Florida are jolted when a lector named Juan Julian, (Ricardo Magno), reads them Leo Tolstoy's Anna Karenina while they work. As the characters see their own lives reflected in the story's characters, affairs, jealousy, and repressed feelings are unearthed. Conchita (Skyzx Labastilla) has an affair with Juan Julian after being cheated on by her husband Palomo (Brian Sy). Conchita's sister Marela (Gab Pangilinan) is jealous, because she secretly desires Juan herself, but her uncle Cheche (Paolo O'Hara) also has hidden desires for her. All these are explored while they battle with tradition and modernity.
The stunning production design for both productions, The Band's Visit, with a set design by Faust Peneyra, costume design by Odelon Simpao, and lighting design by Adam Honoré, and Anna in the Tropics, with a set design by director Joey Mendoza, costume design by Becky Bodurtha, lighting design by Barbie Tan-Tiongco, and video projection design by GA Fallarme, both visually stunning, captures the world they were trying to inhabit. As soon as I saw it, I immediately thought, "What if this doesn't get seen by an audience?" 
For The Band's Visit, the cast spoke and sang in perfect Yiddish and Arabic accents, which evidently took weeks or months of dedicated rehearsals to perfect. And the music? Steven Conde as Simon was actually playing the clarinet, Mark Bautista as the charmer band player Haled was actually playing the trumpet, and Rhenwyn Gabalonzo was actually playing the violin with such prowess, you wonder if he's been doing it all his life. Reb Atadero as an awkward lovestruck Papi, together with his crush Julia, played by Maronne Cruz, were actually roller-skating across the stage. And the orchestra played the sublime music composed by David Yazbek throughout the show.
For Anna in the Tropics, musical theater actor Gab Pangilinan performed her first straight play. Skyzx Labastilla performed her first English play. Together with the rest of the seasoned cast members, they all performed for REP for the first time, a bold yet rewarding choice by Mendoza. It definitely was not a small feat to be playing a family on an unfamiliar stage.
All those firsts and all that investment–both directed with beautiful restraint by Bobby Garcia and Joey Mendoza–for these two productions that never got the chance to open. Every time official news broke out that they weren't going to push through, my heart sank. We can only hope that we can all see them back on stage one day.
The Band's Visit
Credits: Itamar Moses (book), David Yazbek (music & lyrics), Bobby Garcia (direction), Faust Peneyra (set design), Farley Asuncion (musical direction), Cecile Martinez (musical staging), Adam Honoré, (lighting design), Odelon Simpao (costume design), Manman Angsico (vocal direction), GA Fallarme (projection design), Jaydee Jasa (hair and make-up design), Justin Stasiw (sound design)
Cast: Menchu Lauchengco-Yulo, Rody Vera, Mark Bautista, Nino Alejandro, Reb Atadero, Bibo Reyes, Jill Peña, Maronne Cruz, Floyd Tena, Jep Go, Dean Rosen, Steven Conde, Rhenwyn Gabalonzo, Leanne Mamonong
Company: Atlantis Theatrical

Anna in the Tropics
Credits: Nilo Cruz (playwright), Joey Mendoza (direction and set design), Fabian Obispo (sound design/composer), GA Fallarme (video design), Becky Bodurtha (costume design), Barbie Tan-Tiongco, (lighting design), Ricardo Magno (movement design)
Cast: Skyzx Labastilla, Ricardo Magno, Madeleine Nicolas, Paolo O'Hara, Gie Onida, Gab Pangilinan, Brian Sy
Company: Repertory Philippines
Comments