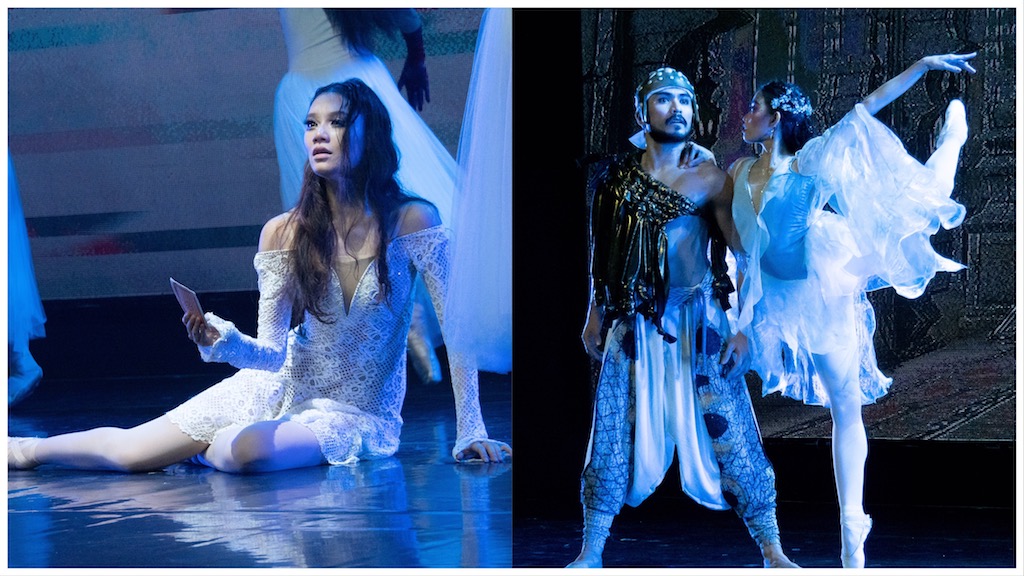 REVIEW: "Carmina Burana" & "La Traviata" are triumphs in tragedy
Ballet Manila successfully closes its 24th season with a beautiful double bill.
The dancers of Ballet Manila has seen one too many tragedies come their way this past season. They were homeless due to the Star City fire that damaged their theater. They were left ashen with the tremors of Taal Volcano affecting ticket sales. They were even dragged into a saga of sorts concerning Ballet Philippines. Most recently, COVID-19 has kept so many away from the theaters in fear of contamination.  
The string of misfortunes were many and it is quite ironic that Ballet Manila by some twist of fate is ending their season with two stories of tragedies as well. 
A look at humanity in "Carmina Burana"
Carmina Burana is a suite of music based on twenty four poems from a medieval collection.  Its songs are not held together by a story, but collectively they depict a picture of 13th Century life, with the idea of the  fragility of faith and love. It is basically a picture of humanity through poems that were given life by the music of Carl Off. 
Most versions of Carmina Burana do not have a narrative, but choreographer Rudy De Dios chose to anchor his version of Carmina Burana through a fictional tale about good and evil. 
He created a story about a community who experience drought and hunger. At  their lowest point, they seek the help of the goddess Agape through their King Solom. Agape in all her goodness  shares her gift of life and allows the coming of spring with a wave of her hand. The people rejoice and celebrate the good fate. However, Atheos lures  King Solom to his side. He pursues him to take a sip from his cup where even more rewards are available. 
Altheo symbolizes temptation  and the fragility of one's beliefs when lured by power. Spreo, who is the king's trusted one, keeps the king  from taking a sip from the cup. Together they fight off Altheo and remain steadfast in support of their goddess Agape. King Solom reigned fiercely until he  met death and reunited with his goddess Agape. As he leaves the earth, Spreo who has proven himself as a warrior both in spirit and in form takes on the seat of the King. 
The fact that De Dios chose to use a narrative to share the essence of Carmina Burana was quite a risk especially because both Ballet Philippines and Philippine Ballet Theater have versions of it that are powerful explorations of the theme, which is ultimately the fickleness of fate and humanity. This is actually the usual take of ballet companies in the global scene. 
However, it was a risk that was well worth it. De Dios obviously drew his inspiration from the lyrics and their intended themes. The ballet opened with the song Fortuna whose lyrics translate to "Oh Fortune, like the moon you are changeable".  The second song follows saying "I bemoan the wounds of fortune with weeping eyes for the gifts she has made me she perversely takes away." These words perfectly describe the frustration of his characters who have been given abundant blessings, only to be taken away by drought. De Dios made sure that the essence of the songs were emphasized with the story he chose to tell. 
On an even higher level, De Dios impressed me with how he was able to really give life  to the music through the intensity of his vocabulary. He matched pounding beats with very musical power lifts and impressively precise ensemble floor work. 
His adagios for goddess Agape were soothing, pretty much like a beautiful prayer. Undoubtedly, De Dios has a trained ear and a fine eye for aesthetics and a good understanding of the dancer's bodies. This enabled him to create an interestingly textured neo classical piece with a very contemporary feel. 
In response to the good material, the dancers willfully delivered. With a very small stage like that, the easier way would be to compromise the dancing with calculated energy  and lower extensions. Quite the contrary, the dancers delivered a high impact, highly technical and musical platter of sophisticated dancing. 
Particularly brilliant was Gerardo Francisco who played the part of Spreo. He did not hold back at all, delivering trick after trick with the artistry of a seasoned performer. There was an organic earthiness to his dancing that is hard to ignore. Brian Sevilla also delivered a beautiful solo as the "vision", displaying his technical abilities with a demanding solo of leaps, extensions and turns. 
Carmina Burana was undeniably a success, and I believe De Dios is a force to be reckoned with. 
The show did have a few issues. It was hard to understand the role of Brian Sevilla. His solo was quite a feast for the eyes because of the level of physicality, but nobody really understood who he was. Perhaps a little bit more build-up of the character would have helped.
Ballet meets opera in "La Traviata"
La Traviata is an Italian Opera that was reenvisioned by Lisa Macuja- Elizalde. 
Loosely based on the ballet Lady of the Camelias, it follows the story of an ill courtesan girl Violetta who is entangled in a love triangle. Violetta falls deeply in love with Alfredo who is a commoner and rejects the Baron. The unlikely pair, however, are challenged by the occurrence of severe illness, jealousy, responsibility and of course, money. It ends in tragedy with Violetta dying in the hands of Alfredo. 
Abigail Oliverio who played the role of Violetta brought a Carmen-ish flavour to the character. She was flirtatious, sassy, and independent. She was decisive in her arabesques. She was confidently articulate in her flashy bourrees and echappe combinations (footwork). She had obvious chemistry with Mark Sumaylo who played the role of her leading man. Their kisses were very much appreciated by the crowd because of their palpable energy. Sumaylo was every bit a suave debonaire. Completing their love triangle was the Baron played by Joshua Enciso. Enciso was refined as the baron. The dancing was entertaining and colorful. 
The problem in this ballet was that everything looked cluttered. To start with, the space was really too small for the dancers to be seen  in their little vignettes. The leads were almost always overshadowed by the crowd because they never had any space to move in an expanded manner. 
The story line was also cluttered and the pacing too fast to follow. The relationships of the characters were hurriedly established and it was hard to relate to. There were so many add-on side characters that could not be easily identifiable if you are not with Lady of the Camelias or the La Traviata Opera. 
The choreography was also often ostentatious, matching the operatic stylings of opera. Sometimes it would work but sometimes it was a little bit too much for the senses. Loud voices, grand dancing, too many people onstage; there were moments that were overwhelming.  
Despite all these, there were moments to really celebrate in this ballet. Truly lovely were the two pas de deuxs of Oliveiro and Sumaylo. Two polar opposite emotional scenes were delivered with elan. They fully embodied the emotions, making their physical articulations of love on stage seem warm and believable. This pair always guarantees artistry. 
Defiantly, Ballet Manila chose to present two world premieres to end their tumultuous season. With a full heart, Lisa Macuja Elizalde gave her last bow of the season with tears in her eyes. There was much to be proud of. The Company presented in full what they intended to show their loyal fans. The two world premieres were about tragedies but were met with resounding applause. This pretty much sums up Ballet Manila's 24th season–tragic but triumphant. 
Show Dates: March 7 and 8,2020 


Venue: Samsung Hall SM Aura 


Credits: 


Carmina Burana Music: Composed by Carl Off
Carmina Burana Choreography: Rudy De Dios


Carmina Burana Cast: Romeo Peralta, Gerardo Francisco, John Balagot, Joan Sia, Brian Sevilla


La Traviata Music: Giuseppe Verdi
La Traviata Choreography: Lisa Macuja-Elizalde


La Traviata Cast: Abigail Oliveiro, Mark Sumaylo, Joshua Enciso, Pia Dames 
Comments