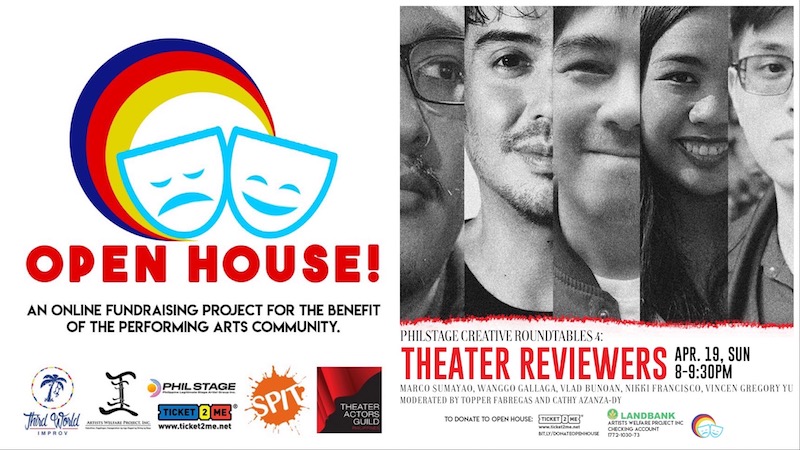 Theater Reviewers Featured in Next Philstage Roundtable
Filipino theater reviewers Nikki Francisco (TheaterFansManila.com's editor-in-chief and chief reviewer), Vladimir Bunoan (one of ABS-CBN's Deputy Editors), Vincen Yu (theater reviewer for Philippine Daily Inquirer), Wanggo Gallaga (theater and film reviewer for ClickTheCity.com), and Marco Sumayao (theater reviewer for Town and Country and contributor for Esquire) are coming together for an online roundtable discussion tomorrow, April 19, from 8pm to 9:30pm.
Moderated by Topper Fabregas and Cathy Azanza-Dy, the roundtable will be streamed via Facebook Live through Open House's Facebook page. Viewers are encouraged to join in the discussion by throwing in questions.
This is the fourth in a series of roundtables that are being conducted during the lockdown period. The first one was a roundtable with female directors, the second one was a roundtable with sound designers, and the third one was a roundtable with Filipino playwrights.
This online initiative is part of the Open House fundraising campaign, which aims to help members of the performing arts community displaced by the COVID-19 pandemic. You can donate by going to bit.ly/DonateOpenHouse, or you can go to Open House's Facebook page to learn more about the schedules.
Comments