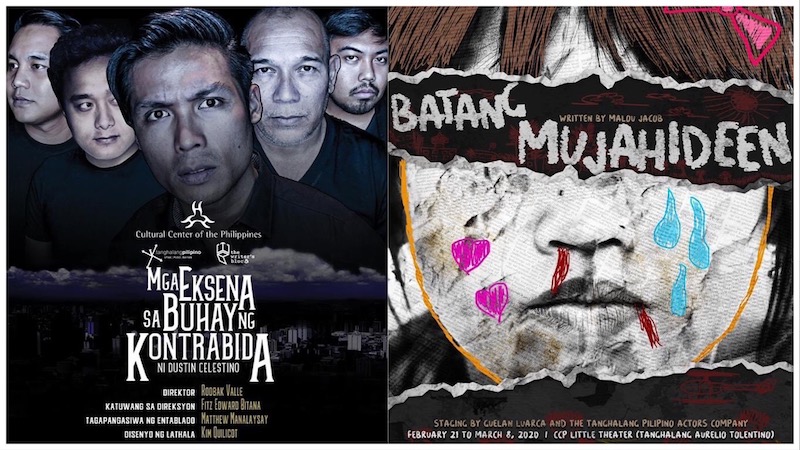 "Batang Mujahideen", VLF's "Buhay ng Kontrabida" will be Streaming Online
The Cultural Center of the Philippines (CCP) will be streaming Tanghalang Pilipino's Batang Mujahideen and The Virgin Labfest's Mga Eksena sa Buhay ng Kontrabida as part of its CCP Online line-up.
Written by Malou Jacob, Batang Mujahideen focuses on the complex interaction of the Christians and Muslims in Mindanao and how it affects the youth in the region.  The cast features members of the Tanghalang Pilipino Actors Company (AC)– Jonathan Tadioan, Marco Viaña, Doray Dayao, JV Ibesate, Lhorvie Nuevo, Antonette Go, Ybes Bagadiong, Manok Nellas, and Eunice Pacia, and guest actor Iman Ampatuan. The play is directed by Guelan Varela-Luarca.
The play was supposed to run for 12 shows from February to March earlier this year but was cut to 7 shows due to the COVID-19 pandemic. It will be released online on April 24 at 3pm.
Mga Eksena sa Buhay ng Kontrabida, written by Dustin Celestino, was part of The Virgin Labfest line-up in 2018 and was revisited in 2019. Part origin story, part family drama, the play is a collection of conversations heard in the vicinity of a villain. The cast features Jay Gonzaga as Jake, Lian Silverio as Joe, Earl Figuracion as Tom, Richard Manabat as Rick, and JV Ibesate as Mike. It will be released online on April 22 at 3pm.
CCP Online is bringing HD and archival recordings in theater, dance, visual arts, film, literary, and workshop events from CCP's Cultural Content Digital Archives to audiences online. Its first few releases include Bulawan: CCP's 50th Anniversary Gala Concert last April 12, Sinag: Festival of Radiance last April 14, 3pm, and Alice & Friends: A Tapestry of Dances in Celebration of 50 Years in Dance last April 17, 3pm. Philippine Madrigal Singers: MMMM..More! will be released on April 20, 3pm.
Every show will be available on CCP's YouTube channel for one week since its release.
Comments