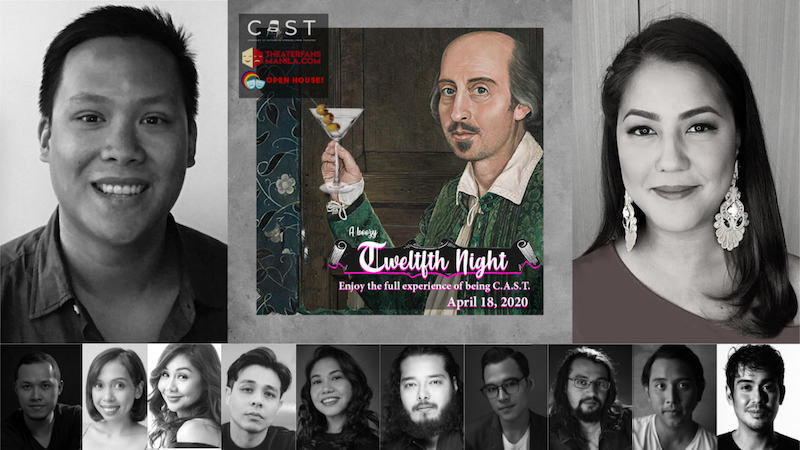 Shakespeare's "Twelfth Night" to Stream Live
Theater fans Cristal Bagatsing and Joey Osmeña will be making their virtual stage debuts, co-starring members of C.A.S.T., in an online staged reading of Shakespeare's Twelfth Night this April 18, 4-6pm on TFM's Facebook feed!
Thanks to Cristal and Joey's generous donations in an online auction we conducted, they won the leading roles of Viola and Sebastian respectively. So far, P15,501.00 has been raised through this event. You can still donate anytime to Open House, including during the livestream. Proceeds from the auction will all go to the Open House fundraising campaign, which aims to help members of the performing arts community displaced by the COVID-19 pandemic.
Joining them are Brian Sy as Orsino, Cathy Azanza-Dy as Olivia, Reb Atadero as Malvolio, Maronne Cruz as Feste, Tarek El Tayech as Sir Toby, Mako Alonso as Sir Andrew Aguecheek, Dean Daniel Rosen as Antonio, Jill Peña as Maria, Nelsito Gomez as Captain/First Officer, and Wanggo Gallaga as Valentine/Second Officer.
Twelfth Night is a romantic comedy by William Shakespeare, believed to have been written around 1601-1602. Viola, separated from her twin Sebastian, dresses as a boy and works for the Duke Orsino, whom she falls in love with. Orsino is in love with the Countess Olivia, and sends Viola to court her for him, but Olivia falls for Viola instead. Sebastian arrives, causing a flood of mistaken identity, and marries Olivia. Viola then reveals she is a girl and marries Orsino.
You can donate by going to bit.ly/DonateOpenHouse, or you can go to Open House's Facebook page to learn more about the schedules.
Comments