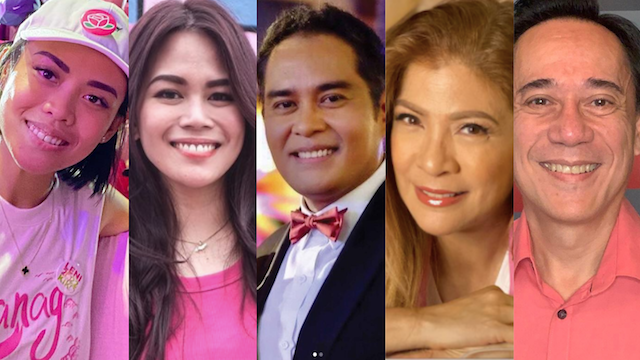 Theater Makers Talk About Voting Wisely This May 9
On May 9, the fate of our nation will be decided.
The road to the 2022 elections has been fraught with controversy and complications, with the different presidential campaigns being run with an intensity that has not been seen in previous elections. Candidates have clashed and the most heated debates have taken place not in formal settings but on the harsh and uncontrollable stage of social media. History is being made as irrevocably as it is being fiercely questioned by those who refuse to see the truth. 
But in the midst of the chaos, art has not only survived but has burned even brighter in the face of the darkness brought about by fake news and historical revisionism. We have seen so much passion and creativity on display in the past few months, as artists have taken to the streets as their new stage. 
This is where they have been showcasing their talents freely and generously to support the candidates they believe in: composing songs, writing poems, painting murals, choreographing new dances, and performing in flash mobs. Burgeoning movements like Theatre for Leni and Dancers for Leni are testament to how art is reflecting people's thirst for real change and for candidates of integrity, authenticity, and true compassion for the plight of our fellow Filipinos. 
We asked theater makers to weigh in on the coming elections and to share why it's so important for all of us to show up at the polls to cast our votes. 
For years, we have been moved to laughter, tears, or serious reflection by the stories they have been telling us on stage and now, we are their audience once again as we are faced with a choice that will determine not only our future but that of the next generation. These artists have been sharing their voices with us through their performances or compositions and they now call upon us to make our own voices be heard in this fundamental exercise of democracy. 
Let us take heed of and take heart from their words.
* * * * *
"I cannot stress how important these coming elections are. 
The world has undergone great change because of the pandemic and the collective economic struggle that ensued from it. 
Choosing the right leaders will determine if we sink deeper into our current challenges or work together and try to find solutions. 
Platforms based on transparency, accountability and empowerment are SO important, especially since we live in a time of disinformation. 
As professional storytellers we need to push back on fake news and re-educate the electorate. 
The campaign of the Leni-Kiko tandem is also worth noting. It is no longer a traditional campaign but a people's movement where there is huge empowerment across all the sectors.  
In fact, not only has it become a people's movement but we are also in the midst of a phenomenon of a cultural revolution. 
There is no limit to what can be achieved (especially) when the creative sector is compelled to act through inspiration of a competent and honest leader. Just look at how much art has surfaced since October 2021. 
The amount of songs, paintings, poems, literature, cartoons, performance theater, content videos, short films, documentaries, dance, flash mobs, etc. It's truly an exciting time to be a Filipino and an artist.
The reason why I am so active and involved is because at the end of the day, I don't want to tell myself "I could have done more". 
Win or lose we have to take the plunge and create a future we deserve." – PINKY AMADOR (Piaf, Agnes of God)
* * * * *
"Corrupt
o tapat. Kurakot o lingkod. Umiiwas o humaharap. Sumusugod o umaatras. Masipag o tamad. Trapo o tropa. Bayan, pumili ka.
Tayong lahat po ang pinakamakapangyarihan sa darating na eleksyon sa Mayo. Tayo po ang pinakamakapangyarihan sapagkat tayo ang maglalagay ng taong maglilingkod sa atin. Pero hindi pa po tapos ang ating tungkulin bilang Pilipino. Kailangan po natin siyang bantayan upang ang ating mga pangarap at ang kanyang pangako ay matupad kaya huwag natin siyang iiwanan na mag-isa sa upuan. 
Tayong mga Pilipino ay hindi perpekto at hindi mga santo. Subalit alam natin kung papaano maging kagalang-galang na Pilipino. Tayong mga Pilipino ay hindi mga perpekto at hindi mga santo pero alam natin kung papaano tumindig na may dangal. Mabuhay tayong lahat. 
Mabuhay ang sambayang Pilipino na pipili ng tama ngayong darating na Mayo." – JOHN ARCILLA (Orosman and Zafira, Walang Sugat)
* * * * *
"Those of us who are fortunate get to tell stories of oppression, inequality, and social injustice as our job. These stories serve as a free lesson as we empathize and evolve with the characters we portray. It's this empathy and self introspection that we use to form decisions about our future as a society. Any and all change goes through the vote. We're here because of the previous vote and the next vote will inevitably touch all of our lives for the next six years. Invest in it a million times more than you would a theatre or movie ticket." – REB ATADERO (Ang Huling El Bimbo, The Horse and His Boy)
* * * * *
"Voting is our right. Voting wisely is our responsibility. We need to choose the kind of democracy we want to live in and that means choosing the right person and trusting them to lead us there. Inconsistent leaders and temporary solutions will not and have never showed any signs of success. Masyado ng madaming mahirap at nahihirapan. It's time to put ourselves first." – CARA BARREDO (Lapulapu: Ang Datu ng Mactan, Sa Wakas)
* * * * *
"This May 9 is crucial to the future of our country and the youth. We want to make sure the leader of the country will be a good example for them so that we develop a nation with good values and empathy for each and every Filipino." – ARYN CRISTOBAL (SPIT Manila, Third World Improv)
* * * * *
"Sa eleksyon, hindi lamang kamay ang ginagamit sa pagsulat ng boto; ginagamit din ang talino, kaalaman, matinong pagdedesisyon at tamang huwisyo. Huwag iboboto ang sinungaling at magnanakaw." – VINCENT A. DEJESUS (Composer, lyricist, and musical director of Himala: Isang Musikal; Composer, lyricist, and playwright of Changing Partners)
* * * * *
"Don't underestimate the power of your vote. It sounds cliché but sometimes one vote can make all the difference and decide the next 6 years for all of us." – NICA DEL ROSARIO (Co-composer and co-lyricist of Still)
* * * * *
"The past 6 years (plus the pandemic response) have been a wake up call to so many of us. Bad governance affects us all. If we want better leadership but don't use our voice and our right to vote, then we get the government we deserve. This election feels like a turning point and a chance for real change. The campaign season has also been a reminder of our potential as a people. Look at the power that happens when we all come together. Don't give up your voice! Choose your candidates carefully. Every vote counts." – TOPPER FABREGAS (Co-founder of Red Turnip Theater)
* * * * *
"Vote wisely because our industry and our very lives depend on it. How can we do theatre if the people in power are against history and the truth?" – ARMAN FERRER (Lapulapu: Ang Datu ng Mactan, Mabining Mandirigma)
* * * * *
"As artists we reflect life. The only way to do that effectively is to build from truth. When you know the truth, you will see right from wrong. As a Christian artist who is also a citizen of this nation, I speak up against wrongs and stand by what is right. I vote accordingly." – AUDIE GEMORA (Co-founder and Artistic Director of Trumpets Inc., Philstage President)

* * * * *
"The future of every country and its people is determined by how well that country is run. So it's vital that we choose the right leaders who will have the people in the forefront of their thoughts and actions." – ROBBIE GUEVARA (Artistic Director of 9 Works Theatrical)
* * * * *
"In that second before your pen hits the ballot, imagine the kind of society our children will have to deal with in the years ahead." – JENNY JAMORA (Co-founder of Red Turnip Theater, Theater Actors Guild President)
* * * * *
"It's imperative that the majority of thinking Filipinos all over the country go out and vote for a new kind of national leader – honest, sincere, dignified, competent, compassionate, selfless, just, and incorruptible. The welfare of our country and our people is seriously threatened by a host of "same-same", self-serving, scheming, traditional, grandstanding, glib politicians whose flowery words of promises bring only false hopes to the long suffering, ever gullible populace…kaya, tayo na at IPANALONA10ITO." – NANDING JOSEF (Artistic Director of Tanghalang Pilipino)
* * * * *
"It's imperative that we vote wisely on May 9 because we are voting for future generations who still have no voice. Our choices define our future as well as theirs." – MENCHU LAUCHENGCO-YULO (Co-Artistic Director of Full House Theater Company)
* * * * *
"Voting is your democratic right to change the quality of leadership in government.  This election is a historic and crucial one so don't waste the opportunity." – MARIBEL LEGARDA (Artistic Director of PETA Theater)
* * * * *
"When we vote, we exercise our right to choose our leaders – who are ultimately the decision-makers. The decisions made today create the changes we want for our tomorrow. Let's choose to empower the people whose decisions will create the changes we want for our future and the future of our children and children's children." – LISA MACUJA-ELIZALDE (Artistic Director and CEO of Ballet Manila)
* * * * *
"As a democracy, we all have a voice. By voting, I utilize the power that my voice holds, making sure I am heard. If I am given this opportunity to shape my future the way I want, why would I pass it up? With that being said, it is important to vote wisely—by making informed choices based on facts, not just subjective truths. History tends to repeat itself when we don't." – TANYA MANALANG (Ang Huling El Bimbo, Rak of Aegis)
* * * * *
"Let us vote wisely on May 9! After two years, we need a big win as a nation. We not only need someone who will lead us to a better future, but someone who will also be the face of who we would want to become as Filipinos from here on." – NICCO MANALO (Mula sa Buwan, 3 Stars and a Sun)
* * * * *
"The effects of every election goes beyond the 6-year term of the presidency. Your decision on election day will determine not just your future, but the future of your children and your grandchildren. This is the real legacy you will leave them." – MISSY MARAMARA (Stop Kiss, Stage Kiss)
* * * * *
"This year's elections may be the tipping point to when we can finally be proud of a righteous government. Being apolitical is not an option. Do your part as a responsible citizen and listen to your conscience, it is screaming the ONLY choice for our country. " – OJ MARIANO (Ang Huling El Bimbo, Company)
* * * * *
"It's definitely important for us to exercise our right to vote, especially at this time. Malaking bagay ito para sa ikauunlad ng ating bansa. But then again with all that said, let's keep in mind that we should all be kind to one another. Whichever side you're fighting for, you yourself are somehow an example and reflection of the candidate you're holding on to. #Halalan2022" – KIM MOLINA (Rak of Aegis, Kung Paano Ako Naging Leading Lady)
* * * * *
"Kapag nanalo ang kung sino man iboboto mong kandidato, deserve mo kung ano gagawin niya pag-upo sa pwesto." – JERALD NAPOLES (Rak of Aegis, Care Divas)
* * * * *
"The power of one vote can make all the difference in the next 6 years. Now is our chance to elect leaders that will put the needs of the people first. Remember, your vote matters, because you matter." – JUSTINE PEÑA (Sa Wakas, Rodgers & Hammerstein's Cinderella)
* * * * *
"Dahil IKAW ay mahalaga.  Ang bawat Pilipino ay mahalaga.  At sa iyong boto, ipinapahayag mo ang mga pangarap at layunin mo para sa buong bayan. Iboto natin ang MAHUSAY, MASIPAG, MARANGAL, MAY MALASAKIT at KARAPAT-DAPAT sa posisyon.  Ating alalahanin na ang kanilang gagawin ay makakaapekto sa atin hindi lamang sa anim na taong nakaluklok sila, ngunit higit pa roon. Ipinagkakatiwala natin sa kanila bilang mga pinuno na tayo'y kanilang aalagaan, ipagtatanggol, at sasamahan patungo sa mas magandang kinabukasan." – KYLA RIVERA-SOONG (Sa Wakas, Guadalupe the Musical)
* * * * *
"Democracy is best showcased and celebrated during election day. This 2022 edition is one of the most crucial moments in our history because we are fighting for what is left of our dignity and soul as a nation. This one vote on May 9 will have the ultimate power to destroy a syndicate of rotten political clans spearheaded by the Marcoses who are trying to hold on to power to save themselves from accountability & prosecution and to have that chance to clear their names while continuing on with their evil ways of taking advantage of the Filipino people. We have to fight for justice and good governance because that is what we deserve. And how do we fight? By showing up at the precincts  on election day. It's the endgame… let's assemble for a better Philippines." – VIC ROBINSON (Sa Wakas, Ang Huling El Bimbo)
* * * * *
"Bilang sundalo ng entablado, ang tanging puhunan namin pagbukas ng maliwanag na ilaw ay puso at katotohanan. Ang mga kwentong isinasadula namin ay boses ng mga hindi makapagkwento ng katotohanan. Kailangan natin bumoto para sa katotohanan. At hindi ako bumoboto para lang sa sarili. Ang botong gagawin ko ay para sa lahat ng Pilipino. Ito ay kapangyarihan nating dapat gamitin nang tama." – MYKE SALOMON (Mula sa Buwan, Rak of Aegis)
* * * * *
"Sana'y magising na tayo nang hindi nagsisisi.
Puso'y pintahan na natin ng rosas nang walang pag-aatubili.
Sumugal na tayo sa pangarap para bukas na'y di malugi.
Hindi tayo magkakamali na ihalal natin si Leni." – VINCE TAÑADA (Artistic Director of Philippine Stagers Foundation)
* * * * *
"I urge everyone to deeply discern their choices this coming May 9. It is not the time to be selfish. Think of the future of our children. Treat this right as a sacred duty to our nation. Let us not fail them." – FLOYD TENA (Himala: Isang Musikal, Eto na! Musikal nAPO!)
* * * * *
"Artists create not in a vacuum, but as integral members of a society. As Filipinos, our work via our art, holds up a mirror to current events including politics and government. 
Voting matters because it makes you an active member of a democratic country–and us actors we are always active, literally we ACT, it's what we do. Identity natin ang maging aktibo, to move, to engage, to think, to reflect, to understand and feel deeply, to show, to create. 
Voting wisely is a responsibility para sa Pilipinas at sa panahon ngayon, because we need to develop as a nation, as a people, for the better. We need to create a better future for all of us. This means learning from our history, especially the dark, violent chapters of our past para di na maulit. This means voting for leaders who work hard, who get results, and who also inspire people with their sincerity and authenticity. 
Diba as actors, we always focus on truth? As storytellers diba we always highlight hope? So let these navigate our choices when we vote. Vote for the truth tellers, not the liars and fake news peddlers. Vote for the one who inspires artists to create more art, instead of a candidate who steals and takes credit for the work of others. Vote for a leader who is ACTIVE and always SHOWS UP, instead of a candidate who hides and makes excuses. Vote for the one who has truly unified people from all walks of life to volunteer because SHE has given them hope." – KAKKI TEODORO (Himala: Isang Musikal, Every Brilliant Thing)
* * * * *
"Most likely, you are reading this because you are a fan of the stage.  So, much like the theatre, your vote is ALIVE. It is not just an external act — it is living truth set forth to the world. It is not just a fleeting moment — your vote lives and reverberates to eternity. 
Your vote, as a living being, has a name. As you proclaim yourself, proclaim your vote. Find your voice. Claim your space. Claim the stage." – PAT VALERA (Founding Partner of Barefoot Theatre Collab)
* * * * *
"On May 9, we are all called upon to cast our vote, and our votes will determine the future of our beloved country, and the future of each and every  Filipino. 
On that day, in these elections, we are not only choosing a new set of leaders; we are fighting for the very heart and soul of the Filipino people. 
And in order for us to emerge from the darkness, and claim our rightful place in the light, we must make the right choices. 
The tough choices. The wise choices." – JAMIE WILSON (Ang Huling El Bimbo, The Great Christmas Cookie Bake Off)
Comments