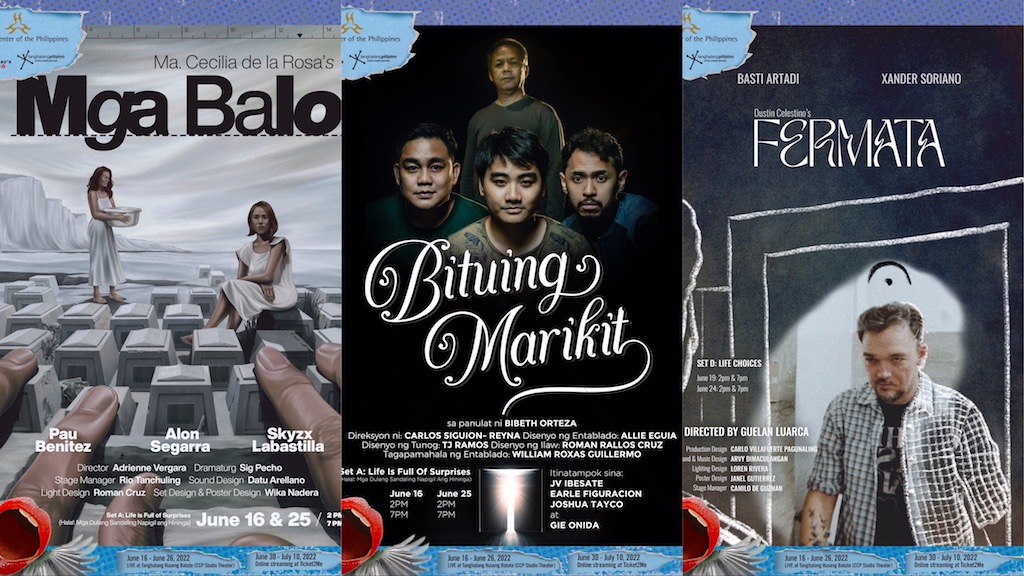 GUIDE: The Virgin Labfest 17 Synopses, Cast, and More Details Announced
After two years of online performances and the streaming of archived works, the Virgin Labfest (VLF), the festival of untried, untested and unstaged plays, returns to live stage with 12 new works slated on June 16 to 26, at Tanghalang Huseng Batute (CCP Studio Theater). Tickets for the live shows are on sale via Ticketworld.com.ph. There is also an option for online streaming via Ticket2Me.net from June 30 to July 10.
For its 17th edition, VLF follows the theme "Hinga" to "underline the need to breathe, to be present and feel alive."   
"After being isolated in our houses, we now focus on the importance of community — the need to share space and time and revel in one another's presence — and the urgency of theatre and performance," said VLF festival director Tess Jamias who is sharing the role with TP associate director Marco Viaña.  
Aside from marking its return to THB, its original home, VLF 17: HINGA reintroduces the practice of grouping plays into sets under shared themes and other commonalities.
VLF 17 will also have a new component called Theater Talks, a curated forum series on theater and creative processes. To be livestreamed during the festival, these talks feature theater practitioners who will share their know-how on production works and take in questions from the audience to elicit a lively dialogue on contemporary theatre-making. 
The festival brings back its mainstay components such as the VLF Fellowship Program, with mentor Glenn Sevilla Mas and director Dennis Marasigan, and the VLF Playwrights Fair under the direction of Rody Vera and coordination by Beverly Siy. 
For more information, visit the CCP website. Follow the official CCP social media accounts on Facebook, Twitter and Instagram for latest updates. 
SET A June 16 & 25 | 2:00 PM & 7:00 PM

Set A: Life is Full of Surprises revolves around life's unexpected turns. This set features: Eljay Castro Deldoc's Walang Bago sa Dulang Ito; Ma. Cecilia de la Rosa's Mga Balo; and Bibeth Orteza's Bituing Marikit.
1. Walang Bago sa Dulang Ito by Eljay Deldoc
Directed by J. William Herbert Sigmund Go and Tess Jamias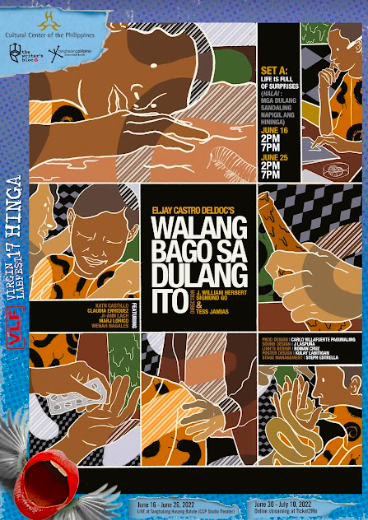 Hija couldn't classify millipedes as worms or insects. Not knowing what they were, she relied on what she knew would give her answers — science. What Hija didn't expect, however, was that this pursuit of understanding myriapods would lead her to bewildering encounters that asked her whether she should recoil in defense, or blind her predators like a millipede would. Finding herself preyed on by those in positions of power, Hija learns that the ecosystem she hoped she'd thrive in is a different realm of science that offers more questions than answers.
CAST: Claudia Enriquez, Marj Lorico, Wenah Nagales, Kath Castillo, Ji-ann Lachica
STAFF: Steph Estrella (stage management), Carlo Villafuerte Pagunaling (production design), J Laspuña (sound design), Roman Cruz (lighting design), Kulay Labitigan (poster design)
2. Mga Balo by Ma. Cecilia de la Rosa's
Directed by Adrienne Vergara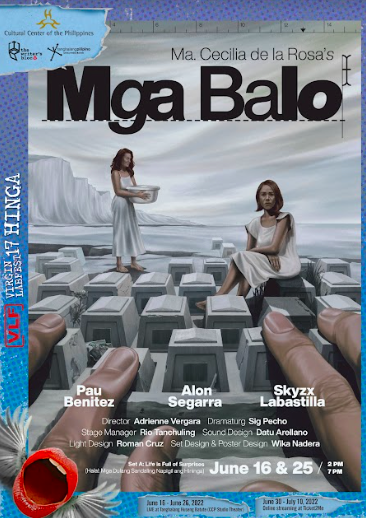 A writer tries to decide on the future of the play she is writing. She returns to her material and seeks the help of the widows who rightfully own the story.
CAST: Alon Segarra, Pau Benitez, Skyzx Labastilla
STAFF: Rio Tanchuling (stage management), Wika Nadera (set and poster design), Datu Arellano (sound design), Roman Cruz (lighting design), Sig Pecho (dramaturg)
3. Bituing Marikit by Bibeth Orteza
Directed by Carlos Siguion-Reyna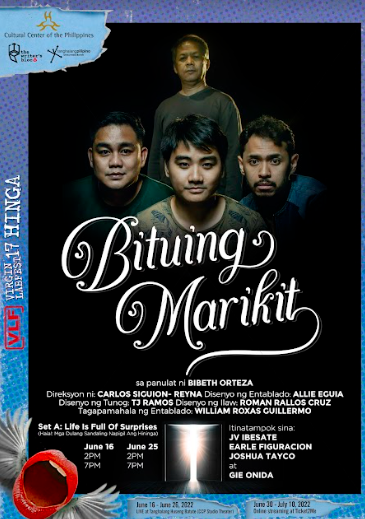 Carmela, Allan's second wife, dies. He wheels her into the morgue singing her favorite song Bituing Marikit, then leaves to buy lipstick for her.  The stepsons arrive: Peping, the eldest, and Butching, the youngest, from Manila; Bok, the middle child, from Dubai, with a wedding gown he wants his Nanay Carmela to wear in the coffin to make up for the years she and Allan lived together without having married. In the morgue, Peping reveals something about their stepmother. Allan walks back in and we find out how much of a Bituing Marikit Nanay Carmela is, to her boys.
CAST: Gie Onida, JV Ibesate, Earle Figuracion, Joshua Tayco
STAFF: William Guillermo (stage management), Allie Eguia (set design), TJ Ramos (sound design), Roman Cruz (lighting design), Michael Carteciano Maguigad (poster design)
SET B June 17 & 26 | 2:00 PM & 7:00 PM
Three plays show that fiction is stranger than life in Set B: Life is Strange Fiction. The plays are:  BJ Crisostomo's Absurdo: Event Day; Jerry O'Hara's Liberation; and Juan Ekis' 'Nay May Dala Akong Pancit.  
1. Absurdo: Event Day by BJ Crisostomo
Directed by Mara Agleham
The world is about to end but Aly and Rain are still at their posts as project coordinators at a massive End of the World Party. An audience of millions is having a great time but these best friends turned coworkers are just about to collapse from exhaustion after dealing with absurd client demands. They consider how they got there and must come to grips if their jobs have any ultimate meaning before time runs out. Abusrdo: Event day is part of a trilogy of one act plays dealing with the craziness of the Philippine event industry.
CAST: Thea Marabut, Io Balanon, Marvin Olaes, Judie Dimayuga
STAFF: Rodney Barnes (stage management), David Esguerra (set design), J Laspuña (sound design), Loren Rivera (lighting design), Eshei Mesina (poster design)
2. Liberation by Jerry O'Hara
Directed by Dennis Marasigan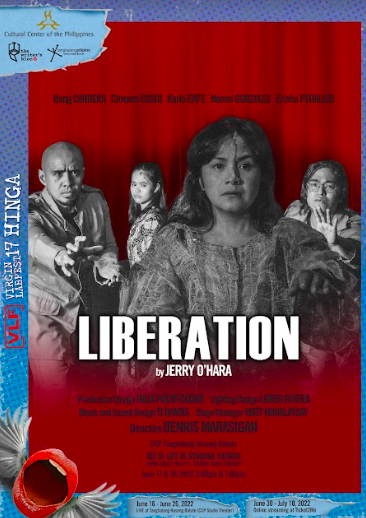 February, 1945, the American forces had almost liberated the entire Philippine archipelago from the hands of the Japanese Forces. The southern districts of the city of Manila is the last bastion that the Japanese stubbornly tried to hold on to. Confronted by sure defeat, the Japanese committed gruesome atrocities on the civilian population that did not discriminate on women and children. But the atrocities did not end with Japanese bayonets and rifles but was aggravated with the barrage of American bombs that likewise did not discriminate on who gets killed. Against this backdrop is the story of three Japanese soldiers left behind to engage the enemy at whatever cost in a desperate effort to put up pocket resistance.  In the face of sure death, one lost his humanity and went on a rampage; one desperately holds on to whatever is left of his humanity almost to the point of jeopardizing the mission; one acted to the true value of a soldier who is just following orders blindly.  Their values collided that ended up with them fighting each other. No one won including the Filipino child who survived death at the hands of these three Japanese soldiers.  
CAST: Chrome Cosio, Bong Cabrera, Karlo Erfe, Neomi Gonzales, Ericka Peralejo
STAFF: Matthew Manalaysay (stage management), Julia Pacificador (set design), TJ Ramos (sound design), Loren Rivera (lighting design), Dennis Marasigan and Raul Hababag (poster design)
3. 'Nay May Dala Akong Pancit by Juan Ekis
Directed by Karl Alexis Jingco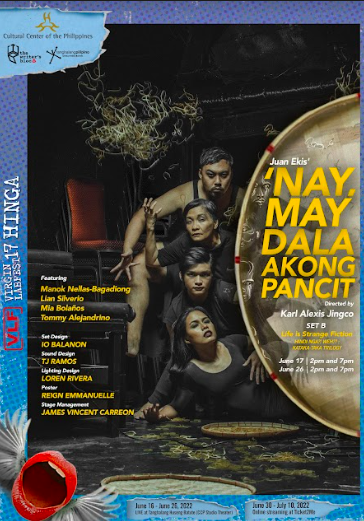 Mae discovers that she and her Kuya are stuck in a metaphysical loop of a Pinoy soap opera trope where every time her Kuya comes home with pancit, their mother dies. She struggles to convince her brother about the loop, suspecting that it is the pancit that causes the tragedy. But however much they try, for some reason, the pancit always finds its way to their home, resulting in tragedy. The siblings must now find a way to escape the loop and save their mother once and for all.
CAST: Lian Silverio, Monique Nellas, Mia Bolaños, Tommy Alejandrino
STAFF: James Vincent Carreon (stage management), Io Balanon (set design), TJ Ramos (sound design), Loren Rivera (lighting design), Reign Emmanuelle Geronimo (poster design)
SET C June 18 & 23 | 2:00 PM & 7:00 PM

Stories of characters who are at a crossroad find their way to Set C: School of Life, which include Mikaela Regis' Unica Hijas; Andrew Bonifacio Clete's Punks Not Dead; and Anthony Kim Vergara's Student's Handbook.   
1. Unica Hijas by Mikaela Regis
Directed by Pat Valera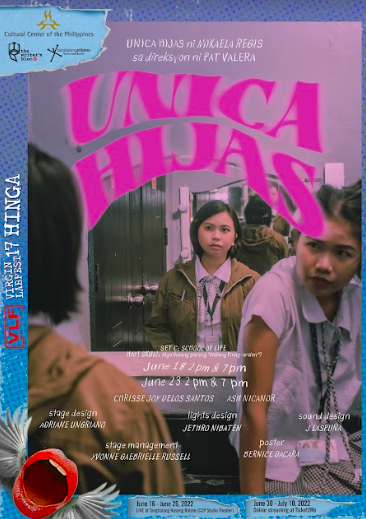 Caught by a nun in an almost-kiss, two girls with everything and nothing to lose are called into the principal's office of an all-girls Catholic school. With less than an hour left until their future is decided, the two are forced to confront each other, their past, present, and their own selves.
CAST: Joy Delos Santos, Ash Nicanor
STAFF: Yvonne Russell (stage management), Adriane Mark Ungriano (set design), J Laspuña (sound design), Roman Cruz and Jethro Nibaten (lighting design), Bernice Dacara (poster design)
2. Punks Not Dead by Andrew Bonifacio Clete
Directed by Roobak Valle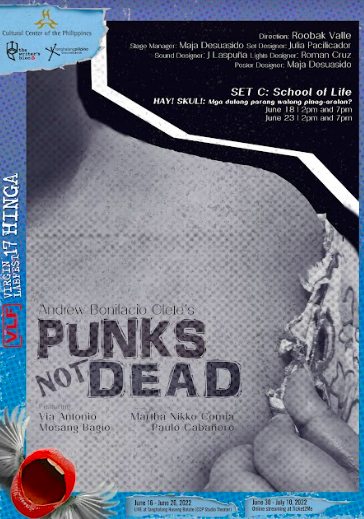 On the day of module distribution and retrieval, a mother complains to her son's teacher regarding a discriminating item: "Ang tattoo ay simbolo ng pagiging kriminal." As she shows her tattoo 'Punks Not Dead,' another parent who happens to be a policeman drops by. As the characters argue about the item, the play shows what's permanently inked with prejudice.
CAST: Via Antonio, Martha Nikko Comia, Maria Bagio, Paulo Cabanero
STAFF: Angelo Mangaliman (dramaturg), Maja Desuasido (stage management and poster design), Julia Pacificador (set design), J Laspuña (sound design), Roman Cruz (lighting design)
3. Student's Handbook by Anthony Kim Vergara
Directed by Erika Estacio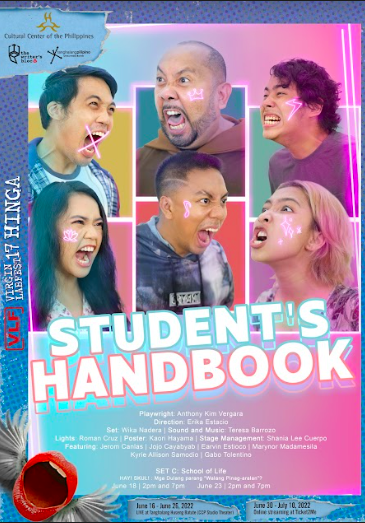 Colegio de San Pedro de Verona's Student's Handbook contains the institution's strict academic policies and standards of conduct, but when a few pioneer students were caught violating some of its most outrageous regulations, the rules were put into question and things started getting ridiculously clairvoyant.

CAST: Marynor Madamesila, Earvin Estioco, Gabo Tolentino, Jerom Canlas, Jojo Cayabyab, Kyrie Samodio
STAFF: Shania Lee Cuerpo (stage management), Wika Nadera (set design), Teresa Barrozo (sound and music), Roman Cruz (lighting design), Kaori Hayama (poster design)
SET D June 19 & 24 | 2:00 PM & 7:00 PM
Plays set in schools and involve life lessons that must be learnt and unlearnt are grouped together in Set D: Life Choices. They are: Dustin Celestino's Fermata; Ryan Machado's Huling Haraya Nina Ischia at Emeteria; and George Vail Kabristante's Bienvenuta Al Lido Di Venezia.  
1. Fermata by Dustin Celestino
Directed by Guelan Luarca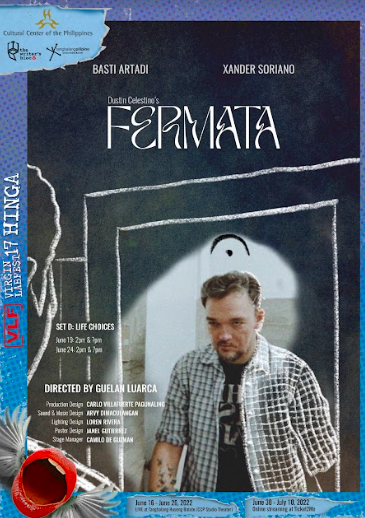 Namatay ang isang sikat na musikero. Inimbitahan ng isang news outlet ang anak ng musikero na si Ben para magsulat ng article tungkol sa ama; tribute para sa isang "musical icon." Balak gamitin ni Ben ang pagkakataong 'yun para imbestigahan ang narinig n'yang tsismis tungkol sa ama. Ang dula ay tungkol sa pagdalaw ni Ben sa kaibigang si Alex para pag-usapan ang mga nagawang kasalanan ng ama.
CAST: Basti Artadi, Xander Soriano
STAFF: Camilo De Guzman (stage management), Carlo Villafuerte Pagunaling (set design), Arvy Dimaculangan (sound design), Loren Rivera (lighting design), Janel Gutierrez (poster design), Jojit Lorenzo and Brian Sy (photography)
2. Huling Haraya Nina Ischia at Emeteria by Ryan Machado
Directed by Regina De Vera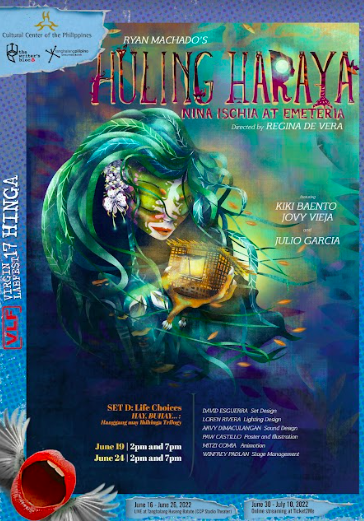 A bright full moon hovers above a quaint sari-sari store in Looc, Romblon. It is the night before Ischia departs to move-in with her father's new family in Manila to begin college. Ischia's mother, Emeteria, helps her prepare for the long journey ahead. Elaborate floral arrangements, haunting winds, and corny jokes aside, Ischia notices her mother preparing for something larger than her departure. As Ischia attempts to pull her mother close, she realizes that this might indeed be their last evening together.
CAST: Kiki Baento, Jovy Vieja, Julio Garcia
STAFF: Winfrey Padlan (stage management), David Esguerra (set design), Arvy Dimaculangan (sound design), Loren Rivera (lighting design), Paw Castillo (poster design and digital illustration), Mitzi Comia (animation), Ryan Machado (Onhan Language and Accent Coach)
3. Bienvenuta Al Lido Di Venezia by George Vail Kabristante
Directed by Nanding Josef and Antonette Go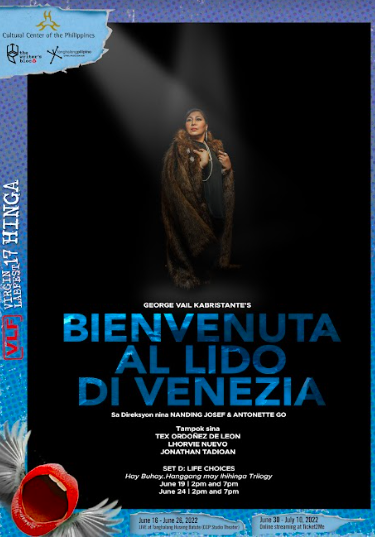 Viola, formerly Violeta, and Maximo worked as Filipino domestic helpers for a wealthy Contessa with Alzheimers in Lido de Venecia.  They are live-in partners, and are inheritors of a will that the Contessa will leave behind. A mysterious character named Charice or Sarah emerged in the couple's household.  Tragedy strikes. Only one of the four characters survives in the end.

CAST: Tex Ordoñez De Leon, Jonathan Tadioan, Lhorvie Nuevo
STAFF: Antonette Go and Lhorvie Nuevo (choreography), Sandra Quintela (stage management), Carlo Villafuerte Pagunaling (set design), Arvy Dimaculangan (sound design), Loren Rivera (lighting design), Ryan Giron (poster design)
Comments