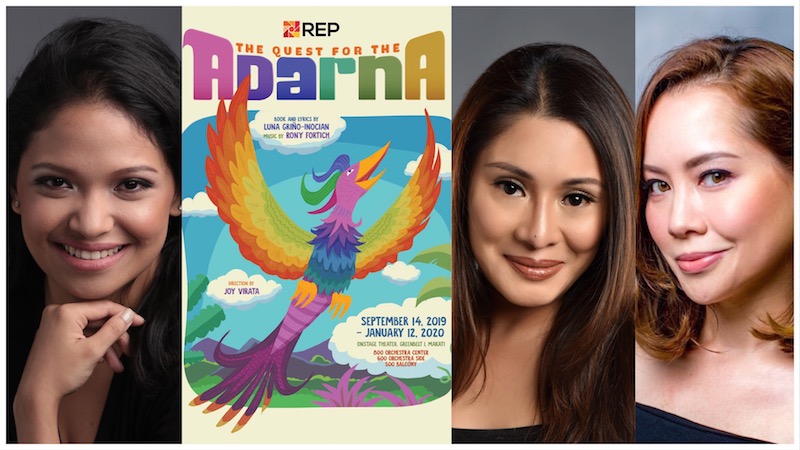 "The Quest for the Adarna" Announces Complete Cast
REP's "The Quest for the Adarna", an original musical based on the well-known Filipino folklore "Ibong Adarna," has just revealed its complete cast.
Since the show will be running for 5 months, different theater actors will be alternating for specific roles. The lead role of the Adarna will be played by Carla Guevara Laforteza, Shiela Valderrama-Martinez, Cara Barredo, and Andrea Alvarado.
Other actors in principal roles include Arion Sanchez, Jim Ferrer, and Ade Valenzon (Prince Pedro), Vinnie Misa, Luis Marcelo, and Sean Nolasco (Prince Diego), Leo Guinid, Diego Aranda, and Neo Rivera (Prince Juan), Jay Barrameda, Noel Rayos, Steven Hotchkiss, and Naths Everett (Hermit), Cara Barredo, Justine Narciso, Alex Reyes, and Jill Ita-as (Maria Blanca), Arnel Carrion and Hans Eckstein (King Fernando), and Naths Everett (Queen Valeriana).
Joining them in the ensemble are Steven Hotchkiss, Carlos Nino E. Percil, Andres Borromeo, Dwight Vito Cruz, Chesko Rodriguez, Aldo Vencilao, Dindo Montuya Divinagracia, Renz Jimwell Palo Bernardo, Matthew Barbers, Carl Ivan Carlo Romero, Adrydeo Pineda Dela Cruz, JP Ortenero, Ralph Dhenzel Famorcan Oliva, Ariel Baring Rase, Christopher Carmelotis Chan, Joni Galeste, Jacqui Jacinto, Nikki Herrera, Moira Lozada, Arielle Magno, Hya Leonado, Zoe Yra Carasig Aluag, Ana Paulina Sto. Tomas Reyes, Danielle Pauline Jaravata Denum, Charmaine Lou Santiago Aranton, Moira Melizza Franchesca Ostrea, Janine Tolentino, Ashley Nicole Rae Mendoza Lim, Aixia Mallary, and Czar Decena.
"The Quest for the Adarna" is part of REP's Theater for Young Audiences. The English adaptation is written by Luna Griño-Inocian, with music by Rony Fortich and direction by Joy Virata. It will be the final offering of the company's 82nd season.
The show will run from September 14, 2019-January 12, 2020 at the Onstage Theater of Greenbelt 1.
You can buy tickets HERE.
Comments