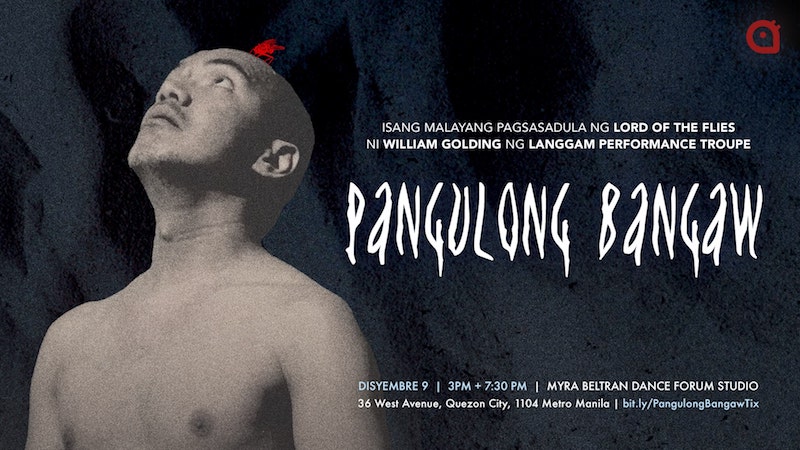 'The Lord of the Flies' Adaptation 'Pangulong Bangaw' to Rerun this December
Langgam Performance Troupe's Pangulong Bangaw, an adaptation of William Golding's 1954 novel The Lord of the Flies, returns to the stage for two shows only this December.
Pangulong Bangaw first ran around alternative theater spaces from April to May earlier this year. The tragic parody centers on a group of boys stranded on a deserted island as they struggle to reconcile their differing approaches to survival. Transposed into a one-man show, the play examines the human body as an allegory of a society that struggles to keep itself from becoming undone and dismembered. The piece becomes an exploration of one's various perceptions of "being" when caught between conflicts of reason versus reflex, order versus anarchy, mortality versus morality, and community versus self.
Joel Garcia performs the one-man show. Pangulong Bangaw is directed by Langgam Performance Troupe's Artistic Director, Jenny-Logico Cruz. Joining her in the artistic team are playwright Jay Crisostomo IV and dramaturg Blonski Cruz.
Langgam Performance Troupe is a contemporary theater and performance company focusing on experimental, process-based, and practice-as-research works.
Performances will be held on December 9, 2023, 3:00 pm and 7:30 pm, at the Myra Beltran Dance Forum (36 West Ave, Quezon City, Metro Manila). Tickets are available through the following link: http://bit.ly/PangulongBangawTix.


Comments