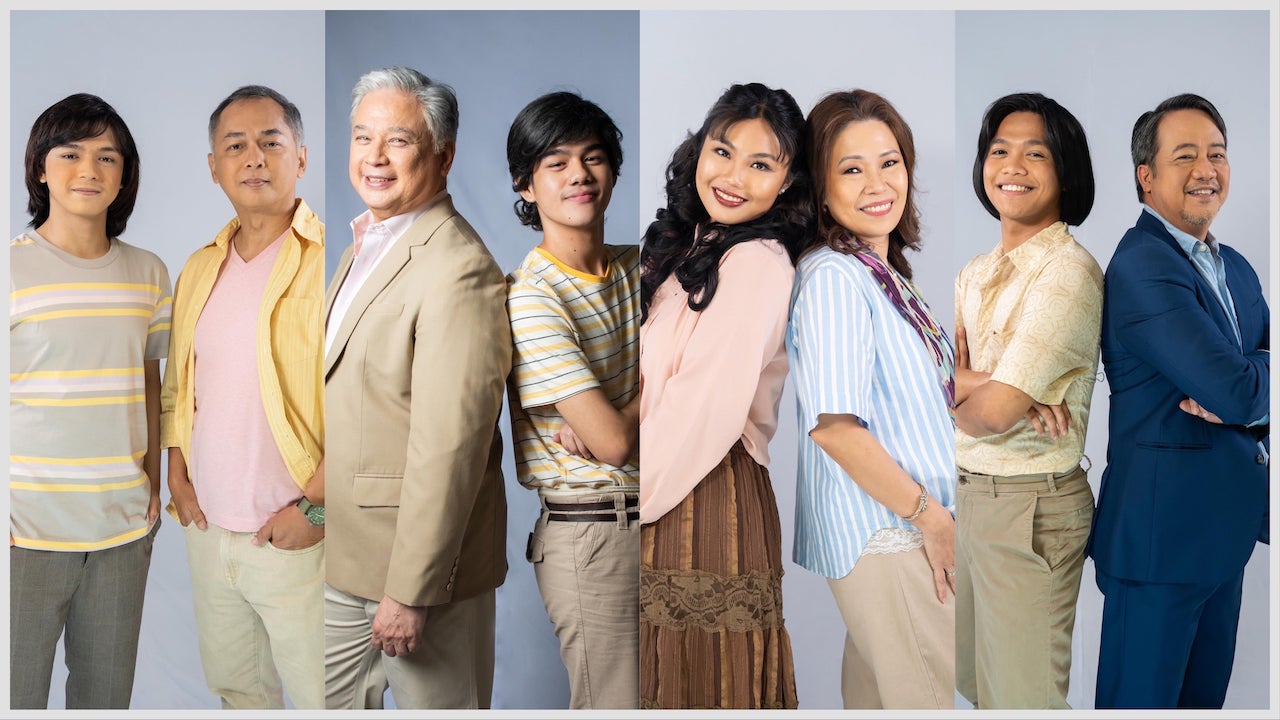 'Silver Lining' Musical is a Conversation Between Generations
"A bunch of boomers decide to give in to their vanity and make a musical. When they did that, they didn't know that they were going down a rabbit hole," shares Silver Lining director Maribel Legarda when talking about the upcoming original musical.

"In that rabbit hole, they finally were able to confront, look at the past, what was good about it, and how they were pained. At the same time they were able to have a conversation with their kids in this current time who have their own angst and their own pain."

Silver Lining, billed as "a new musical of hope and redemption", follows three friends from an exclusive boys' high school, now on their senior years, who have gotten together to form a band for their Golden Anniversary Homecoming. They've pulled together their wives and teenage kids to join the band but after rehearsing for over a year excited about their performance, they are given notice that due to time constraints, their band can only perform three numbers. Saddened by this news, they decided to make a musical instead. As the musical's preparation unfold, memories and past histories of their teenage years and university life unfold. 
Silver Lining is written (book and lyrics) by Joshua Lim So, with music and lyrics by producer, and musical direction, arrangement, and additional music by Vince Lim.

Teotico shares that he decided to mount this musical because he wanted to rekindle the story of their generation. "The 60's [and 70's] were very exciting because this was the period where there was a lot of change– a man landed on the moon, John F Kennedy was president of the United States, so many different changes."

"Of course there was a lot of backlash. And of course this was the hippie movement. It was very exciting times, the hippies, the flower power… So we sort of wanted to rekindle those fun-filled days in high school, the soirees, the slumbooks the high school fairs, the ligawan, the bakuran, the days in UP with Ikot, Isaw, the campus life, the rumbles, even our days in ROTC, the campus organizations, hanging out with your loved ones in the arts and sciences steps, and of course, the aktibista days was also part of it. And then after that, there were the challenges and difficulties of finding a job, getting your life together, making ends meet, raising a family, and all that. So suffice it to say, many people of our generation also became very successful in their various fields of endeavor. Many of them found their silver lining."

A lot of the musical is based on the life of Teotico and his friends. Teotico too formed a group (called the Rockitwell Band) and composed more than 15 songs before and during the pandemic for their Homecoming. 12 of their songs have made it to the musical, with 3 additional songs written by Vince Lim.

"[We wanted ] to come up with an optimistic, positive musical because nowadays, everything is so heavy," adds Teotico, "We're hoping to give you something that would inspire you to give a vision of hope and redemption."
The musical stars Ricky Davao as Leo, Joel Nuñez as Anton, Raul Montesa as Raul, and Nenel Arcayan as Josie, while Albert Silos, Noel Comia Jr., Jay Cortez, and Sara Sicam will be playing their younger counterparts respectively.

They are joined by featured cast members Jep Go as Rico, Shaun Ocrisma as Mart, Maronne Cruz as Dalai, Krystal Brimner as Julia, Khalil Tambio as Chito, and Hazel Maranan as Agnes. Also in the cast are Sarah Facuri, Iya Villanueva, Dippy Arceo, Rodel Pingol, Ado Villanueva, and Joshua Tayco as members of the ensemble.
"I really felt that it was so cool to be able to bring in the rock and roll music that [they] were able to develop during the pandemic, but at the same time, I wanted to bring in generations," says Legarda. "I wanted the story to be an intergenerational one because we really have the young kids of the 70's, the boomers, and the millennials. For me what's important is that families come to watch it because I'd like to think this is a conversation that families will understand."

Legarda adds that the musical is a conversation between generations. "It's going to be a joyous performance of life and at the end of that, we find our silver linings because I think each of us will find our own way."

"Iyung ganung kind of joyous na even if we see what happened in the past or we confront, we find a way to heal."

"This story is intergenerational. It's not just specifically about the 70's," adds marketing manager John Mark Yap. "It's also talking about our issues– the recent elections and the mental health issues of the younger generation."
The creative team also includes PJ Rebullida (choreography), Charles Yee (set design), Tata Tuviera (costume design), David Esguerra (lighting design), and Joyce Garcia (video design).

The show will run for 6 shows only from October 20-22 and October 27-29 at the Carlos P. Romulo Auditorium, RCBC Plaza. Tickets are available on Ticket2Me.

You can watch the cast perform excerpts from the show below.
Comments