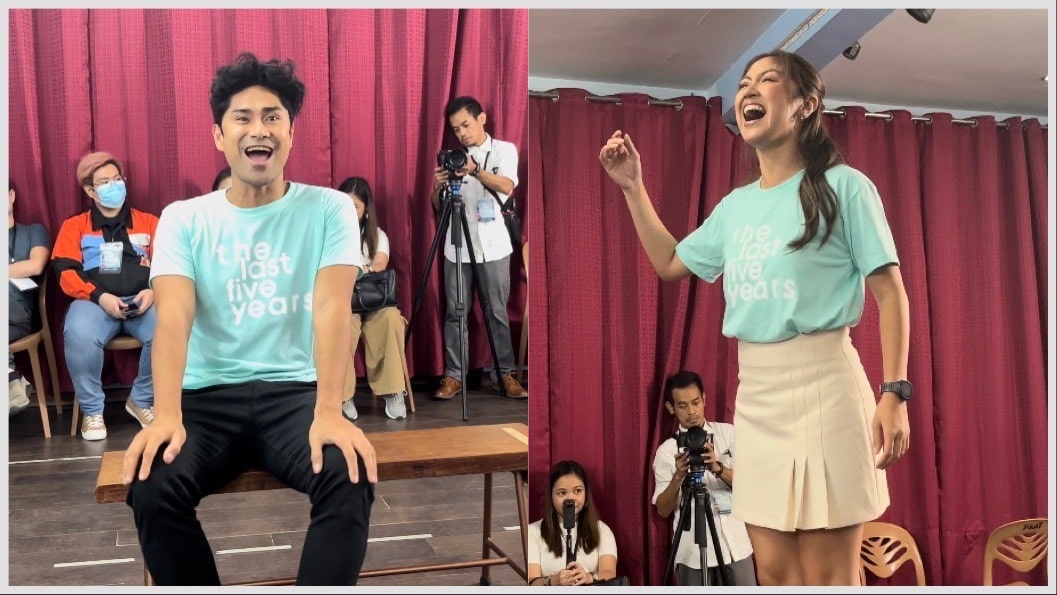 WATCH: Gab Pangilinan, Myke Salomon Perform Excerpts from 'The Last Five Years'
The Last Five Years, a musical written and composed by Jason Robert Brown, is set to be staged by the Barefoot Theatre Collaborative (BTC) at the Power Mac Center Spotlight in Circuit Makati starting on September 29. It will star Gab Pangilinan as young, struggling theater actress Cathy and Myke Salomon as rising novelist Jamie.
This marks the third staging of the musical in Manila, with the initial production presented by Actor's Actors Inc. in 2003 starring Menchu Lauchengco-Yulo and Audie Gemora, and the most recent one in 2014 by 9 Works Theatrical, starring Nikki Gil and Joaquin Valdes." Both past productions have been staged at the RCBC Plaza.
How will this 2023 staging be different?

"We wanted to make this an immersive production," says director Topper Fabregas. "Now, we have the Black Box at Circuit, so we thought since we're given a black box, we might as well play around with that space and really give the audience a fresh take on the material." 
The Last Five Years is told in two intersecting timelines where Jamie's timeline goes forwards and Cathy's timeline goes backwards.
"When we were in talks about how we wanted to stage it, without giving too much away, we just thought about how to really present the timeline of this relationship. We really wanted the timeline of The Last Five Years to play out right in front of the audience." 
"We thought, 'What is the clearest and most fun way to see it play out right in front of you?' Since we have such a small house (almost 300 people in the audience), it makes for a nice, intimate, open, and vulnerable experience."

He adds, "I love the fact that everything is just open and vulnerable. We're not hiding behind any set. I love it in general for any of my shows because it's so open and vulnerable that the piece feels so fragile; that it could break at any minute."

The production will be using a traverse stage, where the theater is split into two, and the audience gets to see the relationship play out right in the middle.

Fabregas also adds that he has learned so much more about the two characters while working on the material.
"It's such a beloved piece of work and we're all so familiar with it, and I personally speaking have a tendency to kind of look at the relationship and think about Jamie being the genius and Cathy being the 'less than.' And now that I'm a much older artist, I've realized that we all get our strides in different times in our lives. Some people get it early and some people don't. So I wanted to put that argument forward. I kind of wanted to say, 'What if Jamie got his stride early and Cathy hadn't gotten her stride just yet? Who's to say that she is not as much of a genius than he is and what happens to this relationship when they can't seem to find that balance? How does that complicate their relationship'?"

"In other words, as much as this is a love story between two people, it is also about a partnership of two artists who are just as capable and just as creative and both geniuses in their own right. What happens when one takes off early, and the other hasn't taken off yet, how do they deal with that? Or how do they not deal with that?"
Also in the creative team with Fabregas are Rony Fortich (musical direction), Joey Mendoza (production design), Meliton Roxas Jr. (lighting design), and Delphine Buencamino (choreography).
You can watch Gab Pangilinan sing an excerpt of A Summer in Ohio and Myke Salomon sing an excerpt of Moving Too Fast in the videos below.
Comments