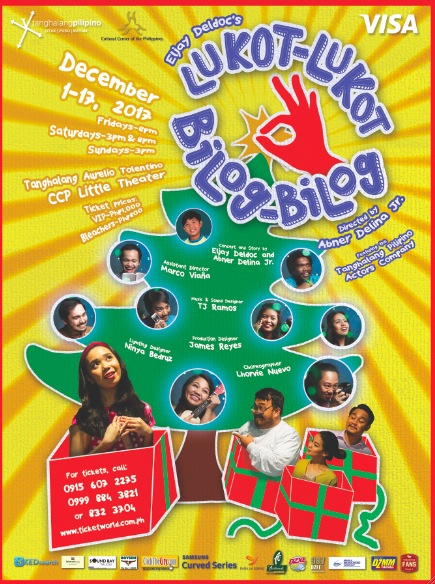 Tanghalang Pilipino Set to Stage Christmas Offering "Lukot-Lukot, Bilog-Bilog"
For its Christmas offering this season, Tanghalang Pilipino (TP), in cooperation with VISA Philippines, continues its 31st Theater Season billed as "Freedom Writers: Freedom Fighters with Lukot-lukot, Bilog-bilog, a comedy by Palanca Award-winning playwright Eljay Castro Deldoc about saving money and saving relationships.
Presented in celebration of the season of giving, Lukot-lukot, Bilog-bilog is an educational play on Finance Literacy, which underscores not only the value of saving money for the benefit of oneself, but more importantly, the value of saving money so we can help other people in need.
The play revolves around Gwyneth, her best friend Jing-Jing, and other quirky characters. After getting a sum of P1,080 from her birthday presents, Gwyneth feels that she is rich. Her discipline on handling her "riches" is put to the test as she journeys with Jing-Jing and encounters all sorts of materialistic temptations that will confound her to weigh her needs and wants along the way. With the help of a civet, Apolinario Mabini, Mt. Mayon, and Jose Rizal — all of which come alive from crumpled bills and rounded coins — will Gwyneth learn how to save, spend, and budget responsibly?
Lukot-lukot, Bilog-bilog will run from December 1 to 17, 2017 at the Tanghalang Aurelio Tolentino (CCP Little Theater), with evening performances at 8:00 PM and matinees at 3:00PM. The play showcases TP's very own Actors Company, a creative team of multi-talented theater artists composed of Jonathan (Tad) Tadioan, Marco Viaña, JV Ibesate, Aldo Glenn Vencilao, Lhorvie Nuevo, Antonette Go, Doray Dayao, Blanche Buhia, Monique Nellas, Eunice Pacia, Joshua Martin Tayco and Ybes Bagadiong. This Christmas presentation is under the direction of Abner Delina, Jr., with production design by James Reyes, lighting by Ninya Vedruz, soundscape, musical composition and musical direction by TJ Ramos, and choreography by Lhorvie Nuevo.
You can buy tickets HERE.
For more details about what's happening in the Manila theater scene, please view our Theater Calendar.
Comments