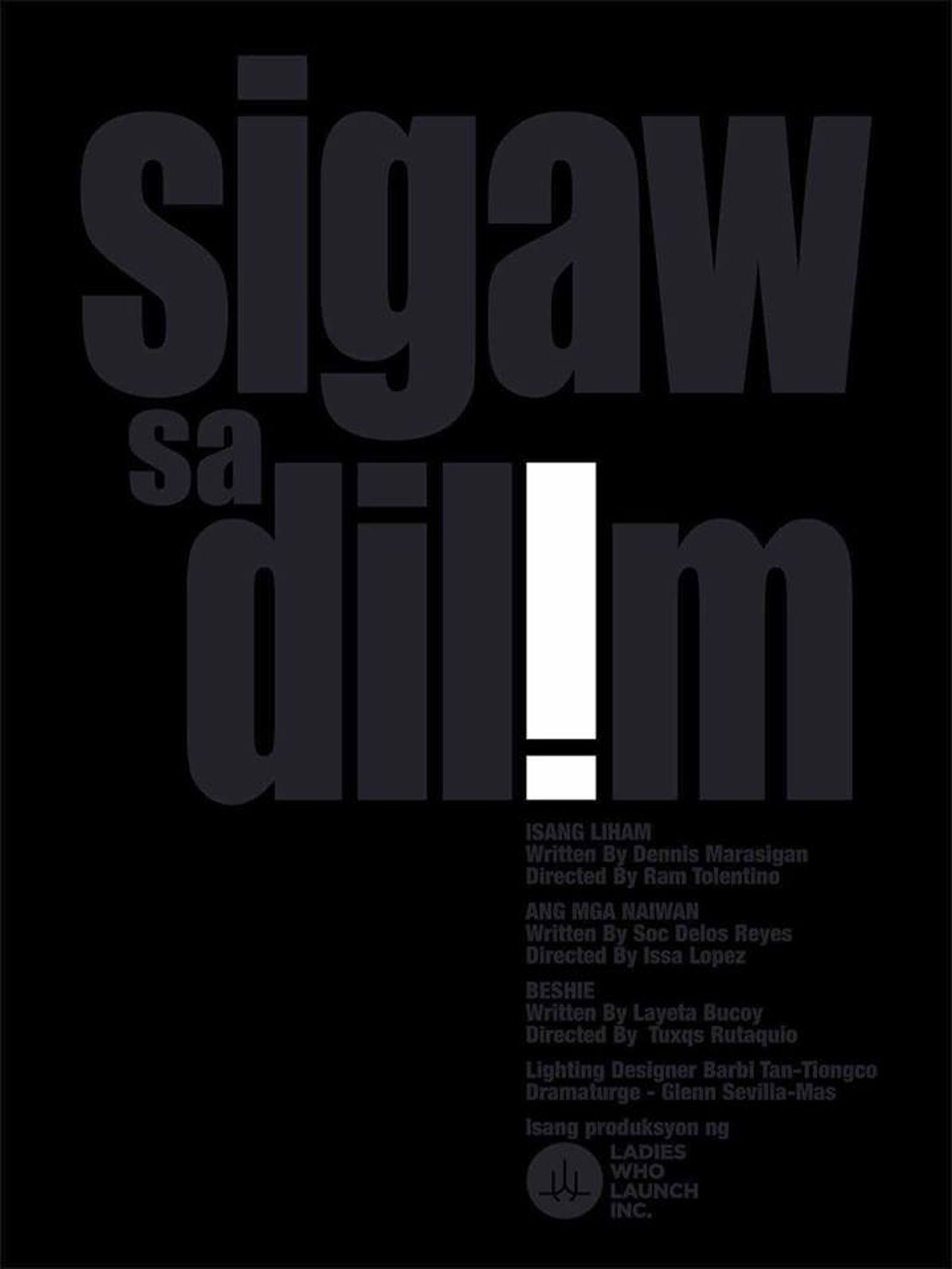 "Sigaw Sa Dilim" to be Staged as Cry for Justice in the Time of Tokhang
On the heels of the much-lauded Never Again: Voices of Martial Law festival of plays last year, Ladies Who Launch announces its new production, SIGAW SA DILIM, revolving around the issue of human rights in an era of state sanctioned killings, more commonly known as EJKs.
SIGAW SA DILIM is a set of three one-act plays featuring characters affected by the deadly war on drugs, better known as Operation Tokhang, in the poor communities around the country.
Beshie, directed by Tuxqs Rutaquio and written by Layeta Bucoy, is about a young transgender female who loses her best friend in a Tokhang Operation.
Ang Mga Naiwan under the direction of Issa Lopez and written by Soc Delos Reyes, is about the women left behind by the same series of police initiated drug raids.
The third play, Isang Liham is about a minor who has fallen prey to a police drug raid. And is written by Dennis Marasigan and directed by Ram Tolentino.
According to the Philippine National Police, there have been 6,225 drug-related deaths between July 2016 and September 2017. Despite this, authorities claim that there has only been one extrajudicial victim under the current administration. (AFP/Noel Celis, Philippine Star October 7, 2017).
As many as 32 people have been killed within a 24-hour period on August 15, 2017, in one of their deadliest operations to date.
The growing death toll and increasing number of victims, especially minors and those proven later to be innocent, reveals the dire need to raise awareness about the injustices of state-sanctioned killings, and restore regard for the value of human life and human rights.
Sigaw Sa Dilim hopes to be able to help in instilling in people's minds the value of life as well as reminding people, particularly those in the most vulnerable communities, of the government and the Philippine National Police's responsibility to secure the safety of every Filipino regardless of socioeconomic status.
On its regular run slated to start in January of 2018, the three plays will be shown in communities and schools nationwide as a barebones production with the help of artists and staff who have kindly volunteered their service for the cause.
Not only is it envisioned as an eye-opener, it will also serve as a conversation starter with the performances to be followed by a debriefing session facilitated by the production team and expert volunteers trained in the subject matter.
With these performances, Sigaw Sa Dilim hopes to fight the growing normalization and acceptance of impunity and the tyranny of a one-man rule in the Philippines.
The three plays will be shown in communities and schools nationwide on its regular run beginning in January 2018. The performances will be followed by a debriefing session facilitated by production team and expert volunteers.
For additional details, please contact Meann Espinosa at meann.espinosa@gmail.com or call 09989252990.
Comments