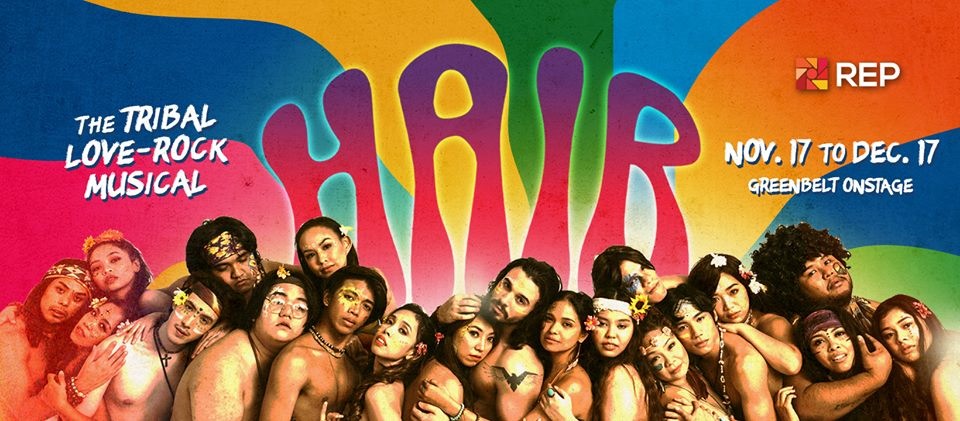 Surprise Guest Theater Stars to Perform in Hair!
Repertory Philippines (REP) has some exciting news! Their production of Hair, which officially opens tomorrow night, will feature a special guest artist for every show!
Powerhouse performers are set to join the cast in performing the opening song "Aquarius". Each show will feature a guest star, including internationally acclaimed singers Morissette Amon and Mig Ayesa, theater veterans Shiela Valderrama-Martinez, Kim Molina, Ima Castro, Alys Serdenia, Abi Sulit, and more.
They join lead cast members Markki Stroem alternating with Topper Fabregas as Claude, a native Oklahoma farm boy who crosses paths with a free-spirited tribe protesting the Vietnam War. The band of hippies led by George Schulze's charismatic Berger, along with student-turned-activist Sheila played by Caisa Borromeo, inspire Claude to rebel against the war and norms of society and embrace love, peace, and freedom instead.
The star-studded performers bring to life the award-winning book and lyrics by Gerome Ragni and James Rado, and music by Galt MacDermot. Originally produced on the New York Stage by Michael Butler, Hair won the 1969 Grammy Award for Best Score from An Original Cast Show Album, while its 2009 Broadway revival earned the Tony Award for Best Revival of a Musical.
Set in the tumultuous 1960's, the year-end grand musicale of REP's 50th anniversary season dives into the vibrant bohemian underground, the sexual awakening of a generation, and the politically charged atmosphere of the decade.
The show will run from November 17 to December 17 at the Onstage Theater of Greenbelt 1.
You can buy tickets HERE.
For more details about what's happening in the Manila theater scene, please view our Theater Calendar.
Comments