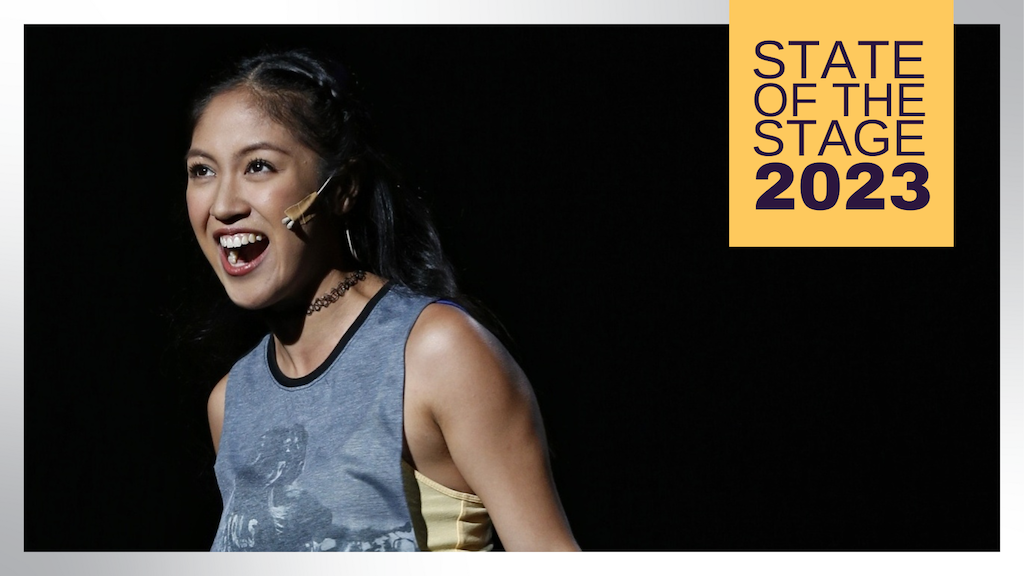 State of the Stage 2023: Manila's Upcoming Theater Scene
Theater fans can officially rejoice because after a hard couple of years, it is safe to say that live theater is truly back with a vengeance. 
After 2 years of no live shows, theater fans showed up for the select number of theater companies who were brave enough to return to the stage in 2022. Audiences have started to purchase tickets much earlier than they used to, and almost all runs, in spite of some hurdles caused by unpredictable COVID infections and show postponements, saw full houses.

Things are looking up even further as more theater companies have announced their plans for 2023.

PETA is returning to the live stage with Rody Vera's new musical Walang Aray, which is set to run at the PETA Theater Center from February 17 to May 14, starring Gio Gahol and Marynor Madamesila, and Star Magic's KD Estrada and Alexa Ilacad, who alternate as Tenyong and Julia.

Tanghalang Pilipino (TP) will be staging a rerun of Ang Pag-uusig (first staged in 2017), Dr. Jerry Respeto's Filipino translation of Arthur Miller's The Crucible. Featuring the TP Actors Company, the play will run from February 17 to March 12. From April 14 to 30, the company will be staging a new play entitled Nekropolis, devised by Guelan Luarca and Charles Yee, with the TP Actors Company, through a collaborative process called dulambayanihan. The play explores and dramatizes Death as a political power, through enforced disappearances, extrajudicial killings, corruption, poverty, disinformation and the pandemic response. Both shows will be staged at the CCP Black Box Theater. 
It will then be followed by The Virgin Labfest, which will be returning for its 18th year in June, and a rerun of Rody Vera's Anak Datu (which ran from September to October 2022), TP's first major live production since the 2020 lockdowns.
CAST (Company of Actors in Streamlined Theatre) PH, which is known for its annual staged reading festival, will try its hand at mounting intimate, streamlined productions for the first time. Its first foray into this new venture is Uncle Jane, an original adaptation of Anton Chekhov's Uncle Vanya, written and directed by CAST Artistic Director Nelsito Gomez. The show will run from February 24-26 at The Mirror Studios, featuring Missy Maramara, Topper Fabregas, Justine Peña, Justine Narciso, Leo Rialp, Jay Glorioso, and Jaime Del Mundo.

After sold-out, multiple runs of Joseph the Dreamer, Trumpets Inc. Artistic Director Audie Gemora confirms that the company is returning in the first quarter of 2023 with a sung-through, orchestral concert version of the company's original musical production, The Lion, The Witch and The Wardrobe. A musical adaptation of C. S. Lewis' novel with the same name, written by Luna Griño-Inocian and Jaime Del Mundo (book and lyrics), with music by Lito Villareal, the full stage production first opened at the Meralco Theater in 1997 and had subsequent runs in 1998 and 2002.

An international touring production of Rodgers and Hammerstein's The Sound of Music is also coming to the Samsung Performing Arts Theater in March, produced by Broadway International Group in partnership with GMG Productions. It will feature performances by Jill Christine-Wiley as Maria Rainer, Trevor Martin as Captain von Trapp, with Daniel Fullerton as Rolf, Lauren Kidwell as Mother Abbess, Joshua La Force as Max, Lauren O'Brien as Liesl, and Annie Sherman as Elsa.
The Full House Theater Company also returns with a rerun of Ang Huling El Bimbo in April, starring new cast members Bullet Dumas, Katrine Sunga, Nino Alejandro, Paw Castillo, and Anthony Rosaldo, and returning cast members Gab Pangilinan, Gian Magdangal, and Topper Fabregas. The show will run at the Newport Performing Arts Theater of Newport World Resorts starting this April.
Repertory Philippines' Theater for Young Audiences (RTYA) is coming back from mid-September to December with Janes Yates Vogt and Mark Friedman's Snow White and the Prince. The musical production was supposed to run in 2020, but was halted due to the pandemic. REP President Mindy Perez-Rubio also confirms that there will possibly be 2 more productions by the company next year, with titles still to be determined. 
Toff De Venecia, The Sandbox Collective's Artistic Director, hopes to stage The Sandbox Fest that was slated to run in 2020, featuring its previously produced plays– Duncan Macmillan's Lungs and Every Brilliant Thing, but was also unfortunately put on hold by the lockdowns. A definite run has yet to be confirmed.
Santi Santamaria, Managing Director and Executive Producer of 9 Works Theatrical, says that they will be back sometime in May and sometime at the latter part of the year, but has yet to disclose its roster of shows.
Pat Valera, a co-producer of Barefoot Theatre Collaborative and co-creator and director of its most recent musical, Mula sa Buwan, says "Staging Mula sa Buwan was a major endeavor for Barefoot Theatre Collaborative. We're thankful for the warm reception of returning and new audiences! For 2023, we're looking to tell more stories — ones close to our hearts — and develop new works, as well."

Theatre Titas co-producer, Luis Mendez, confirms that the company will be producing 2 shows in 2023, with the titles still to be announced.
Vince Tañada, Artistic Director of the Philippine Stagers Foundation, says that they will be releasing a musical film entitled Project ASN. The cast and the premise of the film have not been revealed, but a yellow ribbon, a pair of glasses, and a slogan with the hashtag HeroInAllOfUs can be seen in the film's teaser poster.
In the world of dance, Ballet Manila is set to stage 3 productions at the newly renovated Aliw Theater. Its season begins with Martin Lawrance's Romeo and Juliet (February 18 to 19), followed by Don Quixote (May 27 to 28), and concludes with a rerun of Gerardo Francisco's Ibong Adarna (August 19 to 20).

Ballet Philippines will be staging Carlo Calma's Diyosa from April 14-16, a full-length contemporary ballet adaptation of Philippine Mythology's gods and goddesses alive in nature. The production concludes its 53rd season.
It will also be a big year for university-based groups. Ateneo blueREP has announced that it will be staging Carlo Vergara's Zsa Zsa Zaturnnah the Musical, with Kim Molina playing the titular role. Also featured are Phi Palmos, Adrian Lindayag, and Shaun Ocrisma as Ada, Carlos Galano, Elian Dominguez, JM Servilla as Dodong, Almond Bolante and Bradly Hao as Didi, Kyla Rivera as Aling Britney, Kakki Teodoro and Anyah de Guzman as Femina, and Dani Tan, Lena Evangelista, Carlin Maxino, and Heart Romero as the Amazonistas. With music, lyrics, and musical direction by Vincent A. DeJesus, and stage adaptation by Chris Martinez, the show will be directed by Missy Maramara.
For Dulaang UP, there will be an online stream of the play Kung Paano Nanalo sa Karera si Rosang Taba in March, adapted by Maynard Manansala and Rody Vera from the short story How Rosang Taba Won a Race by Dean Francis Alfar. It will be directed by Jose Estrella.
Comments