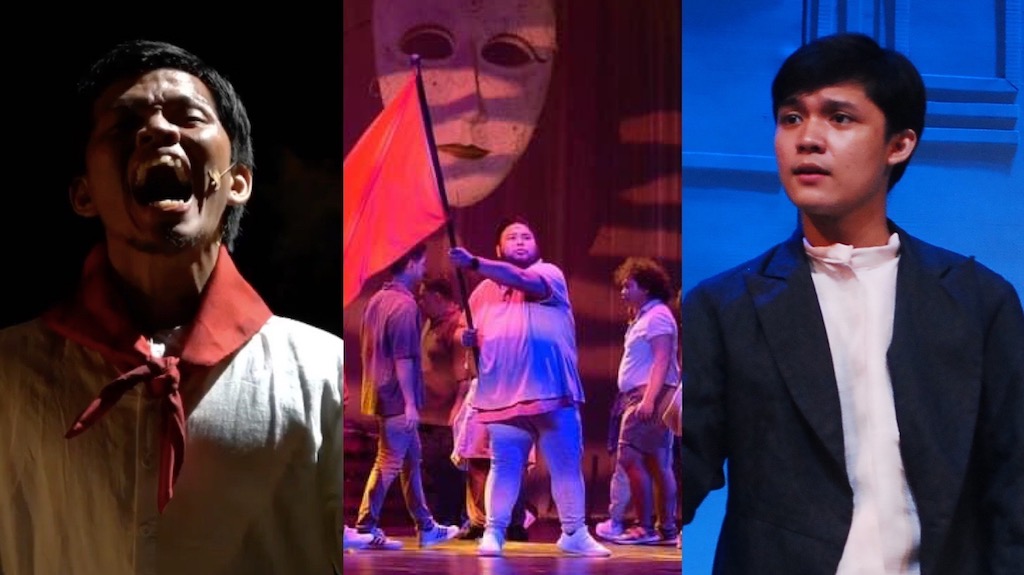 22 Musical Streams in 2022
2022 is coming to a close and we can look back on a year that brought us so much when it came to musicals streaming online.
While live theater finally accepted audiences this year, streams still reigned supreme in terms of selections. Musicals old and new, local and international, filled the digital sphere, streaming on various platforms and giving access to a global audience who enjoyed these shows from the comfort of their homes and at their own preferred schedules. 
Proshots of shows like Batang Rizal and ²Bayani brought history to life through music and magic. Movie versions of Matilda and 13 started streaming on Netflix while the new holiday musical Spirited is on Apple TV+. Other stage productions like Heathers, The Last Five Years, Allegiance, Pride and Prejudice also found new life online. 
The long-awaited sequel to Disney's Enchanted, Disenchanted, also finally cast its spell on us last month, the most recent addition to the extensive catalog of Disney musicals, to which we now finally have access. And no doubt, there will be more to come in 2023.
For now, let's look back at 22 musical streams in 2022, some you can still stream today:

Babae ang Bukas
Jointly crafted by
PETA and Oxfam
,
Babae ang Bukas
showcases the experiences of Filipinas
during the COVID-19 pandemic. The stream is part of OXFAM's
Babae ang Simula, Babae ang Bukas
Festival and it was also part of this year's celebration of International Women's Month.

Puso ng Pasko
The very
first all-original Filipino Christmas ballet
,
Puso ng Pasko
centers on the memories of Lolo Val (played by Audie Gemora), now living abroad in New Jersey, who regales his young granddaughter Angelita, with accounts of the magical Christmases of his youth in Tres Reyes with his barkada.

Lapulapu, Ang Datu ng Mactan
An
epic historical musical
, the show follows the Victory at Mactan in 1521, as told from the point of view of the mysterious Lapulapu, the circumnavigation of the world, as told from the point of view of the trip's chronicler Juan Sebastian Elcano, and the arrival of Christianity in the Philippines, as seen from the lens of Reyna Juana.
Batang Rizal
A magical and educational, musical adventure through history,
Batang Rizal
follows the child Jose Rizal as he meets a child from the present. He also travels to contemporary times and realizes that he is
destined to become a hero
. The show is
based on the book by Christine Bellen
and co-written and stage-directed by Dudz Teraña.
²Bayani: Isang Rock Operang Alay Kay Andres Bonifacio
It is a rock opera about Andres Bonifacio that was first staged in 1996. The show
chronicles the trials and tribulations of Bonifacio
by revisiting key moments in Philippine history. The
streamed production
was staged by Areté in partnership with Tanghalang Ateneo. 
Musikal II
Musikal II
was a special concert to celebrate the 53rd anniversary of the Cultural Center of the Philippines that was
staged live in September.
But beyond a showcase of Filipino musicals over the past eight years,
Musikal II
was
a deep dive into what makes these shows so beloved by audiences
and the common threads that unite the artistic community with everyone else.

Pasyong Pilipino
This
musical concert
is based on the original text
Pasyong Mahal
by Gaspar Aquino de Belen.
Centering on the Passion of the Christ, this show is written by National Artist Bienvenido Lumbera, with script-teleplay by National Artist Rolando Tinio, music and arrangement by Fr. Eduardo Hontiveros, and additional music by Fr. Benildus Ma. Maramba.
Daluyong ng Diwa (Tides of Our Soul)
This dazzling show was
presented at the Dubai World Expo
last February 11. The production traces the 4,000-year story of the Filipino people, told in six suites, with music and lyrics by Ejay Yatco, choreography by JM Cabling, and costumes and production design by Leeroy New. The story is told through the eyes of a mystic being who represents the Filipinos' soul, a being who was there from the very beginning, and is continued through a child who carries the Filipino soul with her as the nation moves towards the future.
Azul: Ang Sirena ng Sigwa
Azul: Ang Sirena ng Sigwa,
an original musical
written and directed by BJ Crisostomo and produced by Areté and CCARPH
. It focuses on the relationships between two individuals and their love for the mermaid Azul through the years – and how climate change and our vulnerability to floods and typhoons greatly impact our lives.
Matilda the Musical
This is the
film adaptation of the stage musical
based on the 1988 Roald Dahl novel. It follows the story of Matilda, an extraordinary girl who, armed with a sharp mind and a vivid imagination, dares to take a stand to change her story with miraculous results.
Streaming on Netflix.
Disenchanted
Starring Amy Adams, Idina Menzel, Patrick Dempsey, and James Marsden,
Disenchanted
revisits beloved characters from
Enchanted
as they embark on a new adventure. The story picks up 15 years later, as Giselle moves to the suburb of Monroeville with Robert and their daughter Morgan, where she must juggle the challenges that come with a new home and discover what happily ever after truly means to her and her new family.
Streaming on Disney+.
Scrooge: A Christmas Carol
This Charles Dickens classic is just the gift that keeps on giving. Every Christmas time, there is sure to be
some version of
A Christmas Carol
made available somewhere
. In this article alone we already have two.
Like all versions of the story, this animated musical follows Ebenezer Scrooge, a mean-spirited, miserly old man who hates Christmas. One fateful Christmas Eve, he is taken on a journey where he meets the Ghosts of Christmas Past, Present, and Future. These supernatural encounters show him the error of his ways and the old man has a change of heart, becoming more generous and compassionate as he learns to live out the true meaning of Christmas.
This version features the voices of Luke Evans, Olivia Colman, Jessie Buckley, Jonathan Pryce, Johnny Flynn, James Cosmo and Trevor Dion Nicholas. Streaming on Netflix.
Spirited
A
modern re-imagining of
A Christmas Carol
, Spirited
tells the tale from the perspective of the ghosts of Christmas with Will Ferrell playing the Ghost of Christmas Present. He chooses the wrong Scrooge in Ryan Reynolds' Clint Briggs and chaos ensues as Present and the other ghosts begin to question their purpose and existence. 
The film features original songs by Oscar winners Benj Pasek and Justin Paul (La La Land, The Greatest Showman) and production numbers choreographed by Chloe Arnold (The Late Late Show with James Corden). Streaming on Apple TV+.

Pinocchio
Joining the ranks of the other live-action versions of Disney animated classics is
Pinocchio
, an
updated film based on the 1940 cartoon.
It tells the story of a woodcarver named Geppetto who carved a wooden puppet and named it Pinocchio. Pinocchio is brought to life by a Blue Fairy and desires for nothing more than to become a 'real boy.'
Tom Hanks plays Geppetto, with Cynthia Erivo as the Blue Fairy, Joseph Gordon-Levitt as the voice of Jiminy Cricket, Luke Evans (if you're feeling déjà vu, it's because he's also mentioned as the voice of Scrooge somewhere on this list) as The Coachman, Benjamin Evan Ainsworth as the voice of Pinocchio, Keegan-Michael Key as the voice of Honest John, and Lorraine Bracco as the voice of a new character called Sofia the Seagull. Streaming on Disney+.

Pinocchio 
Yes, you read that right. There is another version of Pinocchio that is an animated musical and that is streaming right now. This time, visionary filmmaker Guillermo del Toro puts
his own spin on the children's tale
by Carlo Collodi. The animated musical features stop-motion animation and is set in Fascist Italy during the interwar period and World War II, tackling darker and more complex themes about life and identity.
The film features an all-star voice cast with Ewan McGregor, David Bradley as Geppetto, and introducing Gregory Mann as Pinocchio as well as Finn Wolfhard, Cate Blanchett, John Turturro, Ron Perlman, Tim Blake Nelson, Burn Gorman, Christoph Waltz, and Tilda Swinton. Streaming on Netflix.
13 the Musical
13 the Musical
follows 12 year-old Evan Goldman as he's forced to move from New York to a small town in Indiana after his parents get divorced. The musical is known for being the
only Broadway musical to have a cast and a band composed entirely of teenagers.
It was also Ariana Grande's professional debut as she played the role of Charlotte the 
Cheerleader (she will soon be portraying Glinda in the film adaptations of
Wicked
).
Streaming on Netflix.

Better Nate than Never
Based on the novel by Tim Federle, Better Nate than Never follows the adventures of thirteen-year-old Nate Foster who dreams of performing on Broadway but struggles to get a part in the school play. A rare opportunity presents itself and Nate and his best friend Libby sneak off to New York to try and make his dreams come true. Streaming on Disney+.
Sneakerella
A movie that puts a modern twist on the Cinderella fairy tale,
Sneakerella
follows the adventures of El, an aspiring sneaker designer in Queens who hides his artistic talent while working as a stock boy in a shoe store that belonged to his late mother. Sparks fly when he meets Kira King, the daughter of a legendary basketball star and sneaker tycoon. Finding courage from his best friend and some Fairy Godmother magic, El decides to lace up and pursue his dream of becoming a renowned sneaker designer. Streaming on Disney+.
Heathers the Musical
A proshot of
Heathers the Musical
is streaming for free as a Roku Original. The production is a
live capture of the May 2022 West End revival
.
The show is based on the 1989 black comedy film of the same name which deals with the subject of suicide, bullying, and school violence. The story focuses on Veronica Sawyer, an unpopular girl who crosses paths with the three super popular Heathers. When Veronica gets involved with the troublemaker JD, her world spins out of control and the students of Westerberg High School get caught in a series of gruesome "suicides."

Little Women the Musical
You can never have too much of the classics. This production of Louisa May Alcott's classic was recorded at the Park Theatre in December 2021 and is
now streaming
on
BroadwayHD
.
Little Women follows the lives and loves of the March sisters: Meg, Jo, Beth, and Amy, and their Marmee, as they go through life in Concord, Massachusetts. The musical opened on Broadway in 2005, starring Sutton Foster as Jo, for which she was nominated for a Tony Award. 
Among the memorable songs from the show are "Astonishing," "The Fire Within Me," and "Sometimes When You Dream."
Pride and Prejudice: A New Musical
Avid fans of Jane Austen's iconic couple were given a treat with a
free stream of the musical
on the
Broadway on Demand
platform.
Based on Jane Austen's classic novel, Pride and Prejudice: A New Musical is set in Regency era England and centers on Elizabeth Bennet, one of five sisters whose mother is determined to find rich husbands for all her daughters. The arrival of the wealthy and single Mr. Bingley provides the opportunity for Mrs. Bennet's matchmaking schemes. Elizabeth instantly dislikes Bingley's richer friend, Mr. Darcy, who develops an interest in her but is repulsed by her embarrassing family. Will both of them see beyond their pride and prejudice and find happiness in one another?
Allegiance
The musical starring George Takei, Lea Salonga, and Telly Leung,
streamed for free earlier this year
on the
Broadway on Demand
platform.
Based on Takei's life, Allegiance explores one family's journey during the Japanese internment camps during World War II. Sammy and Kei Kimura are the Japanese-American children of Tatsuo Kimura, a domineering father and first generation Japanese-American immigrant (or Issei). The family struggles with their opposing views of America when anti-Japanese sentiments begin to sweep across the country after the bombing of Pearl Harbor. While Sammy wants to join the army to prove his American loyalty, Kei protests against the unfair treatment of the Japanese people and demands freedom for her people.
Comments