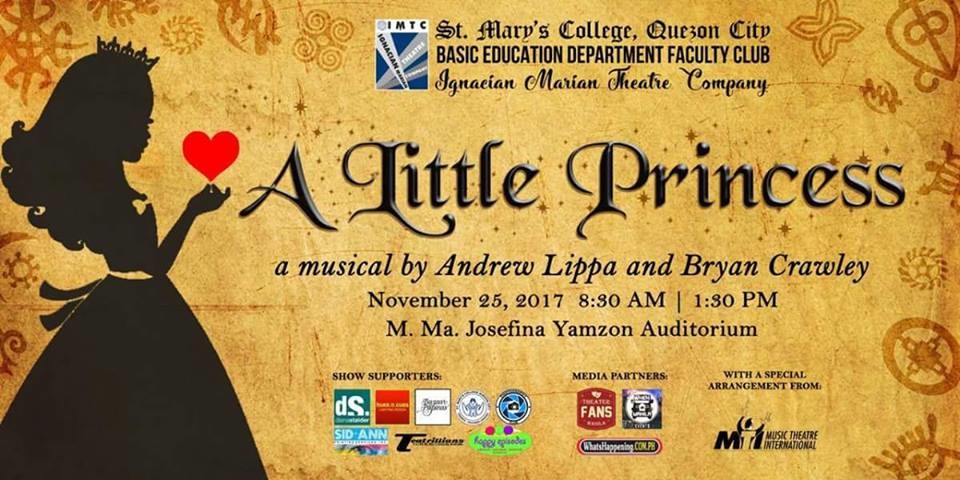 St. Mary's College to Stage Children's Classic 'A Little Princess'
St. Mary's College, Quezon City will be staging the children's classic 'A Little Princess', based on the novel by Frances Hodgson Burnet, with book and lyrics by Brian Crawley and music by Andrew Lippa.
The Basic Education Department Faculty Club, with the different students' organizations led by the Ignacian Marian Theatre Company's actors company, apprentices and pool of talents, will be collaborating to bring this beloved tale to life under the license from Music Theatre International (MTI), New York City.
"Let your Heart be your Compass, Let Your Laughter be your Guide."
The production will be directed by Jabs Bolok, with musical direction by Cyril Jeru Cruz and choreography by Bobby Superales. This show will have a one day affair on November 25, 2017 (8:30AM / 1:30PM) at the school's M. Ma. Josefina Yamzon Auditorium. You can purchase tickets (P250) from Lex Danao at 3736846 loc 501.
A Little Princess chronicles the young life of Sara Crew, an English girl whose rich father sends her away from Africa–where she has been living–to a London boarding school as he leaves on a mission to explore the fearsome land of Timbuktu.
For more details about what's happening in the Manila theater scene, please view our Theater Calendar.
Comments