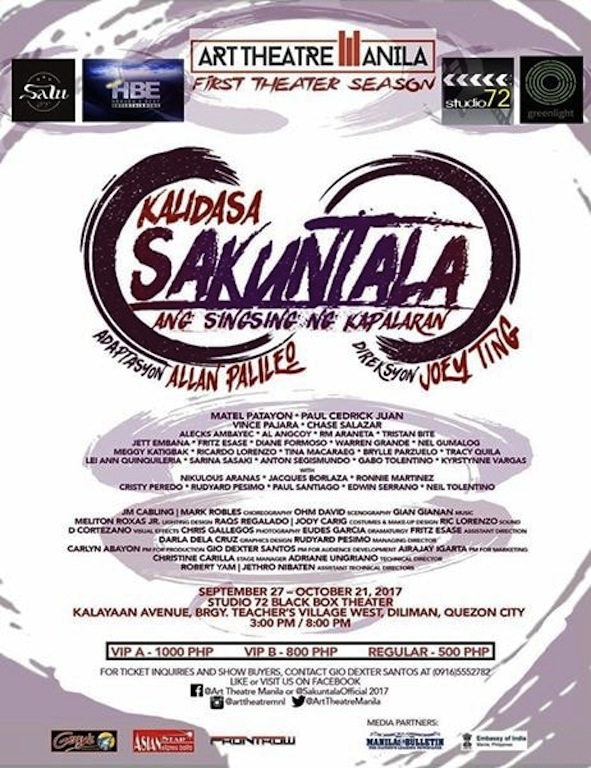 Art Theatre Manila Stages 'Sakuntala' as its Maiden Production
Art Theatre Manila's maiden production 'Sakuntala' is the greatest Indian Sanskrit Drama of all time, written by eminent playwright Kalidasa. Award-winning playwright and UP Diliman graduate Allan Palileo shares his expertise in adapting a seven-act epic drama into a compelling two-part, two-hour Philippine adaptation touching on the post-apocalyptic period.
Critically-acclaimed director and UP Diliman graduate Joey Ting collaborates with the leading theater artists in the country today as he ventures on his expertise in visual spectacle, storytelling, and acting.
Synopsis
It is sometime in 2080. A global plague has ensued, nuclear weapons have been destructive to mankind, and groups of ethnic tribes have survived in the Philippines. Sakuntala, believed to be the daughter of an unknown deity, belongs to a group where spirituality is at the center of their core, while Dusyanta, head of the other classified circle, belongs to another where the urbanized influences are their trademarks.
While hunting beasts, Dusyanta sees Sakuntala and falls in love. Love is tested. Love is twisted. Love is suppressed. Love is left behind and forgotten. What is the true meaning of love between Sakuntala and Dusyanta?
Cast and Artistic Team
The cast includes Alecks Ambayec, Al Angcoy, Nikulous Aranas, RM Araneta, Tristan Bite, Jacques Borlaza, Timothy Castillo, Emman Dela Cruz, Dennis Dolot, Jett Embana, Fritz Esase, Diane Formoso, Bobby Andrew Garcia, Gry Gimena, Warren Grande, Nel Gumalog, Paul Cedrick Juan, Meggy Katigbak, Tina Macaraeg, Ronnie Martinez, Vincent Paraja, Allan Palileo, Brylle Parzuelo, Matel Patayon, Cristy Peredo, Rudyard Pesimo, Tracy Quila, Lei Ann Quingquilenia, Chase Salazar, Paul Santiago, Sarina Sasaki, Anton Segismundo, Edwin Serrano, Gabo Tolentino, Neil Tolentino, Krystynne Vargas.
The artistic team has Allan Palileo for adaptation, Joey Ting for direction, Jm Cabling for choreography, Ohm David for scenography, Gian Gianan for music, Raqs Regalado for costumes and make-up, Meliton Roxas Jr. for lighting, Ric Lorenzo for sound, and D Cortezano for visual effects.
Show Details
Run: September 27-30 (3pm and 8pm), Oct 4-7 (3pm and 8pm), 11-14 (3pm and 8pm), 18-21 (3pm and 8pm)
Venue: Studio 72, Black Box Theater, Kalayaan Avenue, Brgy. Teacher's Village West, Diliman, QC
Ticket Prices:
VIP A P1000 (150 seats)
VIP B P800 (150 seats)
Regular P500 (300 seats)
*Special discounts for students.
For tickets, contact Gio Dexter Santos at 0916-5552782
Art Theatre Manila is a new professional theater company based in Manila that aims to showcase Asian Theater and Literature while promoting exceptional Filipino artistry, discipline, and values.
For more details about what's happening in the Manila theater scene, please view our Theater Calendar.
Comments