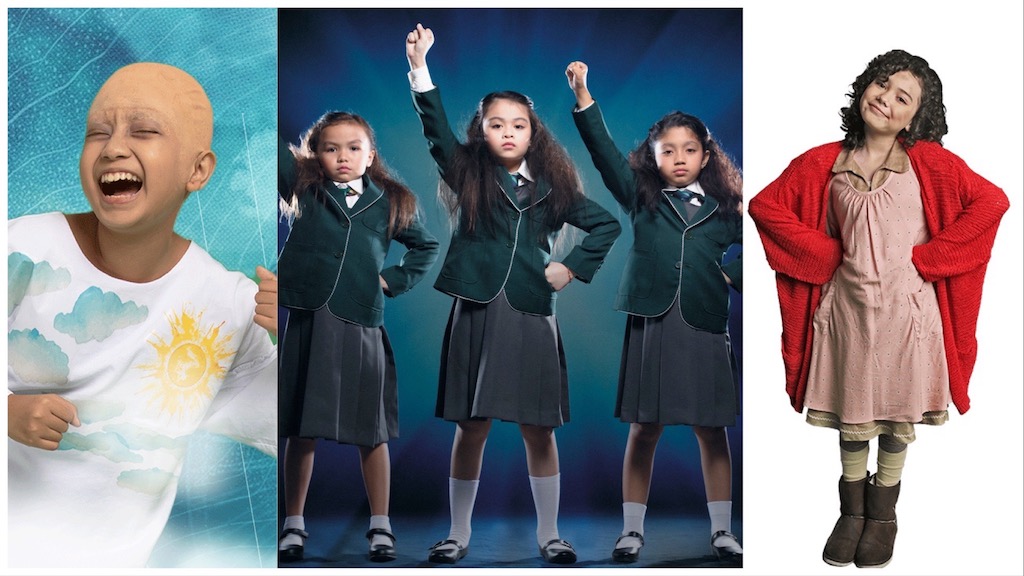 7 Adorable Characters Who Teach Us Never to Underestimate Little Girls
Sometimes, pint-sized heroines make the biggest impact.
While sugar, spice, and everything nice may make for a great cake, this ingredient list definitely falls short of what constitutes little girls. Add varying amounts of curiosity, determination, sass, silliness, toughness, and maturity beyond their years – and you'll begin to see why they're such forces to be reckoned with. 
We need look no further than the stage to see the might of mini-women. From an orphan with contagious optimism to a 9-year-old fighting cancer with her imagination, we move well past the stereotype of pink, glitter, and unicorns when speaking of little girls.
Here's a list of 7 unforgettable roles in theater that redefine girlhood while giving audiences the privilege many have but few stop to appreciate: watching them grow up.
Dani in Dani Girl
Through a lens we rather wish didn't exist, Dani shows us what battling childhood cancer is like. Where we expect pain and suffering, Dani radiates hope and exuberance. Her playful imagination is stuff of legend; and frankly, it's what gets us through what she's going through.
Susie in Sandosenang Sapatos
In cruel layers of irony, Susie is the daughter of a dying shoemaker who dreams of having a ballerina in the family. Bound to her wheelchair, she tries to make the impossible happen through the Diwata (fairy). Despite her fierce determination, her dreams don't become real; but in a heartbreaking moment, she does get to dance with her father.
Annie in Annie
When you're down in the dumps and feel a sliver of hope, that's Annie's voice in your head betting "your bottom dollar that tomorrow, there'll be sun". While Annie is optimism personified, she's also proof that little girls have the capacity to change the world. She sings that song to President Franklin D. Roosevelt after all!
Matilda in Matilda
Matilda has a very strong message for bullies: Don't mess with us. We are far more powerful than you'll ever know. Equal parts charm and intelligence, Matilda is the silent force behind a tiny rebellion that not only liberates her class, but the incredibly endearing Ms. Honey too.
Sara in A Little Princess 
Displaying both defiance and grace in the face of the formidable Ms. Minchin, Sara Crewe teaches theater-goers young and old what being a princess is really about: character. In fortune and in tragedy, she is a beacon to those around her, with a light that shines so brightly from within.
Mary in The Secret Garden
Curious and caring, Mary Lennox shows that little girls don't just find beauty where others don't – they can make it too. Nurturing both the garden and her friendship with sickly cousin Colin, Mary works miracles.
Little Cosette in Les Misérables
It's a small role in a huge masterpiece, but when the young daughter of Fantine sings "Castle on a Cloud", her voice fills the room, captivating an entire audience. Her words are of love, hope, and dreams; but what really breaks through is that in this tiny little person is spirit that cannot be broken.
Whether you have a daughter, niece, little sister, or younger self who needs a reminder of what she's made of, this list is out to show that the answer isn't sugar, spice, and everything nice. Little girls deserve far, far more than being likened to cupcakes.  
Comments