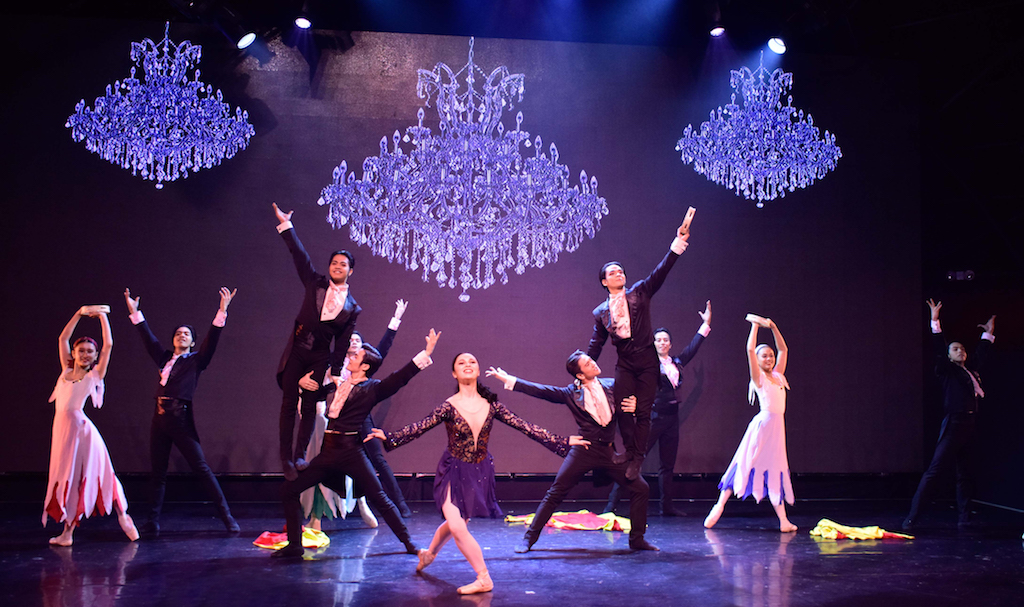 SNEAK PEEK: Ballet Manila's 'Rise' is an Upcoming Twin-Bill Offering
Ballet Manila is kicking off its return to the live stage at the newly-renovated Aliw Theater with Rise, a twin-bill production that features the return of the company's long-running series Ballet & Ballads, this time with the vocal stylings of Bituin Escalante, and the ballet version of the Italian opera La Traviata, choreographed by the company's Artistic Director and CEO Lisa Macuja Elizalde.
Ballet & Ballads is a series conceptualized by Macuja Elizalde's husband Fred Elizalde in 1998. Elizalde wanted to merge the talents of the singers from the radio (he was appointed director/ chairman of the Manila Broadcasting Company in 1985) and the dancers from the company. This has been mounted many times all around the Philippines and abroad since then, with different pop repertoires headlined by singers such as Lani Misalucha, Side A, Basil Valdez, and most recently Christian Bautista in 2018. 
This time, ballet pieces choreographed by Gerardo Francisco Jr., Tony Fabella, Martin Lawrance, and Macuja Elizalde will be performed by the company while Bituin Escalante sings OPM ballads in English and Filipino. This will serve as Act 1 of the production.
Act 2 is Ballet Manila's La Traviata, which was staged last March 2020 at the Samsung Hall of SM Aura as a twin-bill with Rudy De Dios' choreography of Carmina Burana. It was the company's last production before the pandemic hit.
La Traviata tells the ill-fated story of Violetta, a beautiful young courtesan who is wasting away from tuberculosis, and her relationship with Alfredo, a young bourgeois from a provincial family.
The ballet, which Macuja Elizalde has converted into a 50-minute version of the 3-act opera, will be performed by Principal Dancers Abigail Oliveiro as Violetta and Mark Sumaylo as Alfredo, together with the company of Ballet Manila.
"It is a dream come true for me to be able to choreograph to the music of Giuseppe Verdi, shares Macuja Elizalde. "La Traviata has always been my favorite opera of all time, and we are going to have live singing, with a 12-person opera ensemble and our soloists– Jade Riccio as Violetta, Ivan Nery as Alfredo, and Chris Arceo as Giorgio Germont."
Both acts will be accompanied by a 60-piece bespoke orchestra, where Gerard Salonga serves as musical director and conductor. Also in the creative team are stage director Michael Williams, scriptwriter Luna Griño-Inocian, and lighting designer Johnsy Reyes.
The one that unites both acts as a cohesive whole is the theme Rise, which signals how the company has risen above its devastating hurdles– from the fire that hit their complex in 2019, to the pandemic lockdowns in 2020 and 2021.
"Why Rise? Because that is what we do, we rise after every catastrophe," says Macuja Elizalde. "We rise to face every challenge. We rise to fulfill our calling. We rise to make dreams come true. Rise features everything we love about live performance– dance and music, in a double bill that incorporates opera, popular music, OPM, and orchestral music, and of course, the ballet."
When asked about the repertoire for Ballet & Ballads, Macuja Elizalde says, "It's themed, so it's still going to be Rise. It's going to be inspirational music and songs. It's going to be a mix of Filipino and English ballads for the ballet and ballads portion, but it still follows the same formula except that it's grander because it's not a minus one, it's a live orchestra."
"And it's also full of hope," she adds. "Talagang pinili namin iyung mga kanta na talagang dapat appropriate sa title ng Rise."
"As a director, I'm very excited for my dancers because [it's been] two years of not being able to feel the energy of a live audience while dancing on stage. And the energy and the artistic rewards that you get from performing live, with an audience, with a curtain call at the end, with a live orchestra, with live singing," says Macuja-Elizalde. "I'm just very happy to be able to give that to my dancers, to my artists after such a long drought and I just hope and pray that we will be able to continue with this." 
Principal Dancer Abigail Oliveiro mirrored the same sentiment. "It really feels like home. The first day we came back just for rehearsals, it felt like no time had passed but it's like what everyone else has said, it's so different to online", says Oliveiro. "You express so much and you don't get to connect with the audience. You can't really feel anything but being home on stage, you really share the whole moment together and I think that's so special. You get to go through a whole journey together."
"Hindi biro ang mawalan ng trabaho nun, mawalan ng live performances", says Macuja Elizalde tearfully. "Mawalan ng kanta, mawalan ng sayaw, ng halos tatlong taon. So talagang aawit tayo muli, sasayaw tayo muli. It is Rise."

Rise will run on October 7, 8pm and October 9, 5pm at the Aliw Theater. Theater fans can use the promo code BalletManilaRise10 for a 10% discount when checking out from Ticketworld.
You can watch a sneak peek of Rise below.
Comments