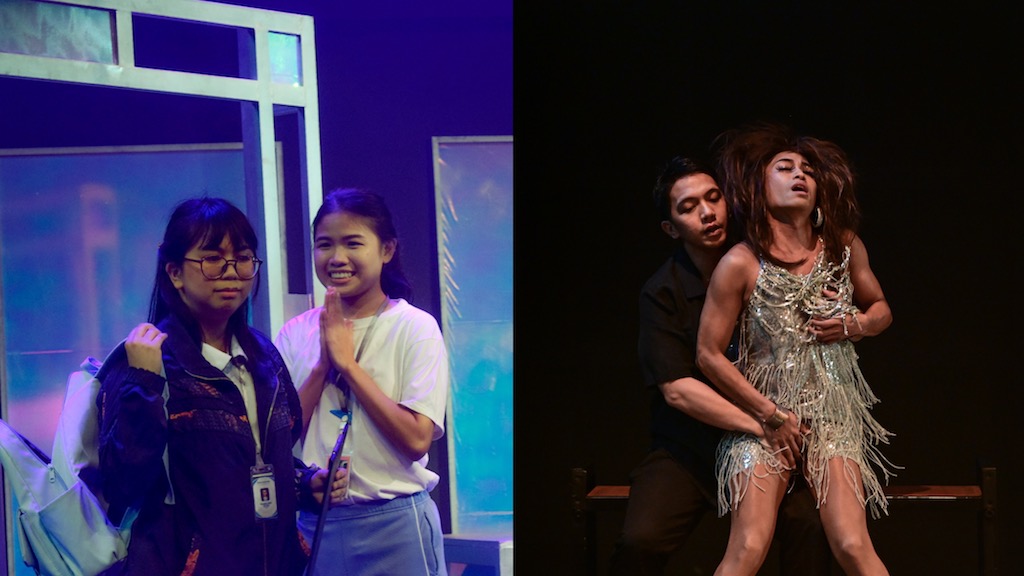 REVIEW: 'Unica Hijas' & 'Laro' form a tapestry of queer life
Programmed by Barefoot Theatre Collaborative as a twin bill, Mikaela Regis's Unica Hijas and Floy Quintos's Laro form a catalog of the myriad experiences and relationships that queer Filipinos have in a country that still doesn't fully recognize their rights. 
Other than this broad theme and the contrasting tones between the plays, there isn't much else that allows these productions to really converse with one another. But as the opening salvo to what will hopefully be a long-running project for Barefoot, these Pride Plays still exhibit an impressive range of complex emotion.
Unica Hijas
Even on its own, the short, one-act play Unica Hijas—originally a 2022 Virgin Labfest entry, about two lesbian high school students in a secret relationship, and their conflicting views on their sexuality—is worth the price of admission. 
Regis's script treads familiar territory for a queer young adult story, but to dismiss it as derivative would be to overlook how thoroughly it constructs its characters. Nikki (Joy delos Santos) and Mitch (Ash Nicanor) have had their own personal journeys with their sexuality, but they're both also aware that accepting or denying their true selves means taking on different responsibilities towards family and society. And so Nikki's internalized homophobia and her fear of carrying a label into the world outside high school begins to test her relationship with Mitch, who's almost recklessly eager to be out and proud with her girlfriend.
Regis's script is elevated into the realm of the spiritual through Pat Valera's direction, who—alongside Tata Tuviera's reflective set—situates the play firmly within the context of a Filipino Catholic school. Except instead of looming oppressively over the characters, this world is transformed into a place that can embrace and protect their most private moments together. 
During an intimate scene in the bathroom, for example, the characters are partly concealed from our view, rendering their bond precious but never shameful. Between scenes, Nikki and Mitch are the ones who rearrange the set—quite literally making space for themselves and their relationship. Here, their love is worthy of sanctification too; during a climactic phone call that Nikki makes, she turns toward a neon image of Mother Mary, who doesn't judge and only gives her blessing.
Unica Hijas is sentimental but it isn't slight. Thanks to effortless chemistry from its actors—delos Santos's cathartic, gradually building confidence as Nikki, and Nicanor's incredible balance of charm, comic timing, and heartbreak as she tries to get through to her partner—the stakes here couldn't feel any higher, and the experience couldn't be more emotional.
Laro
In stark contrast, the full-length production Laro—previously staged in a more stripped-down manner by Artist Playground in 2019—presents a series of two-person vignettes, in which 10 gay men from varying backgrounds cross paths within situations primarily dealing with power, class, and constructed identities. The production's overall premise is fascinating, as Quintos illustrates how, as members of a still-discriminated sector, these men can't freely express themselves without trying to leverage some form of power. Much of their lives and their survival are still determined by the things money and status can get them, often in seedy locations and illicit arrangements.
These ideas manifest in the first act through some particularly rich characters: from insecure romantic partners, to a self-assured drag performer and a volatile policeman. Power shifts unpredictably among them, as everyone still remains trapped under the same patriarchal notions of masculinity. 
Here, director John Mark Yap vastly improves upon his direction from 2019—pivoting between darkness and humor with D Cortezano's sensual and foreboding lighting design. It's also here where Laro finds its strongest performances. Gio Gahol makes for a terrifying cop who makes himself the center of gravity, while Phi Palmos and Shaun Ocrisma provide energetic comic relief as characters who are anchored by a need to be respected by their partners. 
Unfortunately, Laro eventually burns itself out in a second act that focuses disproportionately on sexual exploitation, celebrity, and incest. These are important, tricky subjects that shouldn't be taken on lightly, and the production knows not to cheapen these themes with misplaced comedy. But the issue here instead is that shorter scenes, uninteresting character relationships, and repetitive characterizations (save for Jojo Cayabyab's eccentric philanthropist) reduce act two to only the play's dullest and darkest elements. 
Despite Yap's best efforts and a striking, sexually-charged final tableau, this second act makes for an odd, downbeat note to end on. Still, given everything that comes before it, it nevertheless contributes a necessary darker shade to the tapestry that Pride Plays forms.

Tickets: P1700 – P1900
Show Dates: Jun 10 – 25 2023
Venue: Power Mac Center Spotlight Blackbox Theater, Circuit Makati, Makati City
Running Time: 3.5 hours (including two 10-minute intermissions)
Credits: Unica Hijas: Mikaela Regis (Playwright), Pat Valera (Director), Yvonne Russell (Assistant Direction & Stage Management), Tata Tuviera (Set Design), Mijon Tangye (Sound Design), Hillary Pararuan (Assistant Stage Management); Laro: Floy Quintos (Playwright), John Mark Yap (Director), Io Balañon (Set Design), Arvy Dimaculangan (Sound Design), Nicolo Perez (Costume Design & Styling), Gio Gahol (Movement Design), Jemel Cabanza & John Patrick Jusay (Assistant Styling), Clarisse Co D Cortezano (Technical Direction & Lighting Design), Rafa Sumilong (Assistant Lighting Design), Francisco Yabut (Assistant Technical Direction), Noel Hantud (Sound Engineering)
Cast: Unica Hijas: Ash Nicanor, Joy delos Santos, Pau Benitez; Laro: Ross Pesigan, Gio Gahol, Phi Palmos, Mike Liwag, Shaun Ocrisma, Al Gatmaitan, Jeremy Mayores, Noel Escondo, André Miguel, Jojo Cayabyab, Almond Bolante, Allen Amoguis, Jel Tarun, Andre Cruz, DM Lee, Lawrence Miranda, Nathan Molina
Company: Barefoot Theatre Collaborative
Comments