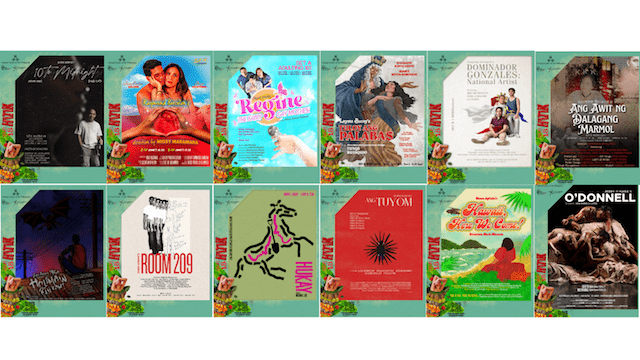 REVIEW: 12 Virgin Labfest "Hitik" Plays, Ranked
This year, the festival specified the involvement of 7 'virgin' playwrights participating in the festival for the first time. There are also 6 'virgin' directors (first-time directors for the festival). Among all involved this year, there are 4 women playwrights and 4 women directors. This shows the festival's proactivity and transparency in diversifying their selection process which I would say is a step towards the right direction.
Another welcomed addition is the festival highlighting its dramaturgs, or even making sure that each one-act has a dramaturg that plays an important role in the evolution of each show, as crucial as other creative roles necessary to mount a stage production. 
The result to me is a season of one-acts that aren't too far widely apart in polish–a solid season with new voices and new faces on stage and off.
Dominador Gonzales: National Artist (by Dingdong Novenario)
"Dominador Gonzales: National Artist" is an exploration of the pitfalls of ambition and the compromise necessary for success in the art world. It spends most of its running time making comments on the industry and its players, before suddenly shifting gears to weaponize a systemic abuse issue to carry out his own revenge plot after he doesn't get what he wants.
O (by Raymund Barcelon)
Barcelon's "O" seems to wade in the shallow end of a much deeper pool, ultimately presenting a surface-level interpretation of a very real issue. Though holding the potential for some nuanced exploration of its premise, the back and forth doesn't quite get there. Galano's portrayal of Oliver feels insincere and his dismissive approach to a supposedly traumatic situation dilutes any real emotional gravity to the narrative. The ending–the woman's purported success by leaving the man–feels more like a hollow victory than a satisfactory conclusion. 
Ang Tuyom (by M. Manalastas)
"Ang Tuyom" is an introspective journey into the psyche of the protagonist M. The deeply personal narrative, presumed to be autobiographical, is admirably brave but also restrictively inscrutable due to its experimental direction. The dreamlike vagueness of the play can make it seem a little inaccessible and overly shrouded in its artistry.
Ang Awit ng Dalagang Marmol (by Andrew Estacio)
"Ang Awit ng Dalagang Marmol" presents a fascinating story lost to history in this play within a play. It follows a group of artists working on a show about a controversial historical song, discovering untold truths about it in the process. Despite its interesting premise, what transpires on stage feels more like a history class dressed up as a play instead of a compelling one-act. While Adrienne Vergara's scene-stealing performance breathes life into the proceedings, the rest of its elements, lamentably, aren't as memorable.
Regine: The Fairy Gaymother (by Chuck D. Smith)
"Regine: The Fairy Gaymother" offers a sweet yet convoluted exploration of familial acceptance of a young gay man who is yet to come out to his parents. The introduction of a drag queen, Regine, attempts to add a humorous element to the proceedings but only ends up muddling the narrative. Despite strong performances from Lindayag and Ordoñez-De Leon, the distracting Regine scenes detracts from the overall experience. Smith's narrative may be touching at its core, but reliance on unpolished comedic elements bogs it down.
O'Donnell (by Jerry O'Hara)
"O'Donnell" is a depiction of the Bataan Death March's human cost during World War II, spotlighting the ordinary soldiers rather than the usual war heroes. Although the play does an adequate job, the repetitive and drawn-out narrative becomes exhausting over time, even with the evocative performance of its lead actor.
Mga Halimaw Rin Kami (by Jules Pamisa)
Two mythical monsters—Aswang and Manananggal—converse on a rooftop, unraveling their origin stories and sharing the tribulations of their monstrous existence. This dialogue explores the concept of humanity's monstrous nature, albeit a little predictably. Chrome Cosio's Aswang and Skyzx Labastilla's Manananggal entertain with their witty banter, but the ending with a real-life tragedy from Duterte's Drug War used for shock and awe feels like a commodification of this particular narrative for artistic impact.
Room 209 (by Zheg Arban)
Zheg Arban's "Room 209" offers a look into a military academy's harsh culture through the eyes of a young cadet. The play's strength lies in its engaging staging, with notably robust choreography even if it does remind one of shows that tackle the same story in a similar way. The older brother is the one who takes center stage, as his portrayal strikes a balance between masculinity and vulnerability. Ultimately, the narrative delivers what we already know: that hazing, a notorious issue in the Philippines, tragically cuts short promising lives. Why does it still persist?
10 to Midnight (by Juliene Mendoza)
"10 to Midnight" is a compelling drama that paints an authentic picture of the turbulent relationship between two brothers, Bien and Billy. Their tense dynamic is presented to us one night when Billy once again is faced with his brother's new request for money and apparent unwillingness to fight his addiction. It's a potent snapshot of a relationship between brothers, Mendoza skilfully writing a compelling slice of life that is authentic and impactful, but nonetheless relatable.
Hukay (by Ophalain Serrano)
""Hukay" by Ophalain Serrano shows two men, Noel and Rico, unearthing more than just the grave for their long-loved horse. As they dig into the earth, they also dig into their pasts and confront personal truths, including the acceptance of a trans daughter and unrequited love. The narrative unfolds with an engaging swiftness and 'kilig'-inducing chemistry between Ranay and Tena. It's an idyllic, idealistic, even wishful portrayal of rural masculinity where non-heteronormative identities are conveniently accepted without question.
Tuloy ang Palabas (by Layeta Bucoy)
"Tuloy Ang Palabas" is a sharp and engrossing narrative that cleverly explores societal confines for women in 19th century Philippines. It follows the journey of an actress, Solita, determined to make her comeback after a three-year hiatus. The central caveat to the show adds a truly unique and even dark edge to the narrative, rewarding those who pay close attention and hang onto Bucoy's every word. Brilliantly performed by Shamaine Buencamino and Rissey Reyes-Robinson, it's a thought-provoking and elegant depiction of women's status, options, and ways of escape when men–and means–hold all the power.
Hawaii, Here We Come (by Shenn Apillado)
"Hawaii, Here We Come" is a tale of waiting, escape, and hope, set against the backdrop of a political family's sudden departure. The play presents an Imelda-esque character, whose presence on stage serves as a powerful and triggering reminder of the Marcos family's controversial reign. In the current climate of their normalized existence, the narrative strikes a chord by rekindling the internal individual outrage of audiences who understand that forgetting their atrocities mean a repeat of them. The play reminds audiences why they're angry and why they should stay that way.
Tickets:

 Php 515.00 - Php 772.00


Show Dates: 

June 7 to June 25, 2023


Venue:

 CCP Black Box Theater


Company:

 Tanghalang Pilipino, Writer's Bloc
Comments