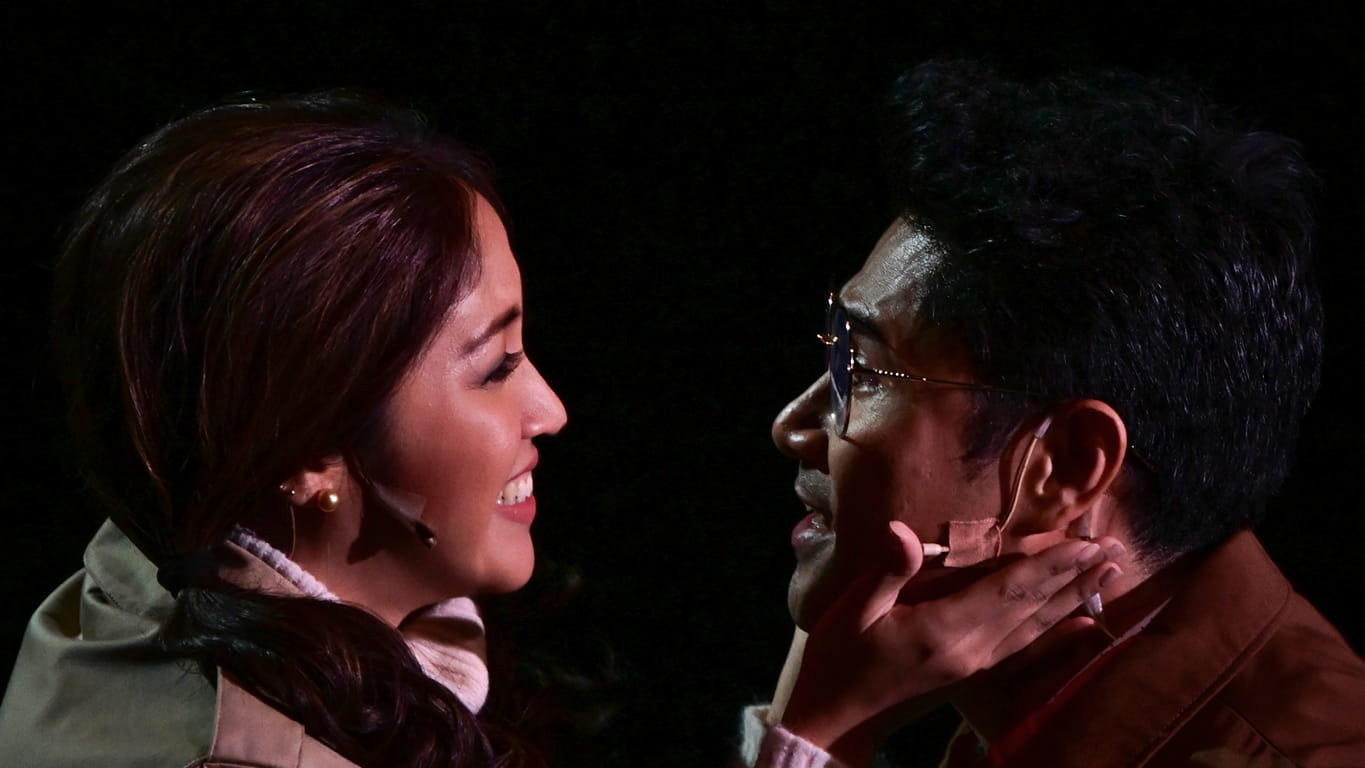 REVIEW: "The Last 5 Years," a love story out of structure
Love and heartbreak take center stage in Barefoot's production of "The Last 5 Years" by Jason Robert Brown. The big draw of this two-hander is that it stars real-life married couple Gab Pangilinan (as Cathy) and Myke Salomon (as Jamie). Directed by Topper Fabregas, the 90-minute show charts the rise and fall of a relationship over five years over Brown's clever device of having Cathy tell their love story in reverse chronological order while Jamie experiences it linearly.
The innovative structure allows the audience to experience both perspectives simultaneously, as Cathy starts at the end of the relationship while Jamie begins at the giddy start. Their stories intersect for the only onstage interaction at their wedding, after which they continue on their separate timelines. 
It's an ingenious conceit that Fabregas utilizes fully with the aid of Joey Mendoza's set that features a moving platform that slides across the stage that was configured as a runway. It's a visual way to transition between the characters' alternating numbers and where they are respectively in the timeline of their relationship. It's a highly artistic yet intimate way to tell an emotionally-charged love story.
Pangilinan shines as Cathy, conveying the complex pain a woman might bear at the end of a marriage. It's an auspicious start as she turns every subsequent song into showstopper after showstopper, showing us a Cathy that is imbued with warmth and charm that has now become a trademark of hers: if Gab Pangilinan is playing the character, that character will be lovable. Her impressive vocals soar through Cathy's numbers, effortlessly handling the character's shifting emotions from heartbreak to hope. 
While both leads are vocally strong, backed by an excellent band led by musical director Rony Fortich, Salomon's portrayal lacks a level of nuance that may help one get a better sense of who this Jamie is supposed to be. Textually a Jewish writer, Salomon's character work doesn't embody either in his Jamie, leading to moments in the show where this is most crucial (such as "The Schmuel Song" or when he was reading an excerpt from his own book) to land quite flatly. There are numbers where he does find that natural emotional ease, but it does come lamentably rarely. 
For this writer, this lessened the impact of two lovers mutually drifting apart, with the split coming across as a heavier burden for Cathy to bear while Jamie seemingly can't get rid of Cathy fast enough. If the musical invites no taking of sides, Pangilinan's winsome performance from first note to last make it very hard indeed.
Despite some unevenness in Salomon's portrayal, the raw emotion and vocal talents of the leads carry this production. The story provides a poignant look at the intricacies of love gained and lost. Pangilinan is such a revelation as Cathy that the audience can't help but ache along with her. Though the structure provides insight into both perspectives, it is the woman's journey that proves most compelling. 
"The Last 5 Years" succeeds on the strength of its songs, Fabregas' thoughtful direction of Brown's inventive format, and most of all Pangilinan's turn as the complex and heartbreaking Cathy.
Tickets: 

Php 2700 - Php 3200


Show Dates: 

September 29, 2023 - October 15, 2023


Venue:

 Power Mac Center Spotlight, Circuit, Makati


Running Time: 

90 minutes (w/o intermission)


Credits: 

Jason Robert Brown (book and music), Topper Fabregas (director), Joey Mendoza (Production Design), Meliton Roxas Jr. (Lighting Design), Delphine Buencamino (Choreography)


Cast: 

Gab Pangilinan, Myke Salomon


Company:

 Barefoot Theater Collaborative
Comments