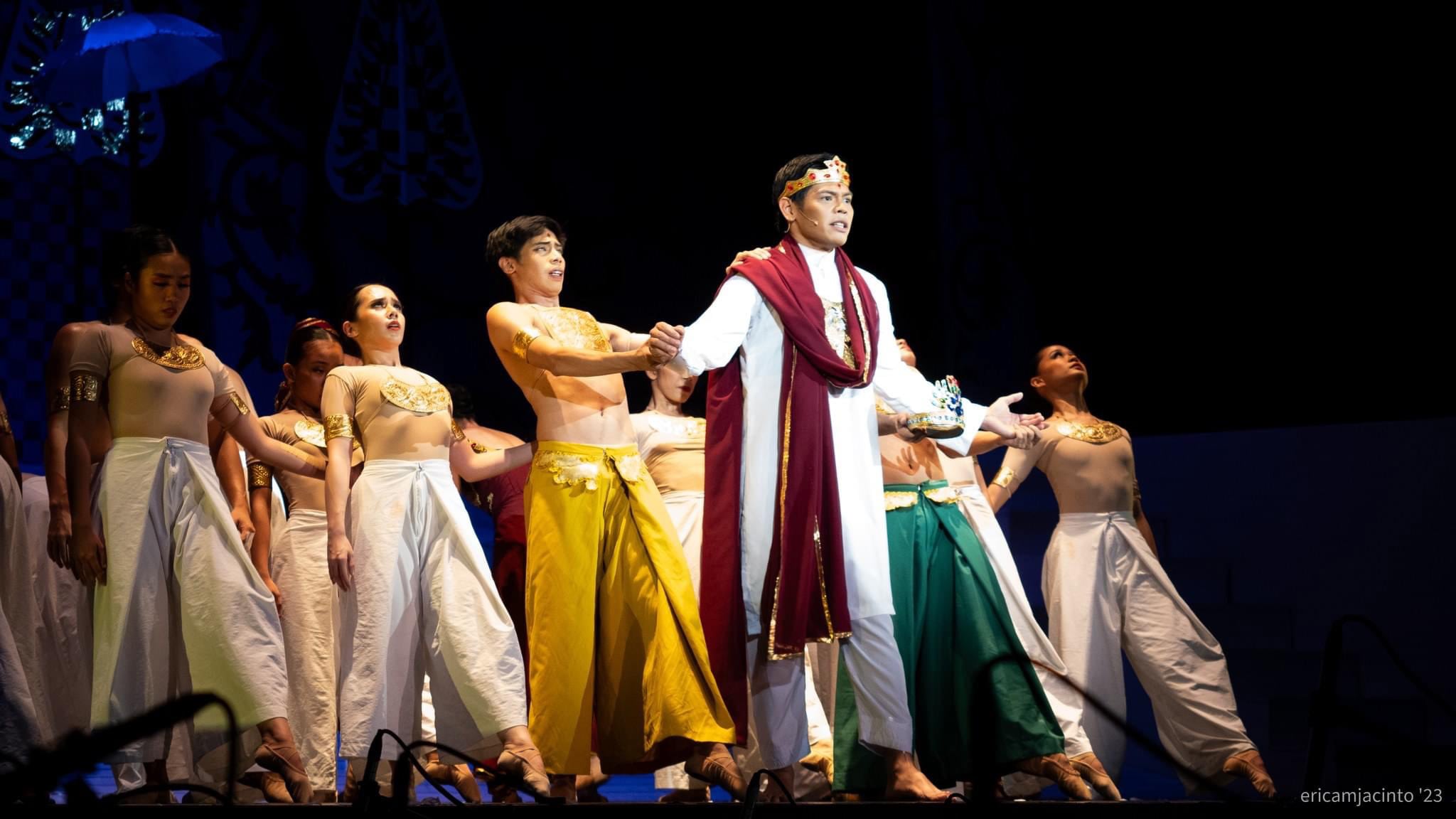 REVIEW: "Rama, Hari" is a gorgeous, though mystifying, spectacle
Gorgeously designed, intricately choreographed, and beautifully sung, "Rama, Hari" is a worthy showcase of the strengths of National Artists.
The rock ballet opera "Rama, Hari" returned to the stage after 11 years. Directed by National Artist for Dance, Alice Reyes, it featured a cast of singers and dancers where each character has their singer and dancer counterpart. It's not quite concert, not quite musical theater production, not just dance production – it's an amalgamation of all three. Touted as a 'rock opera ballet', it may be experimental on the outset, but beautifully mounted. 
The pedigree behind this show is its selling point, with 5 National Artists involved in the production: Alice Reyes who is National Artist for Dance, Ryan Cayabyab who is National Artist for Music, Bienvenido Lumbera who is National Artist for Literature, Salvador Bernal who is National Artist for Theater Design, and Rolando Tinio who is National Artist for Theater and Literature – but if that got audiences through the door, they'll be repaid with a sensational show on the whole.
The classic Indian epic Ramayana unfolds the tale of Prince Rama, who faces exile due to a scheming stepmother. Accompanied by his devoted wife Sita and loyal brother Lakshmana in the forest, tragedy strikes when Sita is abducted by the demon king Ravana. This sparks a monumental quest, with Rama forming alliances with the monkey-god Hanuman and an army, leading an epic battle. Rama's triumph over Ravana and Sita's harrowing experience in the hands of Ravana are key moments in the epic story. The story culminates with Rama's coronation.
In this production, the singers sang the songs evocatively while the dancers danced out the same songs and music on stage. Often, there was an interplay between singers and dancers, where characters interacted with their dancer counterparts and vice versa. It's an interesting way to tell the story, to liven up the staging. 
Katrene San Miguel as Sita, the dancer, was particularly captivating especially as she danced with Ejay Arisola who played her Rama, the dancer. Their chemistry and artistry brought the central love story to life. Sarah Alejandro, who played Soorpanakha, the dancer added to the memorability of the character overall with her entertaining movement.
Each singer lent their strong vocals to the show. Notable were Arman Ferrer as Rama, the singer, Katrine Sunga, as Kaikeyi, the singer, and Gintong Usa, the singer, who brought their awe-striking singing talents to their roles. Most unforgettable might be Poppert Bernadas as Ravana, the singer, and Miah Canton singing the dual roles of Soorpanakha and Kooni. Their spine-tingling vocals added to the delectable villainy of these particular antagonists in this particular story. 
Miah Canton's rather unfortunately catchy song about how her character's nose, ear, and breast were chopped off added dark comedic memorability to her character – it was undoubtedly a very strong dual performance from Miah Canton.
Grasping the complex story is not easy, especially if you're not a frequent viewer of ballet or dance shows, but even for the theatergoer unfamiliar with movement as storytelling, the way the dancers moved were at times mesmerizing. The ensemble dances in particular were a sight to see, with intricate choreography bedazzled by Bernal's gorgeous and varied costumes.
Ryan Cayabyab's music (performed by the Orchestra of the Filipino Youth) was beautiful and surprisingly varied, with classical music interspersed with songs taking on a pop-rock quality. Coupled with Lumbera's evocative lyrics and stellar singing by the cast, some songs, especially the slower ballads like "Magbalik Ka Na, Mahal" sang by Karylle Tatlonghari as Sita, the singer, with her crystalline voice, have endless romantic replayability.
It's more of a visual feast, with National Artist for Theater Design Salvador Bernal's lush yet minimalist stage design, imaginative set pieces, and resplendent costumes making the show a feast for the eyes from start to finish. The visual elements transport you to the mythical world even though this adaptation doesn't quite capture the breadth of one of India's most important texts.
This production of "Rama, Hari" is not the most accessible way to tell this complex, foreign story for audiences unfamiliar with the Ramayana. It's also easy for audiences to miss the plot altogether, let alone take away the story's vital themes. Gorgeously designed, intricately choreographed, and beautifully sung, "Rama, Hari" nonetheless is a worthy showcase of the strengths of individuals now hailed as National Artists. 
Show Dates:

 September 15, 2023 - September 24, 2023


Venue:

 Samsung Performing Arts Theater


Running Time: 

approx. 2 hours (w/ a 15 min intermission)


Credits: 

Alice Reyes (Direction and Choreography), Ryan Cayabyab (Music), Bienvenido Lumbera (Libretto and Lyrics), Salvador Bernal (Set and Costume Design), Rolando Tinio (English Translation), Barbara Tan-Tiongco (Technical and Lighting Direction), Ricardo Eric Cruz (Production Design Consultant), Lester Reguindin (2023 Restaging), Aaron Veloso (Executive Producer) 


Cast: Principal Dancers from the evening:

 Ejay Arisola (Rama), Katrene San Miguel (Sita), Renzen Arboleda (Lakshmana), James Galarpe (Bharatha), John Ababon (King Dasaratha), Richardson Yadao (King Janaka), Tim Cabrera (Ravana), Sarah Alejandro (Soorpanakha), Ma. Celina Dofitas (Kooni), Karla Santos (Kaikeyi), Dan Dayo (Hanuman), Krislynne Buri (Gintong Usa), Erl Sorilla (King Sagreeva), Janine Arisola (Sagreeva's Queen)

 Alternate Dancers:

 Ronelson Yadao (Rama), Monica Gana (Sita), Erl Sorilla (Lakshmana), Dan Dayo (Bharatha), Lester Reguindin (King Dasaratha), Tim Cabrera (King Janaka), Richardson Yadao (Ravana), Ma. Celina Dofitas (Soorpanakha), Michaella Carreon (Kooni), Janine Arisola (Kaikeyi), Ricmar Bayoneta (Hanuman), Sarah Alejandro (Gintong Usa), Renzen Arboleda (King Sagreeva) Karla Santos (Sagreeva's Queen) 

Singers from the evening:

 Arman Ferrer (Rama), Karylle Tatlonghari (Sita), Audie Gemora (King Dasaratha), Poppert Bernadas (Ravana), Katrine Sunga (Kaikeyi/ Gintong Usa), Miah Canton (Soorpanakha/ Kooni), Jon Abella (Lakshmana/ Hanuman) 

Alternate singers:

 Vien King (Rama), Shiela Valderrama Martinez, Nica Tupas (Sita), Jonel Mojica, Mathew San Jose (Ravana), Maron Rozelle Mabana (Kaikeyi/ Gintong Usa), Raflesia Bravo (Soorpanakha/ Kooni), Paw Castillo (Lakshmana/ Hanuman)

 Townspeople: 

Karla Santos, Janine Arisola, Sarah Alejandro, Michaella Carreon, Ma. Celina Dofitas, Monica Gana, Katrene San Miguel, Krislynne Buri, Gianna Hervas, Cheska Vasallo, Faustina Francia Alejandro, Natalia Sofia Armovit, Karen Audal, Kamille Bautista, Stephanie Nicole Gorre, Crizza Urmeneta, Audrice Narrajos, Ashley Nocedo, Erica Patoc, Alyanna Torte, John Ababon, Renzen Arboleda, Erl Sorilla, Richardson Yadao, Tim Cabrera, Ejay Arisola, Dan Dayo, Ricmar Bayoneta, Lester Reguindin, John Abuda, Anjs Brilla, Adonis Delgado, Sean Delgado, Justin Joseph Fraginal, James Galarpe, Nikko German, Cris Jay Malipot, Darylle Odejar, Rhailly Rabano, Darylle Odejar, Zacarias James Parabuac 

Demons:

 Tim Cabrera/ Richardson Yadao, John Ababon, Dan Dayo/ Ricmar Bayoneta, Nikko German/ Cris Jay Malipot, Darylle Odejar, James Galarpe, Anjs Brilla, Adonis Delgado/ Sean Delgado Monkeys: Cris Jay Malipot, Zacarias James Parabuac, Adonis Delgado, Anjs Brilla/ Justin Joseph Fraginal, James Galarpe/ Sean Delgado, Darylle Odejar, Nikko German, Rhailly Rabano Gianna Hervas, Cheska Vasallo, Alyanna Torte/ Kamille Bautista, Ashley Nocedo/ Erica Patoc, Faustina Francia Alejandro, Crizza Urmeneta, Karen Audal/ Stephanie Nicole Gorre, Audrice Narrajos/ Natalia Sofia Armovit


Company:

 Alice Reyes Dance Philippines
Comments