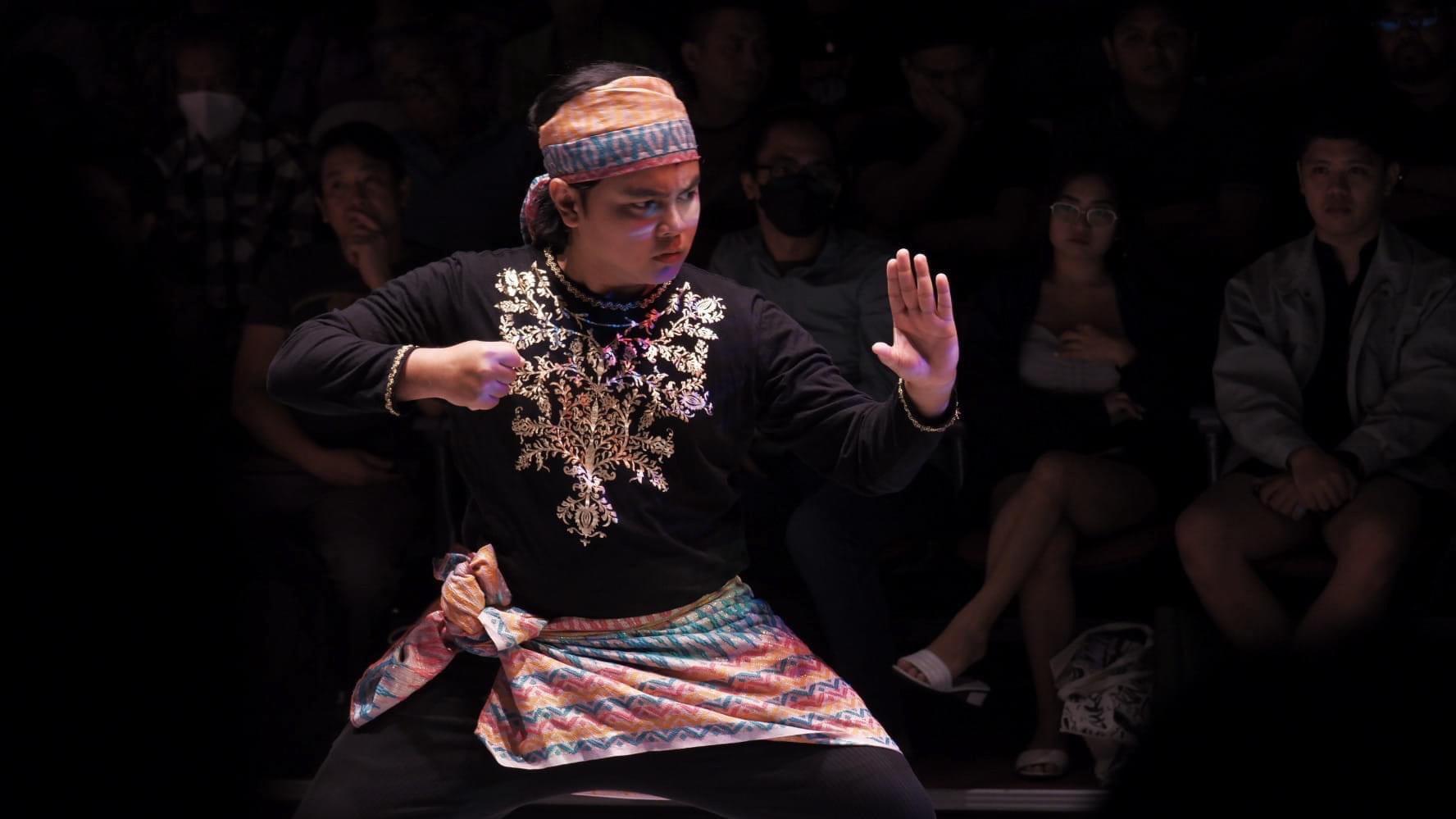 REVIEW: 'ANAK DATU' Redux is required viewing for all Filipinos thirsty for art and truth
Once upon a time, a Tausug artist loved and married a Christian activist. To celebrate the birth of his firstborn, he wrote and illustrated a children's book about Karim, a boy who grew up thinking that his long-lost father was a pirate, only to realize later that he was descended from nobility.
The couple were National Artist Abdulmari Imao (portrayed by Paul Jake Paule) and his wife, Grace de Leon (Toni Go-Yadao). The book "Anak Datu" was written on the occasion of the birth of Toym Imao (Carlos Dala), a warning that the lies we are told as children can threaten to shape our future, unless we confront the truth of our past head on.
Disputed Memory
Once upon another time, a President publicly proclaimed cooperation with Malaysia, while secretly training Tausugs on Corregidor how to seize Sabah. When they mutinied, they were shot, then tied to trees and burned. Loyal Christian soldiers were sent in to get rid of the evidence, leading to corpses in bags dropped over Manila Bay by helicopter, never to surface. In the tally of victims, they later discovered that one had survived to tell the tale.
The blood curdling story told by that survivor of the 1968 Jabidah Massacre, Jibin Arula (portrayed by Gie Onida), was the spark that lit the flame of insurgency from the MNLF and later, the MILF.
While there are still many today who deny all of this and insist it's part of an elaborate smear campaign, the stench will out. This is tragedy on a national scale, with brother Christian fighting brother Muslim in a civil war with no winner, only the blood of innocent Filipinos spilled on both sides. 
As the unrest in Mindanao was used as a reason to legitimize his dictatorship, the dictator assented to an all-out war. 
Another massacre took place in 1974. Thousands of Muslim men, women, and children were killed and raped while praying inside a mosque, in what became known as the Palimbang/ Malisbong Massacre.
To see is to sorrow
To read about all this horror is one thing, but to see it onstage is almost overwhelming. Audience members were silently weeping as we watched the three storylines (myth, history, and memory) converge under Chris Millado's masterful direction of the tightly interwoven scenes written by playwright Rody Vera.
The first act was the most painful to watch, yet also the strongest. It was a veritable onslaught on the senses, thanks to the expressive explosion of atonal sound, conflict made aural composed by Chino Toledo. Also adding to the overall splendor was the heart stoppingly raw singing of Tex Ordoñez-De Leon, and the poignant prayer to Allah sung by Hassanain Magarang, as well as his haunting choreography.
Art as a weapon
The mind's eye is filled with memorable mental snapshots of historic footage (videos of interviews with survivors, photos of names carved into the haunted walls of Corregidor) merged with beautiful lights and projections by Katsch Catoy and GA Fallarme.
In a memorable scene, both the Datu and the National Artist were onstage, one wielding his kris, the other making nearly identical movements with his paintbrush. 
How do we make history come alive, some ask?
Art is the answer.
Whether in the form of the sarimanok painted in brilliant blues and reds, or in the form of a children's book, there is courage and meaning to be found wherever an artist strives to present the truth of his people.
Peace at what cost?
At the heart of this multi-layered play is Toym Imao (Carlos Dala), who wonders why he can't watch the last four episodes of Voltes V as a child growing up in the 1970's. 
Though there is love, there is also a difference of opinion on how best to react to the injustices done down south. 
Abdulmari cautions his passionate wife Grace as she encourages her son to be more proactive about fighting for justice. "Katahimikan. Kapayapaan. Magkaiba yun," she shoots back, throwing a piercing look to the audience as she describes how we are currently afraid to speak out, but that we are biding our time for the right moment to act.
And what are the people doing while they wait?
The proud mother smiles as she looks on the child of two religions, sharing one blood, and says that we are raising the heroes of tomorrow.
Unforgettable and powerful
Anak Datu is such a gem of a show. However, the fight scenes were the weak link in an otherwise strong chain of elements that worked together so well. The Tausug warriors were famed and feared for their ability to drop silently from trees to deliver death by kris, but this did not translate as impactfully on stage. 
For a play whose songs and movement pieces deal with blood and death, the overwhelming impression is that it is a celebration of life despite it all. "Buhay!" the ensemble cries out, a constant refrain from start to end, amidst the pulsating rhythms of the kulintang, agong, and dabakan being played live by the PWU Indayog Gong Ensemble.
One emerges from the theater with a mix of outrage and gratitude. How has something so evil been kept out of our history books? But then one can only give thanks for having been touched by so much beauty in all the art forms for these precious few hours. This is beauty that brands itself into the heart and soul, seared into memory, impossible to forget. 
Tickets :

 P1,500.00


Show Dates:

 September 29 - October 15, 2023 (3:00 pm and 8:00 pm)


Venue:

 CCP Black Box Theater (Tanghalang Ignacio Gimenez)


Running Time:

 2.5 hours (with a 15 minute intermission)


Credits: 

Rody Vera (Playwright), Chris Millado (Direction), Josefino Chino Toledo (Composer and Musical Direction), Hassanain Magarang (Choreography), Toym Imao (Set Design), Carlo Villafuerte Pagunaling (Costume Design), TJ Ramos (Arrangement, Sound Design and Engineer), Katsch Catoy (Lighting Design), GA Fallarme (Projection Design), William Guillermo (Fight Choreographer)


Cast: 

Carlos Dala (Toym Imao/ Binatang Karim), Paul Jake Paule (Abdulmari Imao / Hadji Hamsa Tacbil), Tex Ordoñez-De Leon (Putli Loling), Lhorvie Nuevo-Tadioan (Putli Loling), Gie Onida (Jibin Arula), Toni Go-Yadao (Grace De Leon), Hassanain Magarang (Datu Karim), Ramli Abdurahim (Jikiran / Hadji Muhamad Fauzt Piana), Arjhay Babon (Nur Misuari), Andre Garcia (Kulintang), Kent Capistrano (Agong), Kai Labaupa and Girl Estanislao (Dabakan), Mark Lorenz (Batang Jibin Arula/ Ensemble), Vince Macapobre (Bernie Bandilla/ Ensemble), Edrick Alcontado (Abu Bayao/ Ensemble), Sarah Monay (Dalagang Walang Ngalan/ Ensemble), Heart Puyong (Lasinah Abdullah/ Ensemble), Mitzi Comia (Abdulsukor Tacbil, Ensemble)
Comments