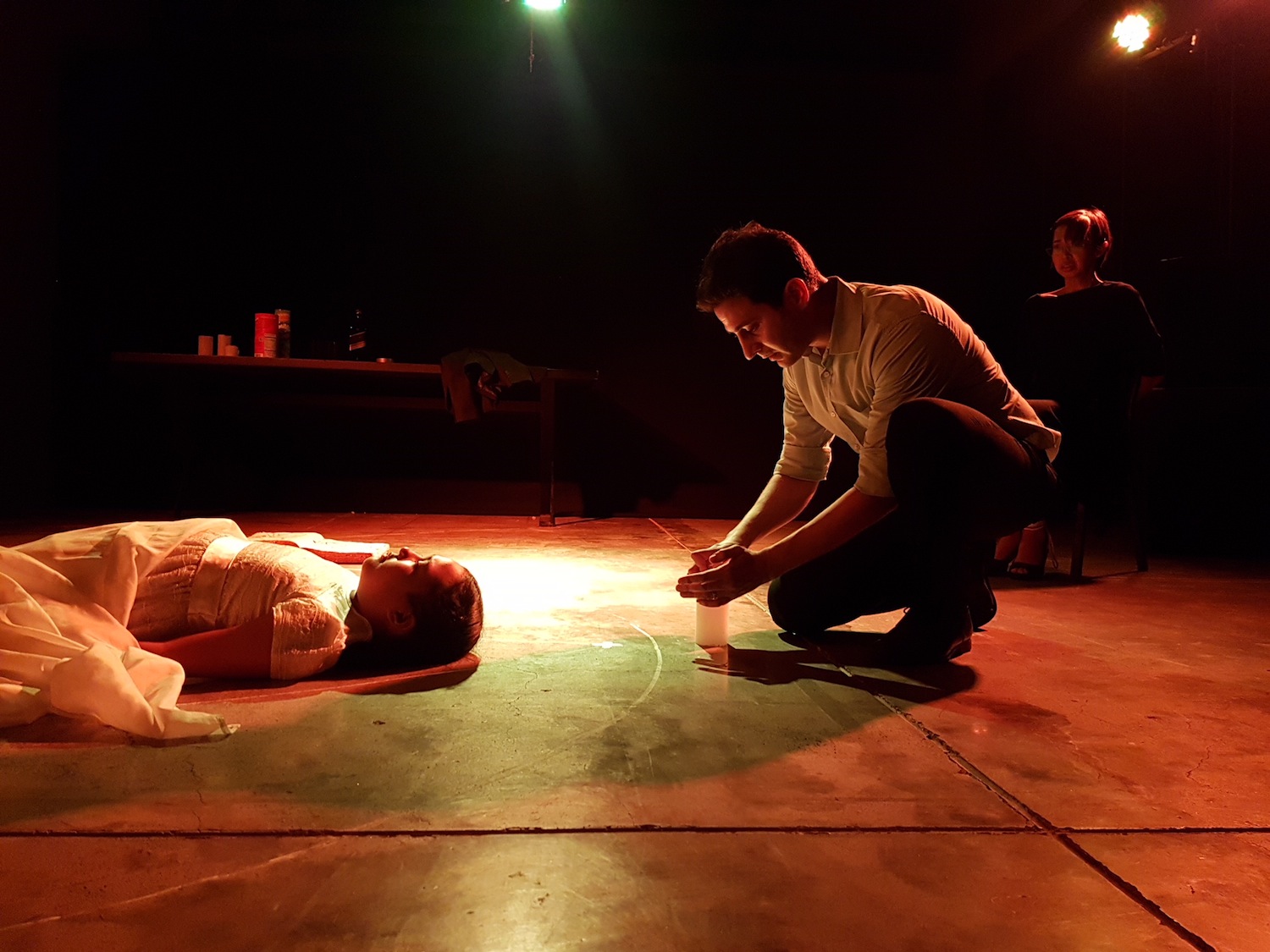 REVIEW: Terror, tension in Theatre Titas' twin bill 'What's In The Dark?'
Horror productions on the Philippine theater stage are definitely few and far between, catering to a niche market. Undeterred, Theatre Titas still took this gamble for their maiden production, a twin bill featuring two original one-act plays, Beheld and Carol.
Steering away from visceral theatrical gimmicks, the twin bill What's In The Dark? shoots for a more psychological route, staying true to their "foray into the dark side of the human heart". That said, the twin bill is far from the textbook definition of "terrifying" but is deeply unsettling at the very least.
Simple but strained "Beheld"
Gossips about a serial killer on the loose, a lost girl named Claire (played by Fun Home's Katie Bradshaw), and a mysterious hooded persona makes for an almost-perfect recipe of what resembles a formulaic horror flick. Beheld playwright Nicole Fuentes, however, opted to stir the pot a different way, breaking the typical 'screamer' conventions perfect for its premise.
After wandering off too far from her mother, Claire unwittingly seeks the help of just about anyone—even that of the serial killer Saul (played by Epy Quizon).  In the end, Saul leads Claire home. And Claire leads him back too, after seeing that he had been lost all along, isolating himself from the rest of society. While Quizon's Saul may have slightly lacked intensity in one of the play's pivotal moments, at least he still provided enough depth to maintain a certain suspension of disbelief.                                                                              
Beheld director Carlos Cariño's simplistic direction attempted to turn the attention to the dialogue, if only the awkward blocking didn't divert the attention too much. The same simplicity intended to flesh out emotions ended up straining the delivery of the narrative. Even the material lacked a level of believability and nuance; for one, Claire's advanced emotional intellect felt hard to grasp. What could have been deeply unnerving remained somewhat detached from its audience. Still, the play had enough momentum to warrant enough satisfaction, but maybe not in the way it had set out to.
Troubling tension in "Carol"
It begins like performance art, with Newton (an intense performance from Javi Coromina) drawing a large circle on the floor with chalk, lining it with salt afterwards. Taking place over several minutes, Newton's pre-ritual evoked a palpable desperation—up until when he brought out a bundle of white cloth and laid it down dead center.
The bundle, as it turns out, held the body of his daughter Carol (played by Liv Gonzales) who died in an accident of his own doing. With his wife Jill (played by Sari Estrada), an addition to the already present tension, he proceeds with his Latin incantations in hopes of resurrecting the deceased child. After several flickers of the light, Carol wakes up. Whatever the repercussions it entailed, was this the redemption Newton was seeking?
Despite having arguably intense moments, Carol emphasized Newton's moral dilemma first, shock value only second. Carol playwright Juan Diego Gil weaved into the dialogue just enough tension, translated brilliantly to the stage by director Tinette Villanueva Miciano. With the narrative's many twists and turns, Miciano's tight direction kept the audience at the edges of their seats—and very effectively so.
Posing similar questions but offering contrasting answers, Beheld and Carol explores the pivotal role of children on the adult psyche. Along the way, the plays define redemption in two very different ways: unintended as with Saul, helplessly forced as with Newton.
Without a doubt, the twin bill had successfully delved deep into the human mind. It painted it as it reared its dark side, especially in the face of moral conflict. More than just cheap scares, What's In The Dark? tackles, with depth, fears people have that they don't often talk about. With a production this promising, even just for an hour or two, horror didn't seem so niche at all.
Comments