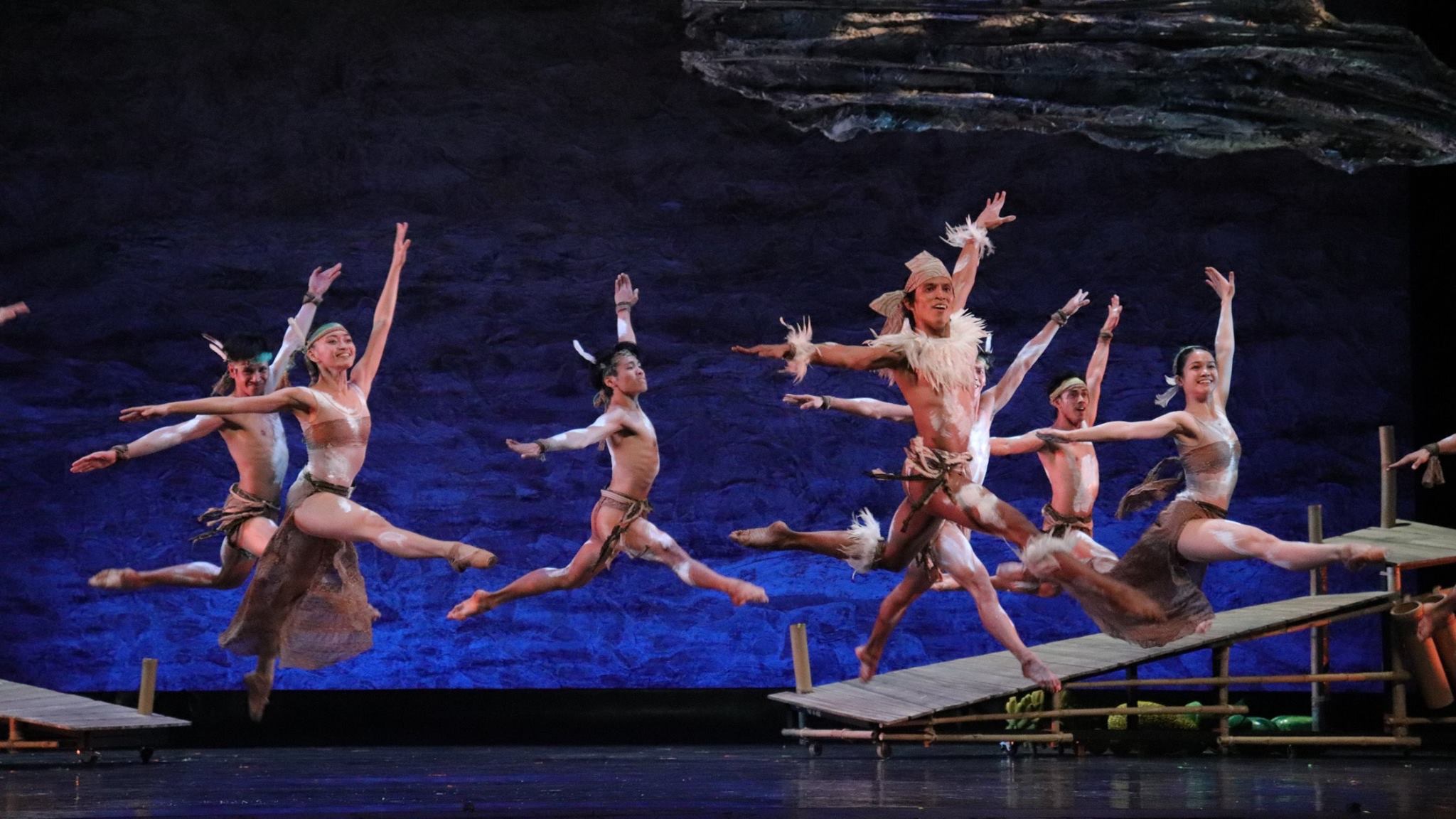 REVIEW: "Tales of the Manuvu" is a too-familiar delight
Concluding the current Ballet Philippines season is a tale of beginnings—of men and the Earth, that is—according to the Manobos of Northern Mindanao. 'Tales of the Manuvu', a groundbreaking piece by National Artist Alice Reyes first mounted in 1977, is a contemporary take on the creation myth, set to operatic ballads and a pop rock score.

Probably as ode to the Manobos' oral tradition, the ballet plays out with a sung narrative, with libretto by National Artist Bienvenido Lumbera. Every piece is essentially dubbed over the choreography, with an apt but redundant literalness.

In the beginning, there were two gods: of good, an overtly confident Manama (Reuben Laurente and Lester Reguindin); and of evil, a spiteful Ogassi (Nar Cabico and Earl John Arisola). Production designer Loy Arcenas came up with ramps of wooden planks, one for each god, which conjured up a realm mystical, but reminiscently indigenous.

The timeless feud between the two began when Ogassi caught Manama, who ruled a barren land, stealing flora from his lush domain. Since then, the evil god have been vengeful, set on sabotaging whatever Manama comes up with, even the First Man (Reuben Laurente and Victor Maguad) and Woman (Aicelle Santos and Jessa Tangalin).
There was only the First Man—Maguad's command of the stage is undeniable—at first, and Ogassi took advantage of this solitude. Aware of this attempt to wedge him away from Man, Manama brought to existence the First Woman (albeit initially hesitant as Man may no longer fully depend on him).

As the human race grew, their presence inevitably became a nuisance to Manama. This made him flee to the heavens, his wooden throne and hammock ascending until out of sight. The humans, finally apart from their creator, was then subject to Ogassi's terrorizing. Without Manama in their aid, humans realize that they have nothing but themselves to fend for their own lives.

The manner the narrative was laid out is straightforward. Alice Reyes vividly animated the music with motion; the corps de ballet were more than athletically capable to execute so, but were sometimes just a frenetic barrage of movement. In spite of this, nothing was ever incomprehensible (especially since they chose to use supertitles, explaining the gist of each scene).
There were no outlying low points in the entire three acts to set off the production—but there were no significant peaks either. The most laudable element isn't even in the ballet; it was the pop rock opera part that adeptly delivered. The guest vocalists were never one-note, fully fleshed emotionally despite not being centerstage; and the band Radioactive Sago Project brilliantly juxtaposed ethnic instruments into Dero Pedero's compositions.

'Tales of the Manuvu' is a rocking good time; and even after forty years since its premiere production, each movement by Reyes still felt wildly contemporary. However, the narrative was delivered too literally and point-blank, in contrast to the revamped set and the musical rearrangement. In the end, it remained all too familiar, like something everyone has already seen before—and this is already talking about a contemporary rock opera ballet.

Tickets: 

Php 300.00 - Php 3,000.00


Show Dates: 

Mar 22, '19, Mar 23, '19, Mar 24, '19, 

Mar 30, '19, Mar 31, '19


Venue: 

Tanghalang Aurelio Tolentino, Cultural Center of the Philippines, Roxas Boulevard, Pasay City


Credits: 

Alice Reyes (choreography), Butch Esperanza (regisseure), Bienvenido Lumbera (libretto), Dero Pedero (music), Katsch S.J. Catoy (lighting direction), Loy Arcenas (production design), Francis de Veyra (musical direction and arrangements)


Cast: 

Boy Camara, Lorenz Martinez, Reuben Laurente, Ding Mercado, Poppert Bernadas, Nar Cabico, Celeste Legaspi, Aicelle Santos, Shiela Valderrama, Lara Maigue, AL Abraham, John Ababon, Eugene Obille, Ian Ocampo, Ronelson Yadao, Stephanie Santiago, Katrene San Miguel, Sarah Alejandro, Denise Parungao, Jemima Reyes, Monica Gana, Graciela Andes, Gia Gequinto, Emmanuelle Guillermo, Ricmar Bayoneta, Edgar Lacaba, Jun Palen, Erl Sorilla, Ace Polias, Bonifacio Guerrero, Justin Orande, Mark Balucay, Danilo Dayo, Luigie Barrera, Joanne Sartorio, Zoe Ilagan, Pearl Consular, Shaw Alexa, Heilleigh Sebastian, Josephine Segarra, Ramona Yusay, Bea Agustin, Idelle Buhia, Joanne Tangalin, Carlo Padoga, Earvin Guillermo


Company: 

Ballet Philippines




Comments