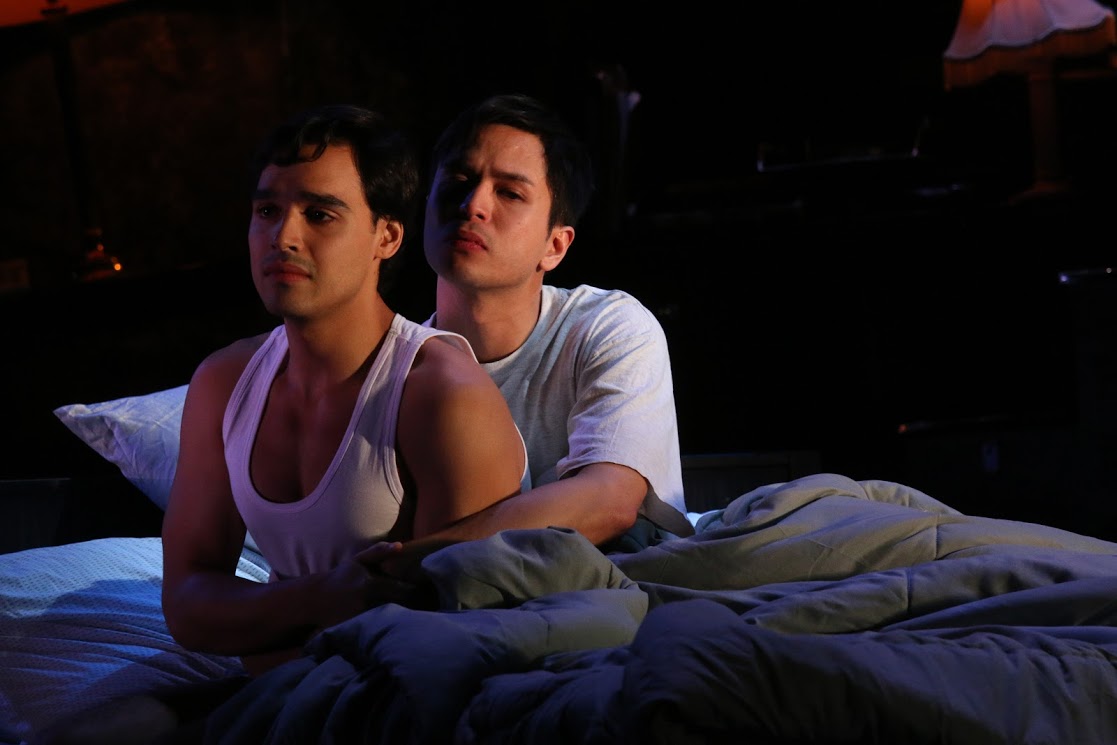 REVIEW: An "Angels in America" on clipped wings
In its entirety, Tony Kushner's Angels in America is seven and a half hours long and told over two parts. Its full title, A Gay Fantasia on National Themes gives away what it basically is: an epic about the plight of the LGBTQ community with elements of fantasy and theatricality, fully enmeshed in American themes and politics.
Bobby Garcia brings back the first half of Angels in America (referred to as Millennium Approaches) after directing it as a young man decades ago, with plans of staging its follow-up, Perestroika next year. This first half of Kushner's magnum opus feels brisk despite its seemingly intimidating length. It doesn't feel like it's three and a half hours long, but it does feel like a first act, an introduction to its characters and their lives, and ends abruptly, without the satisfaction of closure for neither audience nor performer. It doesn't even have a curtain call.
The show is disconcerting in more ways than its abrupt end. It's New York City during the Reagan years, there's a lot of shame and fear about AIDS, there's allusions to Jewish culture, there's plenty of rambling monologues, and dips into the psyche where the character can't tell what's real and what's false. It can be alienating to watch, especially when lines delivered seemed to go even over the actors' heads.
It's about five lives fleetingly interconnected; Prior Walter (Topper Fabregas) has just learned he has AIDS, and his boyfriend, Louis Ironson (Nelsito Gomez), isn't taking it well. He meets a handsome young Mormon, Joe Pitt (Markki Stroem), in the office bathroom. Joe, himself is at a crossroads between staying in an unhappy marriage with his pill-popping wife, Harper (Angeli Bayani) or taking a job offered by his high-powered boss Roy Cohn (Art Acuña), who incidentally, finds out he too has AIDS.
But, really, Kusher's behemoth is nearly ineffable. It feels huge and ambitious and astounding, with dialogues that could be funny, or dramatic, or riveting–incomprensible at times, but never dull. Garcia restages the show with clear and due reverence, enlisting an ensemble that, on paper, is cream of the crop.
On stage, however, they deliver with varying degrees of success. Fabregas's Prior has an unwavering finesse about him, whether he's dreaming in drag, or deliriously confronting ancestors conjured up in his mind. Acuña's Roy Cohn is angry from the onset and infused with a machismo of the time, but enrapturing all the same. Stroem's pleasant and pleasing disposition was an apt counterpoint to Acuna's almost aggro take on Cohn.
Cherie Gil and Pinky Amador both played multiple characters. It's Gil we first see at the start of the show, and it takes awhile before she's recognizable. While it's interesting to see her speak in Yiddish and dressed as a male pastor complete with a beard, it was difficult to understand the point of this first monologue. Amador, who was comparably rarely on stage, was great in all the roles she plays in the show.
Gomez, however, crafts a nearly unsympathetic character as Prior's distraught lover overwhelmed by his partner's disease, willing mostly for Prior to stop getting sicker as he wouldn't be able to handle it. Bayani, too, as Harper, didn't exhibit much nuance for the character's plentiful exigencies. Andoy Ranay, as the supposed African-American friend of Prior performed as though his dialogue is most unnatural to him.
Angels in America, with its implicit indictment of American politics and its endless allusions to a culture and time that isn't readily known by today's Filipino audiences, could at times be inaccessible with the uneven performances. It's almost a philosophical exercise-cum-artistic endeavor first, and the personal, emotional toll living in this place at this time concurrent with this disease comes a far second.
Well, it is only the first half, and Garcia's staging is still otherwise a sight to behold. Faust Peneyra's set is imbued with 80s workaday accoutrements; filing cabinets and lamps and desks stacked together against a grainy backdrop where GA Fallarme's projections of black-and-white New York scenery and Jonjon Villareal's lighting give the show a granular atmosphere that strongly gives the aura of the era without being too overt about it. Louise Ybañez-Javier's original composition for the show's music, on the other hand, take a turn for the gothic or even medieval at times.
Perhaps when Perestroika comes along, when we're able to see Tony Kushner's epic through, everything will fall into place. This great work is only beginning.
Tickets: 

Php 1,500.00 - Php 3,500.00


Show Dates: 

Mar 22 '19, Mar 23 '19, Mar 24 '19, Mar 29 '19, Mar 30 '19, Mar 31 '19, Apr 5 '19, Apr 6 '19, Apr 7' 19


Venue: 

Carlos P. Garcia Auditorium, 4th Floor, Tower II, RCBC Plaza, 6819 Ayala Ave, Makati


Running Time: 

approx 3 hours and 3 minutes (with a 15-minute intermission, and another 10-minute intermission)


Credits: 

Tony Kushner (playwright), Bobby Garcia (director), Faust Peneyra (set design), Jonjon Villareal (lighting design), Odelon Simpao (costume design), GA Fallarme (projection design), Louise Ybañez-Javier (music direction), Glendfford Malimban (sound design), and Johann dela Fuente (hair and makeup design)


Cast: 

Topper Fabregas, Art Acuña, Nelsito Gomez, Markki Stroem, Angeli Bayani, Cherie Gil, Pinky Amador, and Andoy Ranay


Company: 

Atlantis Theatrical Entertainment Group
Comments