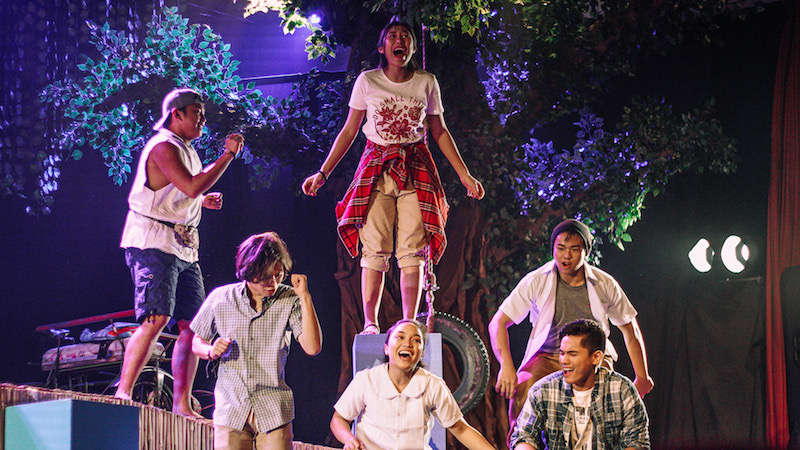 REVIEW: "Tabing-Ilog" is a shallow dive into rocky waters
This Jade Castro-penned musical remake of the hit 90s show is a cacophony of themes and terrible teens.
Nostalgia is one hell of a drug. Hit musicals of the last years pander to nostalgia to astounding effect. Ang Huling El Bimbo, played to throngs of audiences local theater hasn't seen in a while; Rak of Aegis is the closest thing we have to a long running musical; Eto Na! Musikal nAPO and Himala were both exceptionally made and exceptionally received– you get the idea.
And this trend perhaps gave way to Tabing Ilog the Musical. For the uninitiated, Tabing Ilog originally aired at the end of the millennium, running for four years consequently with the American show inspired by it, Dawson's Creek. It explored different themes afflicting the youth of the early oughts by following the lives of a 'barkada' in a small town.
The TV show had 244 episodes to explore and expound and say what it wanted to say, condensed into a two-hour musical, (written by Jade Castro; directed by Topper Fabregas) it was a leap from one thing to the next, with only the thread of nostalgia stitching them together.
Perhaps familiarity with the source material will better understand these characters on stage. If this is your initiation to Tabing-Ilog, you're out of luck; you'll be hard-pressed to find anyone to root for, other than maybe Vincent De Jesus's catchy songs that are genuinely entertaining; the ensemble breaking into a song called "Kanya-Kanyang Galawan" while the lead is doing something suspect, for example.
The story itself is character-driven, with every character–all twelve of them–getting their own subplots and subsequent solos. It starts elaborately, with the characters getting their own introductions as the rest of the ensemble do some stylized choreography in the background before they sing about how there's an actual ilog, but that they are all the ilog, too.
George (Miah Canton) comes home from California with her Fil-Am best friend Jerry (Krystal Kane). They meet the old crowd tabing ilog, and the story soon splinters into subplots that are introduced, forgotten, and then later on hastily resolved.
Eds (Kiara Takahasi) and Rovic (Ian Pangilinan) are together, and they seem happy. Except Rovic thinks he lives in the 50s with his backwards idea of women. He doesn't think his girlfriend needs to go to college (she is poor) as he plans to provide for her; his love language is giving her things she can't afford, which gave him the impression he had a say in how she dressed and behaved.
Fonzy (Vino Mabalot) has a drinking problem, and possibly serious mental illness– neither of which were sufficiently nor responsibly addressed in the musical. He attempts to jump off the very tabing ilog of their childhood (in a simmering, angry number that was one of the show's few highlights) and then succeeds later on. It's a chaotic end to act 1, with barbed wires entering and lights all over the place, and characters running around that the pivotal moment is easy to miss. He ends up in a hospital to treat physical injuries (instead of the underlying cause of him jumping), listening to his friends good-naturedly tell him not to jump near the rocky part next time.
Badong (Batit Espiritu) seems the overall good guy. The show does well by him for the most part, refreshingly okay with being a boy-that-is-a-friend without even the slightest allusion to being friend-zoned. Ely (Franco Ramos), a young gay teen, is understandably smitten, and they strike up a pretty adorable friendship. Another LGBT subplot involving a character coming out was also well-handed comparably, limited only by the pace of the show that doesn't give any of the themes Castro introduces any sort of real estate.
It is clearly set in present day, with the young cast communicating via messaging mostly for the sight gag of them yelling for one of their friends who have yet to get a phone. And yet, in terms of virtues, these modern teens don't pass muster. These are young people from the provinces, and Castro writes them to be terrifyingly not woke. Maybe they're simply young and have yet to grow out of their short-sightedness, but it dangerously perpetuates stereotypes. The musical also ends without any of them learning anything, really. And instead we are subjected to a pseudo politically-charged end that started late and ended early, without taking root.
Their main takeaway was the importance of friendship while showing the audiences that maybe they all need to stop hanging out with each other.
The entire second act involves the barkada–George leading the charge (she's the victim of child abuse, but the show only gives her exposition to disclose it)–cajoling Eds to forgive Rovic for an indiscretion, all while believing that men have different rules from women. Any possibility of remorse and responsibility was undermined by his well-meaning grandmother shouldering all of his shortcomings because she loved him too well. And then he was forgiven, in a scene so small and so ineffective, it might as well not have happened. 
There's a lot going on in this show; far too much. And all under the eager gaze of a little boy (Noel Comia Jr.) who scarily sings that he has been watching them, and they are all his role models.
The inchoate themes and stories are a discredit to the cast who all performed reasonably well, from seasoned Jojit Lorenzo and Agot Isidro as all the adult characters, to theater first-timer Kiara Takahashi, whose incorruptible demeanor made you wish Eds was free from the shackles of a bad boyfriend and bad circumstances. 
Krystal Kane's performance was particularly commendable, as though she was unwilling to simply play the morally loose tourist. She was only throwing back what she was being given, and when told what she did wrong, was genuinely apologetic.  Miah Canton–who sings like an angel–is very likeable, which goes a long way in tolerating her character, who was mostly pushy about keeping a childhood barkada together when they're all better off apart. 
Batit Espiritu, too, was excellent, showing chemistry with both Takahashi and the supremely watchable Franco Ramos. Ian Pangilinan looked the part of spoiled pretty boy and acted accordingly. Jem Macatuno as James was overshooting his mark, but as the most underserved character in a musical where even Eds's impoverished parents got their own song before disappearing along with their subplot, he needed to be loud to be noticed.
This all happens in a bamboo-lined ramp leading to an 'ilog' made of blue, movable blocks the ensemble will put to use throughout the show (Riza Romero is production designer). The costumes were also a mixed bag, not doing much in the way of explaining the characters' respective economic status (which would've been helpful in contextualizing their individual stories). Glendfford Maliban's sound design also involved numerous instances of background sounds so light, you don't know if it's coming from the stage or from an errant audience member's phone going off. It could also be Dolphy Theater, whose sound system drowned out the singing so much even for the second row.
Tabing-Ilog, with its cultural significance for a nostalgic generation, has the potential to go in the way of preceding hit musicals. Audiences are likely to come in droves and get their feet wet with very serious and important themes that will largely go unexplained and unchecked. It is admittedly entertaining, but I have to ask: at what cost?
Tickets: 

Php 1,000.00 - Php 2,500.00


Show Dates: 

Mar 7 '20, Mar 8 '20, Mar 12 '20, Mar 13 '20, Mar 14 '20, Mar 15 '20, Mar 18 '20, Mar 19 '20, Mar 20 '20, Mar 21 '20, Mar 22 '20, Mar 25 '20, Mar 26 '20, Mar 27 '20, Apr 1 '20, Apr 2 '20, Apr 3 '20, Apr 15 '20, Apr 16' 20, Apr 17 '20, Apr 18 '20, Apr 19 '20, Apr 22 '20, Apr 23 '20, Apr 24 '20, Apr 25 '20, Apr 26 '20 


Venue: 

Dolphy Theater, St. Esguerra Ave., Diliman, Quezon City


Running Time: 

approx. 2 hours (w/ a 10-min intermission)


Credits: 

Jade Castro (book), Topper Fabregas (direction), Vincent De Jesus (music, lyrics, arrangement, musical direction), Riza Romero (production designer), JM Cabling (choreographer), Meliton Roxas (lighting designer), Glendfford Malimban (sound designer)


Cast: 

Gab Pangilinan, Kiara Takahashi, Abi Kassem, Ian Pangilinan, Sky Quizon, Hanie Jarrar, Batit Espiritu, Emjay Savilla, Jem Macatuno, Gian Wang, Gabby Sarmiento, Vino Mabalot, Argel Saycon, Elyson de Dios, Miah Canton, Abby Trinidad, Belle Delos Reyes, Teetin Villanueva, Lou Yanong, Missy Quino, Justine Narciso, Krystal Kane, Shawntel Cruz, Franco Ramos, Ian Hermogenes, Art Guma, Noel Comia Jr., Brei Binuya, Lie Reposposa, Jojit Lorenzo, Paolo O'Hara, Joann Co, Agot Isidro


Company: 

ABS-CBN




Comments