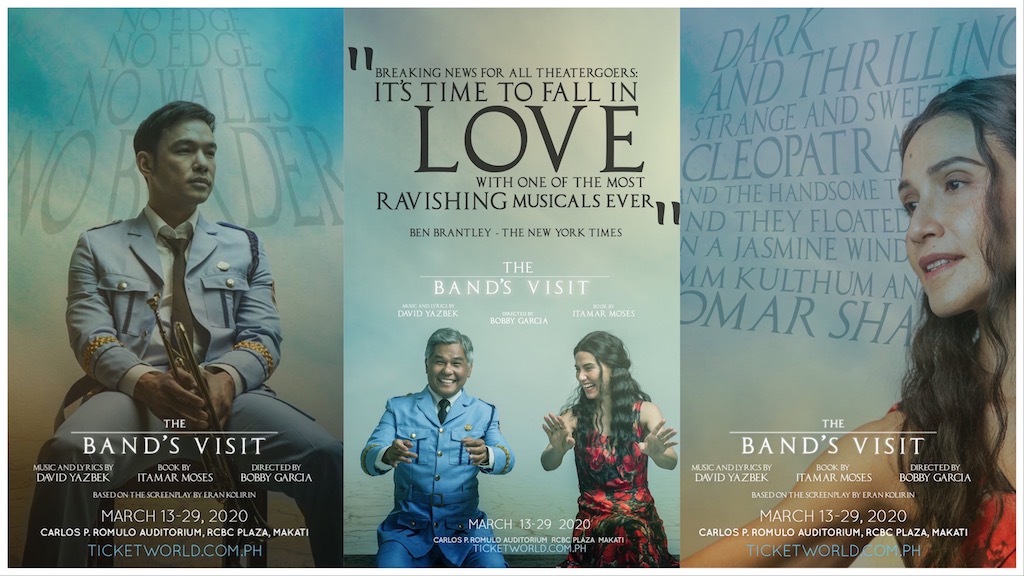 FIRST LOOK: "The Band's Visit" Cast Sings Excerpts from the Musical
David Yazbek and Itamar Moses' The Band's Visit, which won 10 Tony Awards including Best Musical in 2017, will soon be finding its way to the RCBC Plaza under the helm of director Bobby Garcia.
The Band's Visit follows an Egyptian Police Band, headed by band leader Tewfiq, who is scheduled to play at a concert in Israel. After a mix-up at the border, they end up in a remote village in the middle of the desert. Stranded until morning, they are taken in by the locals. Café owner Dina welcomes the band and arranges their lodging for the night. 
In spite of the story's foreign context, the cast assures audiences that the story is universal. "If the audience knows the political implications of Egypt and Israel set in the Middle East, then they'll see the wonderful thing that happens. If they're not very familiar with that, they'll still get drawn into the stories," shares Rody Vera, who plays Tewfiq.
He adds, "I think the stories that each of these characters have are very, very relatable, kahit Filipino, American, because it's a story of encounters. They get to know each other, they get to somehow share their stories together, and while speaking very broken English, they are able to communicate more than just information. You don't have to be an Egyptian or an Israeli to understand what the emotions are."
Menchu Lauchengco-Yulo, who plays Dina, says that the show is able to transcend the anticipated Israeli-Arab tension. "It's very underplayed. They go above it. It's such a beautiful message."
"What is essential to the show is basic human need", she adds. "Everybody is lonely, regardless of race, regardless of religion. You need to be loved. You need to connect to people. You need to find happiness. That's general. No race can separate the needs. That is what this musical is about. It's about music bringing everybody together."
In an earlier press release, director Bobby Garcia also shares, "It is made up of small, seemingly uneventful  moments. Uneventful, perhaps in the theatrical sense. But, in those small moments we discover what it really means to come together as a community and how we discover what our universal language as people of different cultures. "
The cast will retain the Egyptian and Yiddish accents originally intended in the text. They are currently going through vocal coaching just to get the accents as accurate as possible. Why was that important? Lauchengco-Yulo says, "It's a play about not understanding each other, so unlike other plays where you can disregard accents (nowadays you can neutralize it), this particular show is about not understanding each other, so it has to be authentic." 
Lauchengco-Yulo and Vera are joined by Mark Bautista as Haled, Nino Alejandro as Avrum, Bibo Reyes as Itzik, Reb Atadero as Papi, Jill Peña as Iris, Floyd Tena as Sammy, Maronne Cruz as Julia, Jep Go as the Telephone Guy, Dean Rosen as Zelger, Steven Conde as Simon, Rhenwyn Gabalonzo as Camal, and Leanne Mamonong as Anna.
Joining Garcia in the creative team are Faust Peneyra (set design) Farley Asuncion (musical direction), Cecile Martinez (musical staging), Adam Honoré (lighting design), Odelon Simpao (costume design), Manman Angsico (vocal direction), GA Fallarme (projection design), Jaydee Jasa (hair and make-up design), and Justin Stasiw (sound design).
You can watch the cast perform excerpts from the songs "Welcome to Nowhere", "Haled's Song About Love", and "Answer Me."
The show will run from March 13 to 29, 2020 at the Carlos P. Romulo Auditorium, RCBC Plaza, Makati City.
You can buy tickets HERE.
Comments