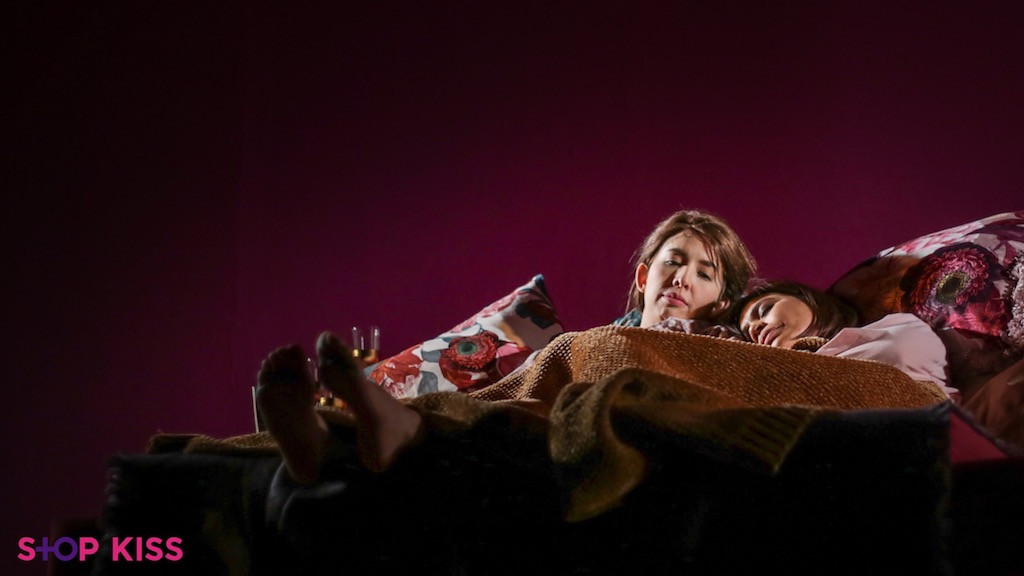 REVIEW: "Stop Kiss" is an exquisite staging of a love story
We live in more enlightened times, or so we like to think. Except the inciting incident of this play written by Diana Son in 1998—a hate crime involving two female lovers and a man taunting them to PDA for his benefit—happened in real life recently. This staging could not have come at a better time, with the world being freshly reminded of the still-existing misogyny and violence men are capable of when women do not cater to the male gaze.
But the wrongfulness of violent hate crimes is only part of what this show is trying to say. It is, more importantly and effectively, a tender love story between two women. We follow Callie (Missy Maramara) and Sara (Jenny Jamora) from their rather awkward first meeting, through their developing friendship, the precarious first steps into something more, and then the fierce love that carries them through the violence that nearly stopped them before they began.
The little vignettes of moments we see between Callie and Sara is more about their relationship and less about defining themselves. Indeed, the only real label thrown is a slur, which dates the show effectively somewhere in the late 90's or early 00's. We see them both with male love interests, and yet it isn't too concerned with the internal ramifications of previously loving men, and now falling for a woman. It's a beautiful thing, really, to see how matter-of-factly they go from friends to lovers not marred by moral conflict.
The timeline switches between the love story and the aftermath of their violent attack. Director Ed Lacson Jr. shows much finesse in his transitions, using a black panel to take us from the romance to the tragedy. Lacson shows impeccable clarity and deliberateness in telling this tale where the focus is these two women finding their way towards each other.
With Lacson also serving as set designer, it plays out against a garishly pink backdrop inside a black box. Even the set evokes femininity, and vibrance, and even playfulness. Tata Tuviera's costumes add color and variety and personality to the characters meant to play young New Yorkers at the end of the millennia. Sound designer Teresa Barrozo's masterful soundscape adds lightness to the the world Lascon created, even ending it later with the soft verses of a sapphic tune that memorably frames the show's romantic and hopeful ending.
Jenny Jamora and Missy Maramara astound in this piece, with a calculated slow burn that's so satisfying to watch from start to finish. It crests through the second act, especially with Maramara's performance as Callie remembers a happier past and Jamora's gut-wrenching turn as Sara in her lowest. It's heartbreaking precisely because it is so beautifully performed by its two leads, and so carefully crafted by its director. 
Between the powerful hateful violence and the poignant budding romance, 'Stop Kiss' chose to show the love—and it is exquisite.
Tickets:

 Php 1,000.00 - Php 2,000.00


Show Dates:

 July 12 '19, July 13 '19, July 14 '19, July 19 '19, July 20 '19, July 21 '19


Venue:

 Power Mac Center Spotlight, Circuit, Makati


Running Time:

 approx. 2 hours and 25 minutes (w/ 10 min intermission)


Credits: 

Diana Son (playwright), Ed Lacson Jr. (director and set designer), Teresa Barrozo (sound design), Tata Tuviera (costume design)


Cast: 

Missy Maramara, Jenny Jamora, Tarek el Tayech, Robbie Guevara, Gabe Mercado, Jay Valencia-Glorioso, J-mee Katanyag


Company:

 New Voice Company / MusicArtes / Positive Space
Comments