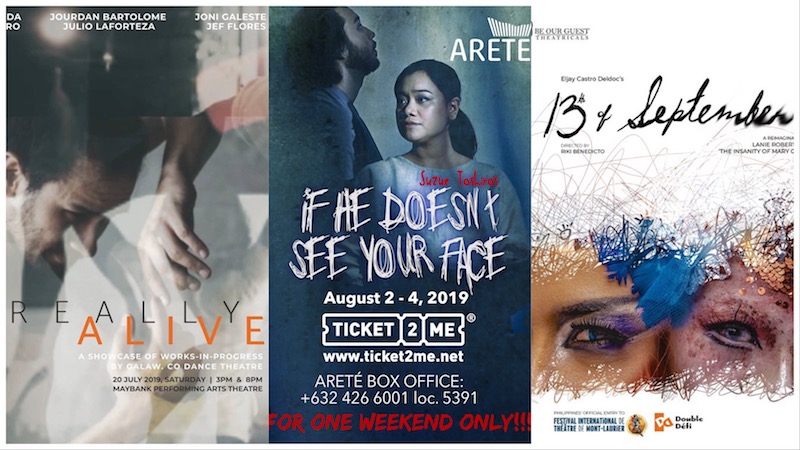 Catch these 6 Independent and University Productions this July to August
From new dance companies to university groups celebrating big milestones, here are 6 independent and university productions that you can watch this July to August.
1. Really Alive (Galaw Co.)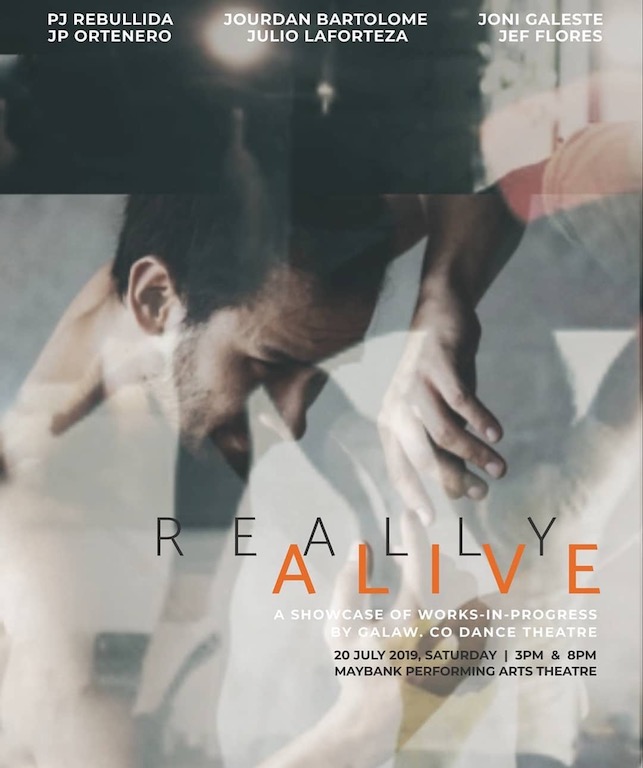 Galaw.Co is a burgeoning dance theatre company spearheaded by Gawad Buhay award-winning choreographer and dancer PJ Rebullida. "Really Alive" is a sneak peek into what the company can offer, hopefully drumming enough excitement for a full fledged show next year. It will feature three works: 
"The Story of Us" is an improvisation piece that takes inspiration from the everyday search for a beginning, conflict and resolution. It features Jef Flores, Julio Laforteza and JP Ortenero. 

"When Things Become Real" explores what stories unravel from nothing. Choreography by PJ Rebullida, featuring Joni Galeste and Jourdan Bartolome. 

"Alive" is an accumulation of experiences by PJ Rebullida. A journey that requires investment from the audience, "Alive" merges dance, song, poetry and theatre. 
The show will run on July 20, 3pm and 8pm, at the Zobel de Ayala Hall, Maybank Theater, BGC Arts Center. Tickets are on a donation basis (Suggested Donations: Allies – 1000, Students – 250, Buddies – Hugs)
For reservations, contact 09173165639 or 09175025847.
2. Titser ko si La Salle! (DLSU Harlequin Theater Guild)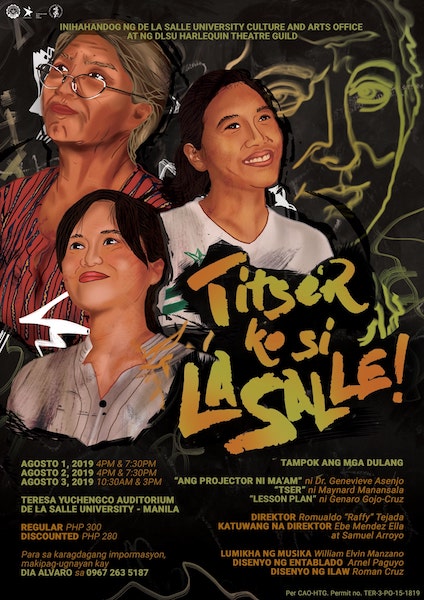 "Titser ko si La Salle!", the guild's major production for its 52nd season, aims to shed light on the struggles and sacrifices that Filipino teachers face everyday. The plays that will be staged are written by De La Salle University Literature Professors, Dr. Gen Asenjo, Mr. Genaro R. Gojo-Cruz, and Mr. Maynard Manansala. It will be directed by Raffy Tejada. 
Lesson Plan by Genaro R. Gojo-Cruz

–

Rebecca Gerona, a retired high school teacher, reflects on the legacy she left as a model teacher and the sacrifices that goes with it, such as choosing a lifetime partner and settling down to raise her own family. 

Tser by Maynard Manansala-

Set in a remote area in Mindanao, Rose, a young volunteer teacher tries to fulfill her dream of bringing education to a group of indigenous people through an improvised classroom, only to find herself in a conflict between the Lumads and the military personnel oppressing a Bakwit school. 

Ang Projector ni Ma'am by Genevieve Asenjo

–

Tina, a model teacher in a rural school, chooses between an opportunity for her students to widen their learning through advanced teaching techniques or the health and medication of her sick child. 
The production will run from August 1 (4pm and 7pm), 2 (4pm and 7pm), and 3 (10:30am and 3pm) at the Teresa Yuchengco Auditorium, De La Salle University. Tickets are priced at P300 (regular) and P280 (early bird/discounted).
For tickets and further inquiries, contact their Facebook Page.
3. If He Doesn't See Your Face (Arete Ateneo)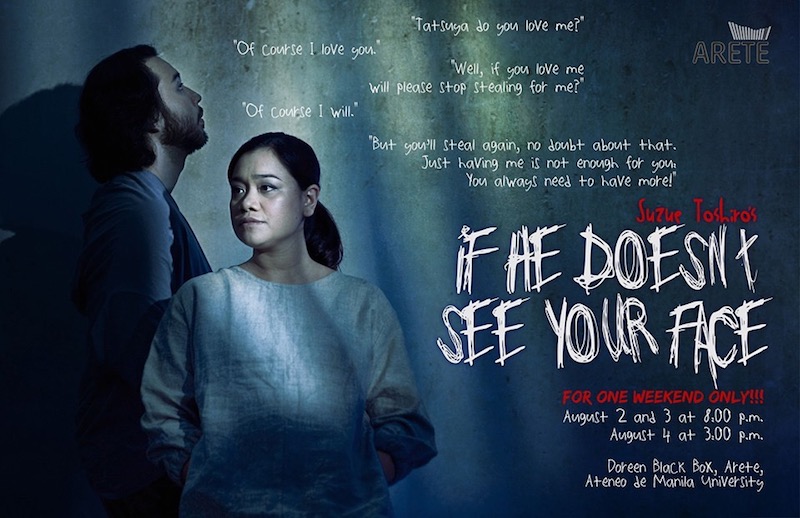 "If He Doesn't See Your Face", a play by Suzue Toshiro, asks how two people can continue to love each other despite acute physical and emotional constraints. A wife visits her husband in prison. It is not her first visit, nor is it the first time that the husband has been imprisoned for theft. The whole play is a conversation- the couple is separated by a glass window. The husband is pleased about the visit but the wife is anxious: how can she continue to hold on to  marriage and take care of a child if her husband continues to steal and be sent to prison?
The show will be directed by Ricardo Abad, with production and sound design by Tata Tuviera and technical direction and lighting design by D Cortezano, featuring Delphine Buencamino and Brian Sy. It will run from August 2-4 at the Doreen Black Box of Arete, Ateneo de Manila University. Tickets are at P400 (regular), P320 (senior/ PWD discounts), and P250 (students and Ateneo employees). For tickets, go to Ticket2Me.net or contact the Arete Box Office at +632-426-6001 loc 5391.
4. Pers Lab: Mga Kwentong Hotdog (The Muntinlupa Development Foundation in cooperation with Tuloy Foundation)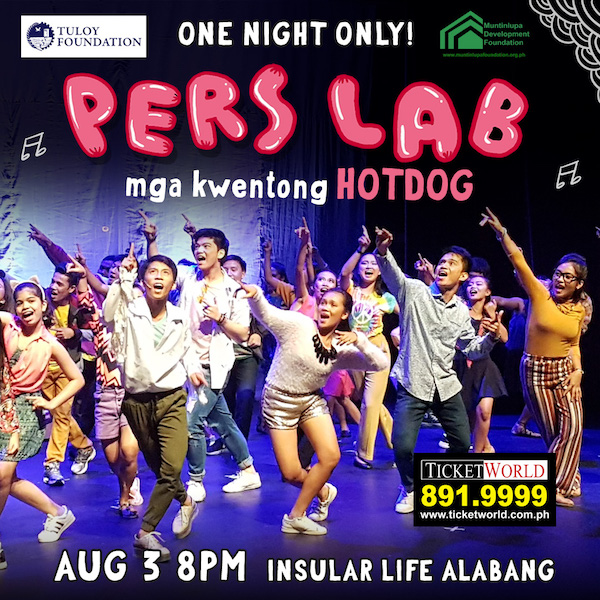 "Pers Lab" weaves together the music of OPM band Hotdog to tell a story about first love. It features a cast composed entirely of students from Tuloy Theater and their sister company The Mini Mechs (junior arm of the Rude Mechanicals Theater Company). Directed by Joonee Garcia and Deana Aquino, the show goes onstage at the Insular Life Theater Tanghalang Haribon on August 3, 2019 at 8PM. All proceeds from this performance will benefit the underprivileged youth of Muntinlupa City.

You can buy tickets HERE.
5. Ang Unang Aswang (PUP Sining-lahi Polyrepertory)

The group is set to stage Rody Vera's "Ang Unang Aswang" from August 7-9, 14-16, 1pm, 4pm, and 7pm at the Tanghalang PUP, College of Communication Grounds, Anonas St., Sta. Mesa Manila.
A night when the moon is in full, on a desert, a new born baby swallowed a heart of a banana tree. As the time passed by, the baby has grown with the help of a dog, cat and a wild pig who stands as her mother. Away from the city, the girl lives happily until she encounters a man that will change his life. It is a story of love, failure, abuse, and pretentions.
You can go to their Facebook page for further inquiries.
6. 13th of September (Be Our Guest Theatricals)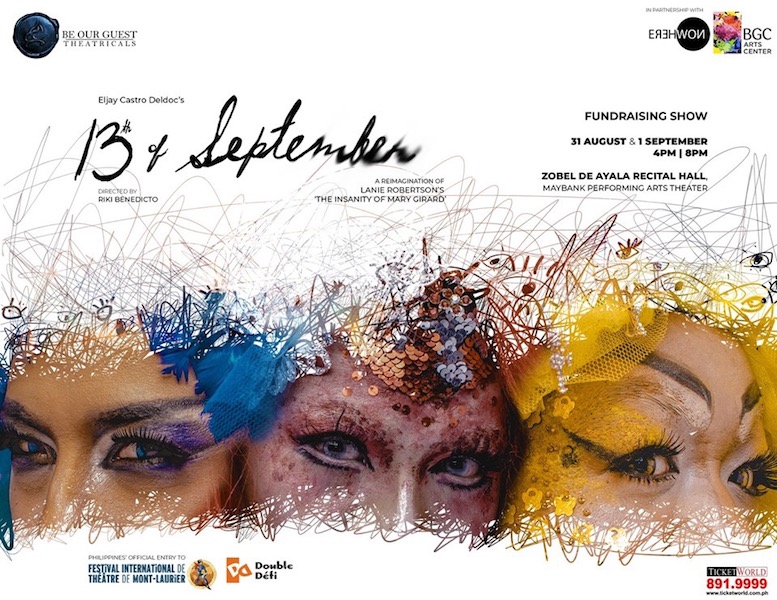 "13th of September", a play by Eljay Deldoc, is a reimagination of Lanie Robertson's "The Insanity of Mary Girard." It is the Philippines' official entry to the 9th Festival International de Théâtre de Mont-Laurier in Quebec, Canada, which will be held from September 5-11, 2019. The Philippines is the only country from Southeast Asia who was selected to join the festival since its launch in 2003. 
Mary Girard is preparing for her last night in Pennsylvania Asylum. Now, 56, her age is visible after more than two decades re-living the moments of her life inside the asylum. While doing her daily routine and preparation with other patients, her past is dawning inside her, the memories of her mother, husband and her dear daughter are right in front of her and it seems like she's "sane" once again. As for her last night with the tranquilizing chair, she will fight and relive the moments of lies and betrayal that has never been proven.
The show will be directed by Riki Benedicto. It will run from August 31-September 1, 4pm and 8pm, at the Zobel de Ayala Recital Hall, Maybank Theater, BGC Arts Center. Tickets are priced at P1,000 and P800. Proceeds will go to the actors' and production staff's travel expenses to the said festival where they will be performing as the country's official delegation. 
You can buy tickets HERE.
Comments