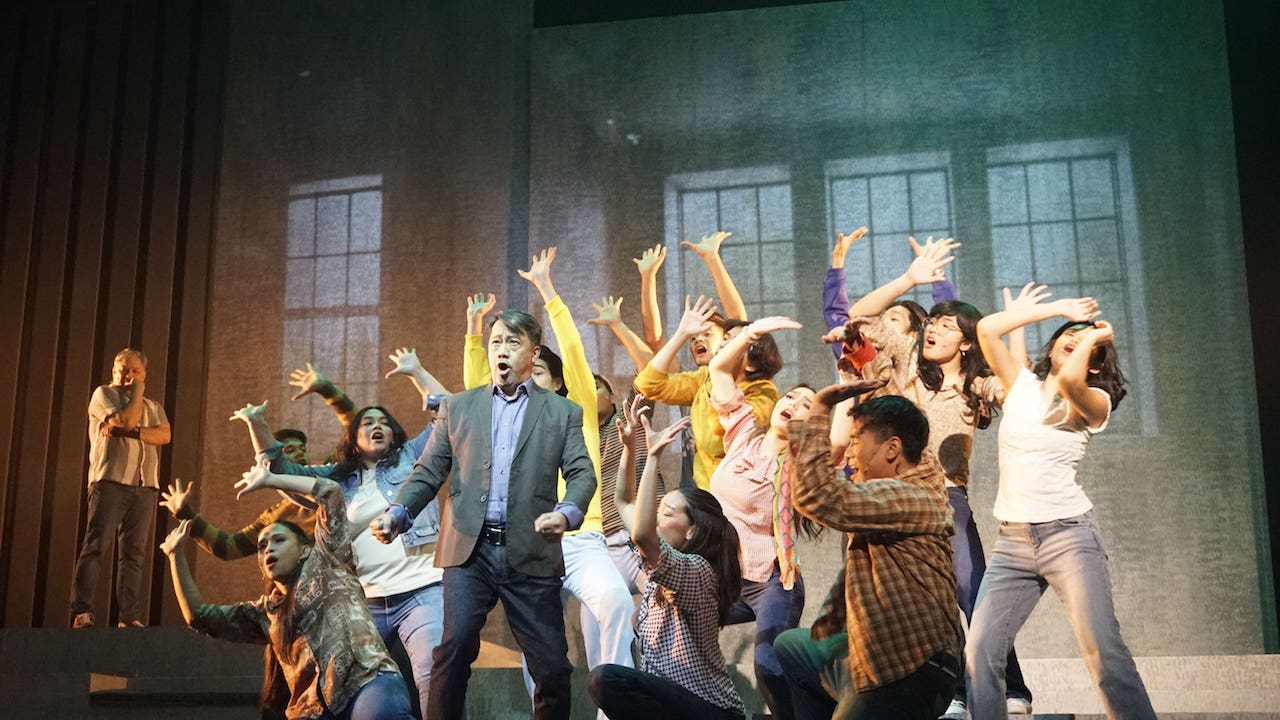 REVIEW: 'Silver Lining' Tackles Friendships, Lost Love, And Generation Gaps
The show lets its audience relive the joys and trials of one's youth, while also reminding us to never forget our history and to take accountability.
Friendships last forever…or do they? 
In Silver Lining, a barkada composed of seniors and led by Leo (Ricky Davao) gets ready to perform at their high school's Golden Anniversary Homecoming. Leo and his band members (Joel Nuñez, Raul Montesa, and Nenel Arcayan) have been rehearsing for over a year when they find out, unfortunately, that they can only perform three numbers at the event due to time constraints. This inspires them to create a musical about their high school and college years during the 60s and 70s instead. 
The Baby Boomers hold auditions a-la-A Chorus Line to cast their younger selves (Albert Silos, Noel Comia Jr., Jay Cortez, and Sara Sicam). Their millennial offspring (Jep Go, Shaun Ocrisma, and Maronne Cruz) also help to create the musical while dealing with their own issues and passionate causes. As the parents and children work together, issues between old friends crop up, memories resurface, and the two generations discover just how different—and similar—they really are.  
A journey to the past   
Silver Lining features original music and lyrics from Galerie Joaquin's Jack Teotico and Palanca-awardee Joshua Lim So. In fact, many elements of the musical are actually based on Teotico and his friends' lives during the 70s. The show takes its audience back to a time of soirees, "ligawan", discos, and activism, while also tackling how these experiences affected the lives of the protagonists and their children in the present.  
A strong suit of the production was the banter between the characters: a semi-serious scene suddenly gets the audience laughing out loud because of one "banat", especially when it's delivered by Shaun Ocrisma who plays Mart. The humor was on-point (where else will you be able to see a dancing Oblation statue?). The comedy may give some audience members the feeling that they're watching a PETA (Philippine Educational Theater Association) production, which is not surprising given that Silver Lining is actually directed by PETA's Artistic Director Maribel Legarda. 
Also, what's a musical without a love story or two? Former child actress and Annie star Krystal Brimner plays Julia, an activist and artist who's Leo's (Ricky Davao, Albert Silos) first love. And while as an audience member, I was rooting for Leo and Julia—they're the show's main love team, after all—what stuck with me more was the romance between Anton (Joel Nuñez, Noel Comia Jr.) and Josie (Nenel Arcayan, Sara Sicam), who lovingly call each other Pichi-Pichi and Sapin-Sapin. It was adorable to see how the characters' younger and present counterparts interacted with each other, as well as discovering how they arrived at their "designated" terms of endearment. 
It's also an added bonus that Silver Lining seems to be a love letter to theater, taking us through the casting process, script revisions, grueling rehearsals, backstage drama, and all the incredible hard work that it takes to mount a production. 
A promising cast 
The production does not depend on elaborate set design or props and instead utilizes a digital screen to walk the audience through Silver Lining's changing timelines. As a result, the audience's attention is directed more at the cast of characters, most of whom delivered strong vocal performances. When it comes to the musical numbers, there were some hits and misses. Raul's cynical "kontrabida" songs had the audience chuckling in their seats while "Losing Our Way", the final song of Act I, was particularly emotional. 
It was the older, more seasoned actors who really carried the show, but the younger cast members were also a joy to watch. They showed promise, and this writer is looking forward to seeing more of them in the future.  
Relevant topics, *so little* time 
In the story, Leo, Anton, and Raul changed from privileged, carefree high schoolers to passionate college activists fighting for their country. This timeline of the show is set in the 70s, and Silver Lining was not afraid to give its audience a glimpse of the Marcos dictatorship, desaparesidos, and the dangers of historical revisionism. 
It also touched on themes of mental health and addiction, and how differently Baby Boomers and Millennials deal with them. It portrayed how difficult it is for parents and children to find common ground, especially when generational trauma gets passed down. The audience could relate to the characters' frustrations, and at how everyone just wishes to be heard and understood. 
All of these topics are important and should be discussed, and Silver Lining's valiant effort to tackle them all is admirable. But since the show features a musical within a musical, plus an ensemble cast, this audience member felt like two and a half hours were not enough to fully delve into all of these important concepts—while also trying to get the audience invested in the past and present lives of the main characters and their millennial children.  
Silver lining's coming 
Silver Lining lets the audience relive the joys and trials of one's youth while also reminding us to never forget our history and to take accountability—both when it comes to personal friendships and love for country. And even though things may look bleak, just like it was for Leo and his old friends at one point, there is often a "silver lining" out there. We just have to look for it. 

Tickets: 

Php 1,000 - Php 5,000  


Show Dates: 

 October 20, 21, 22, 27, 28, and 29, 2023 


Venue: 

 Carlos P. Romulo Auditorium, RCBC Plaza 


Running Time: 

2 hours and 30 minutes, with a 15-minute intermission


Credits: 

Jack Teotico (Music and Lyrics), Joshua Lim So (Book and Lyrics), Maribel Legarda (Direction), Vince Lim (Musical Direction, Arrangement, and Additional Music), PJ Rebullida (Choreography), Charles Yee (Set Design) Tata Tuviera (Costume Design), David Esguerra (Lighting Design), Joyce Garcia (Video Design), Bambam Tiongson (Sound Design and Engineering), Jamie Wilson (Technical Direction)


Cast:

 Ricky Davao (Leo), Joel Nuñez (Anton), Raul Montesa (Raul), Nenel Arcayan (Josie), Albert Silos (Young Leo), Noel Comia Jr. (Young Anton), Jay Cortez (Young Raul), Sara Sicam (Young Josie), Jep Go (Rico), Shaun Ocrisma (Mart), Maronne Cruz (Dalai), Krystal Brimner (Julia), Khalil Tambio (Chito), Hazel Maranan (Agnes), and Sarah Facuri, Iya Villanueva, Dippy Arceo, Rodel Pingol, Ado Villanueva, and Joshua Tayco (Ensemble) 


Company: 

Rockitwell Studios and MusicArtes Inc.
Comments