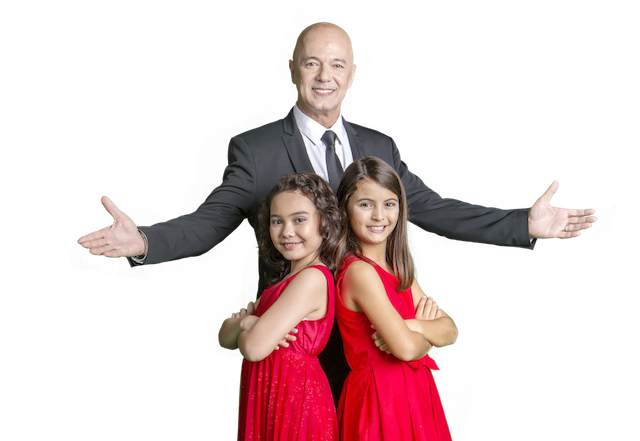 Resorts World Manila brings back Annie to the Country
This September, the country's premier entertainment and tourism destination Resorts World Manila (RWM) presents its seventh major stage production—the beloved family musical ANNIE.
After the first successful staging in the country in 1980 with no less than Lea Salonga playing the title role, ANNIE promises to rekindle its love affair with older Filipino audiences and charm new generations with its inspirational story about a charismatic orphan's optimistic outlook in life against all odds.
Playing the role of Annie are Krystal Brimner, 2015 Metro Manila Film Festival best child actress winner for her role in the indie film "Honor Thy Father", and Isabeli Araneta Elizalde, a newcomer hailing from one of the entertainment industry's more prominent families, who both bested hundreds of other hopefuls auditioning for the role.
(READ: Resorts World Manila Introduces Two Annie's)
Also included in the cast in the roles of orphans are Maria Francesca Rojas and Precious Lainey Galvez as Annie's best friend Molly; Chrysse Jilliane Jover and Maria Ericka Peralejo as the shy Kate; Shanti Leialoha Gleason and Gwyneth Jearei Dorado as the quiet July; Natalia Victoria Escaño and Alba Berenguer-Testa as the crybaby Tessie; Cydel Virie Gabutero and Atascha Chloe Mercado as the bossy Pepper; and Stephanie Ginger Karganilla and Sofia Jade Wong as oldest orphan Duffy.
Six members of the orphans cast have also had their share of the limelight, namely Precious and Atascha who both joined The Voice Kids Philippines season 2; Cydel who has earned 8.3 million views on YouTube for her rendition of Celine Dion's "The Power of Love"; Shanti who was previously cast in RWM's The Sound of Music; Gwyneth who was a finalist in Asia's Got Talent season 1; and Sofia who was cast in Repertory Philippines' production of Pinocchio: The Musical.
(WATCH: The Search for Annie)
Joining the kids for the main roles are award-winning actor Michael De Mesa who will play the wealthy Oliver "Daddy" Warbucks, the first lady of Philippine theater Menchu Lauchengco-Yulo as Ms. Agatha Hannigan, Jill Pena as Secretary Grace Farrell, and Mako Alonso and Red Concepcion alternating as the conniving Daniel "Rooster" Hannigan.
"On a broad perspective, the challenge is how do we take ANNIE's story and make it relevant to our audience locally," says director Michael Stuart Williams who's also the creative director of RWM's production outfit Full House Theater Company. "There is something quite universal about it which is why ANNIE is fast becoming a modern day classic," he added.

"We're very excited about Annie: The Musical. We had so many challenges before we actually got the rights for the musical from MTI New York. Rest assured, RWM is behind Full House Theater Company and Ultimate Entertainment throughout the musical's run," said RWM Chief Operations Manager for Entertainment Alou Almaden.
ANNIE opens on September 30, 2016 at Newport Performing Arts Theater in Resorts World Manila. Visit www.rwmanila.com or call the tourist/Visitor Hotline (632) 908-8833 for more information.
You can buy tickets here!
For more details about what's happening in the Manila theater scene, please view our Theater Calendar.
Comments